Go The Distance
CRAIG MORTIMER heads to Linear Fisheries' Brasenose One to show how successful long-range zigging can be, but will it be that fruitful at this time of year?
Linear Fisheries is perhaps one of the busiest and most popular day-ticket complexes in the UK, so when we spoke to TC contributor Craig Mortimer it was to our surprise that he had only ever visited the venue once and had never even set foot on either the Brasenose banks or the main site. He had simply turned up and fished Oxlease for a bit of DVD filming. This was too good an opportunity to miss, so we thought that because many of you may be venturing to Linear for your first time, we would challenge him to test out his preferred long-range zig tactics on the renowned water.
Craig states: "The first thing I did was speak to a few friends who have fished the venue before about how they would approach it. Local knowledge is always a great place to start and nowadays the internet is filled with forums, Facebook and there are also magazines, of course. All these can help you build a picture of what you should be expecting when you turn up. Not necessarily how you should fish it because situations change, but it gives you an idea, nonetheless.
Killer Kit Of The Pros -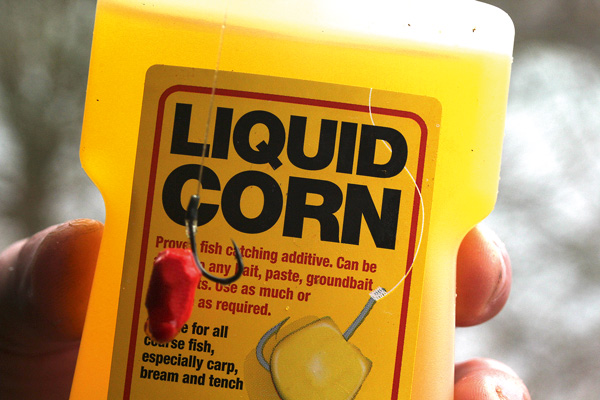 Foam isn't very attractive, especially when there are a few anglers fishing zigs. Craig uses the Bait-Tech Liquid Coen as it helps to boost the attraction profile of his hook bait, and what carp doesn't like a bit of corn?
"On speaking to these contacts, I found that it had been fishing very well of late and the majority of big hits had all been on single zigs fished over 100 yards. Because it was winter, this method suited me. It's a nice way to fish single hook baits and there's always plenty you can do to try and work out how to maximise your chances by changing colours, smells, flavours and, of course, depths.
"I arrived at 7.30am to be let into the gate around 8am. I was completely surprised as I drove around the complex to see that every swim was taken – in December? This just didn't seem right. Then again, the mild weather had definitely resulted in anglers taking advantage and getting as much fishing as they could before the festivities of Christmas would have them tied down indoors.
Editor Dan Murrell met me and after circling the lake we eventually found a single vacant swim at about 1pm, halfway along the bank that backs onto Hardwick and Smith's. With the light beginning to fade we decided it would have to do and we would make out of it what we could, a true sample of busy day-ticket fishing, if you will.
Getting there early meant we were able to watch the anglers already fishing and seeing as the majority were fishing between the 60 to 100-yard range with little to no joy, we felt pretty confident in wrapping the rods up at 120 yards, which equates to 30 wraps, and starting further than most.
In front of us it was around 12 to 14 feet deep and with a cold, bitter wind coming over our heads, I set my first three zigs at six, seven and eight feet. I like to begin in the middle and take it from there, looking at the weather conditions and if the carp are showing and so on. If the carp do show I will generally start closer to the surface or, for instance, if the sun were out and really strong this would also alter my decision.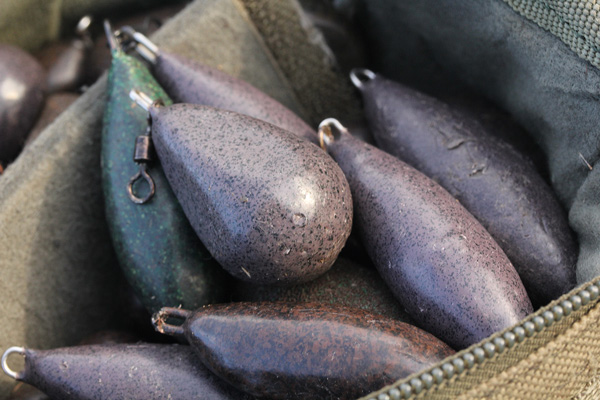 Tournament-shaped leads help to achieve the better distances.


When fishing at this kind of range, main line is a huge factor that many anglers don't take into consideration. I like to use Gardner Pro Light Blend in 12lb. With a thin diameter of 0.30mm, casting up to 140 yards is certainly achievable and I also find that it is incredibly strong in the knot department, which is key when you're really giving it some welly.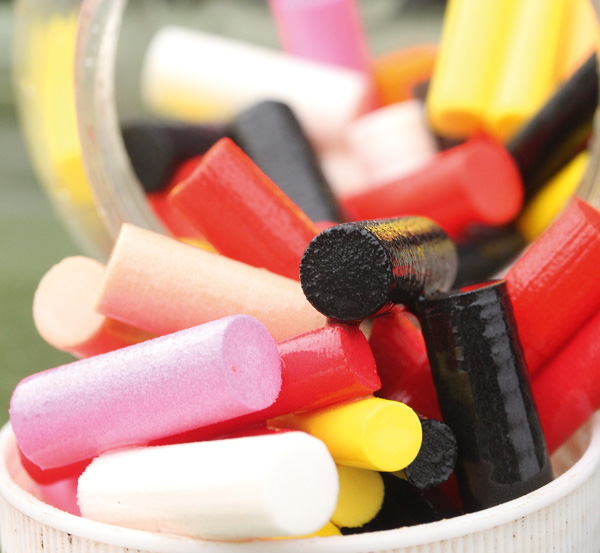 A good variety of foam is key.


As you would expect, I use a lead-clip lead arrangement, and for this sort of distance you can't use anything under 31/2oz. My preferred weight is 4oz and even a little higher if I need to, taking into consideration the strength of any crosswinds. In this case with the wind coming over us, it was simply a case of getting the lead up in the air and it would do most of the hard work for you.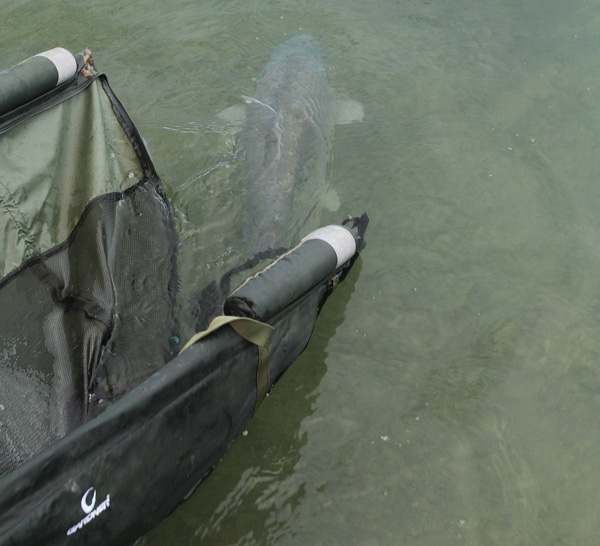 Back he goes...


When using zigs, though, it is imperative to drop your lead on the take, otherwise, you are battling an angry carp with a 7ft hinge to your lead, and that just screams hook-pulls to me. To ensure my leads come off on the take but remain fixed for casting, I stick to my old faithful Gardner lead clips and tail rubbers. Ss you can see in the picture, I slid the tail rubber just lightly on until it has gone over the first notch and this will normally suffice. Failing that, you can always do away with the tail rubber and tie it in place with PVA sting instead.
From speaking to a few of the guys at Linear, it appeared that a few of them had the same concerns with the zig rig tangling at such distances, especially with a strong wind.
This is something that I became quickly paranoid about but have found several ways of combating it. Firstly, ensure that your zigs are perfect. There can be no twist or kink in the hook-link material; you want it supple and straight with no blemishes. If there are and they can't be pulled straight, start again. Next you will see from the sequence that I use a long, thin anti-tangle sleeve, which slides over the overhand loop and connects to the Kwik Change Clip. It helps to kick the hook link away from the lead, as does the loop.
Next, and this may sound a little silly, but by dipping or soaking your foam hook bait this gives it extra weight. Only slightly, but this also helps with keeping the hook link straight on the cast, not to mention it provides attraction around your hook bait, and that's a bonus, surely? Bait-Tech Liquid Corn is one of my all-time favourites. Firstly, carp love corn and, secondly, I love it too. It's a sweet, thick liquid, which helps to cling to the foam and provide unrivalled attraction. Also, I haven't seen many anglers using it and it pays to be slightly different.
When fishing with long hook links, netting can also be a real art form. Ideally, if you have anglers to your left or right by all means allow them to help. Alternatively, by ensuring you drop the lead you can make it a lot easier for yourself and if you feel competent enough you can even reel the lead clip through your eyes, allowing you to gain more control. Otherwise, buy the longest landing-net pole available. Even an extra foot can make all the difference in this circumstance.

When using long zigs, netting fish on your own can be difficult.


Unfortunately, it appeared that on our arrival Brasenose had truly shut up shop and on these tactics, I was only able to nick a bite; a lovely 14lb scaly mirror. Changing depths, colours and even range, pushing my limits to just over 130 yards, we simply couldn't get the carp to play ball. With limited swims there was no real chance of us moving around the lake, so we had to settle. Nevertheless, the tactics had worked and when the weather improves we will make a return visit to document just how successful it can be.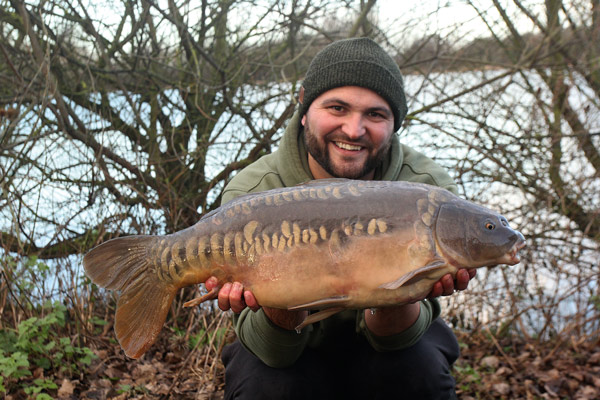 A Brasenose mirror caught on a zig at over 130 yards!
Step-By-Step Zig Rig -



1) Everything you will need to follow this step-by-step and make a zig rig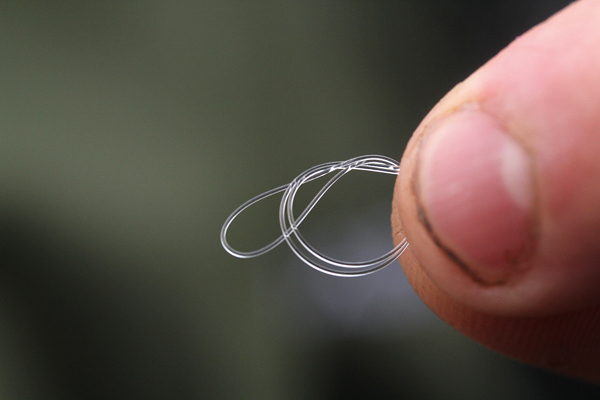 2) In the hook-link material start by tying a small overhand loop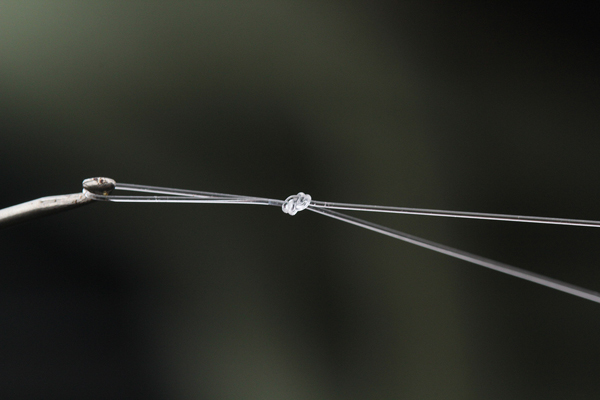 3) Moisten and pull it tight, then trim the tag end leaving it neat

4) Craig now measures out his foam, choosing to use a small 1cm piece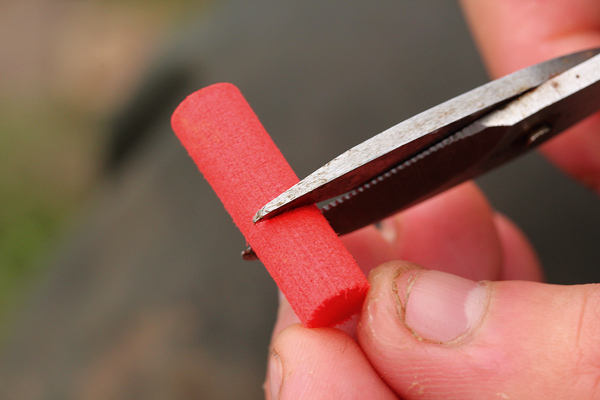 5) Cut this accordingly and then with your scissors begin to toughen it up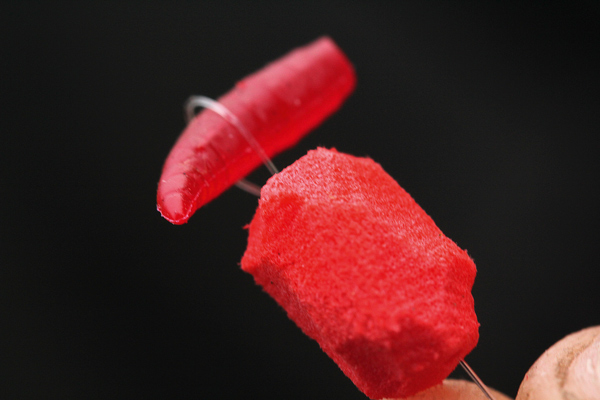 6) Secure the misshapen foam with an imitation buoyant maggot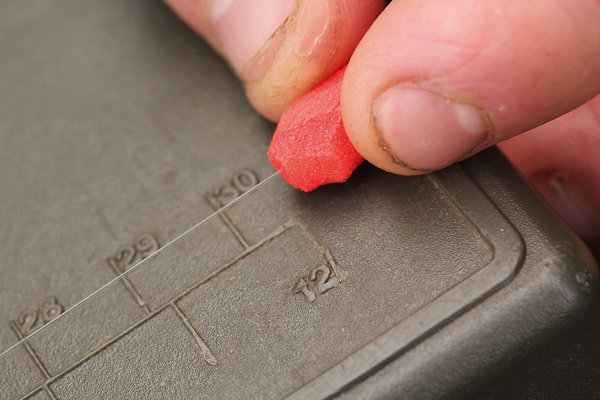 7) Using a set measurement, Craig measures out his zig rig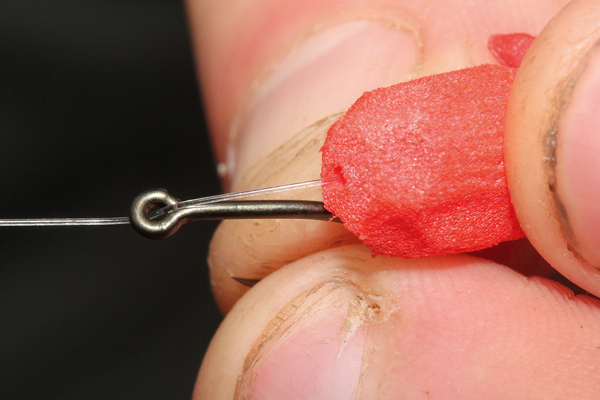 8) Keeping the foam tight to the hook shank begin to whip it in position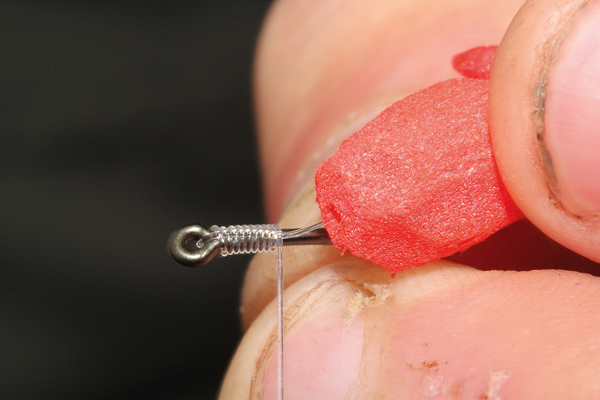 9) As a normal knotless knot, eight turns should suffice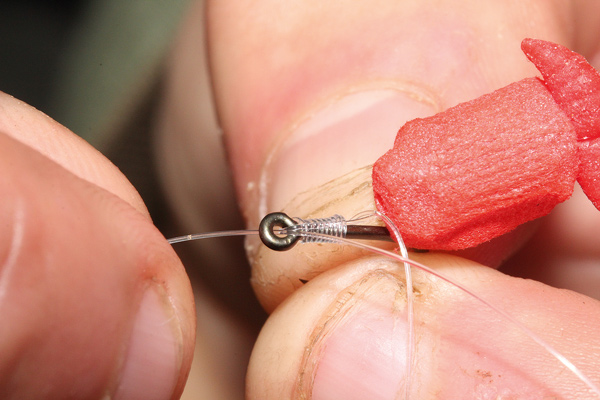 10) Secure the whipping knot by going back through the hook eye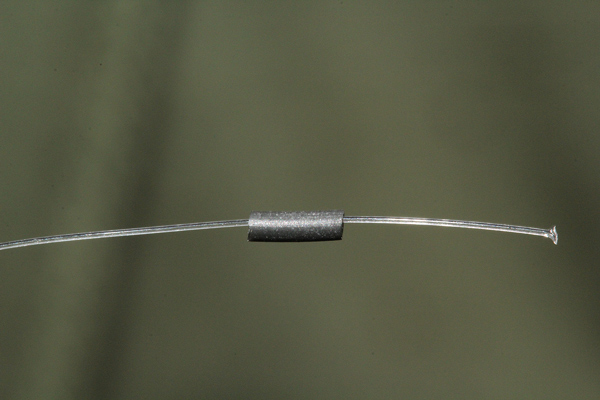 11) Takes a 5mm piece of silicone and slide it along the hook-line material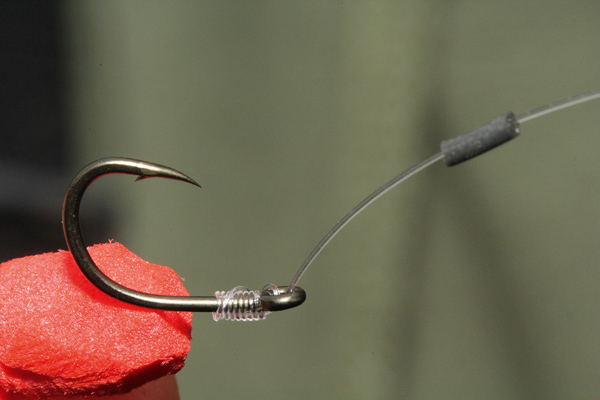 12) Note the relatively closed gape of the hook, without the tubing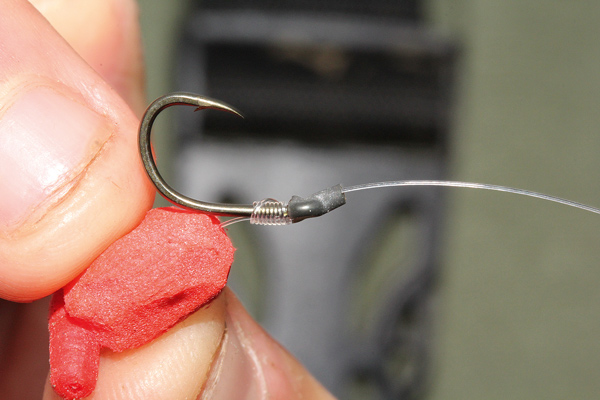 13) By adding the tuning you have increased the gape - effective, eh!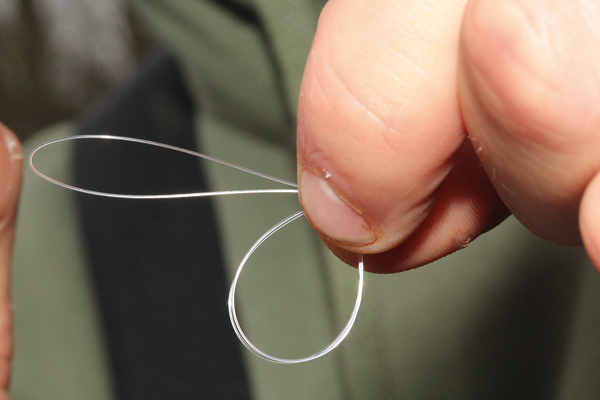 14) In the end of the hook link begin by trying another overhand loop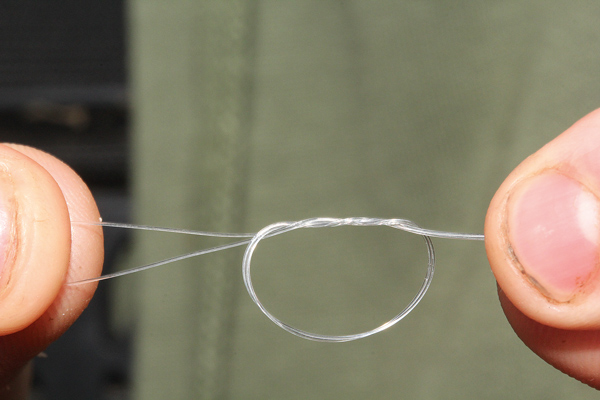 15) This must be bigger than used at the hook end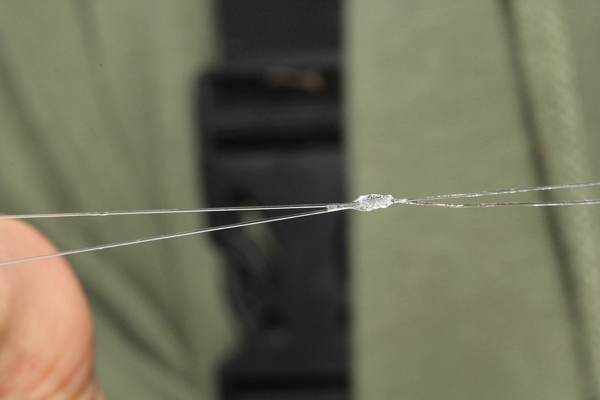 16) Moisten the loop and bed it down under pressure; don't kink it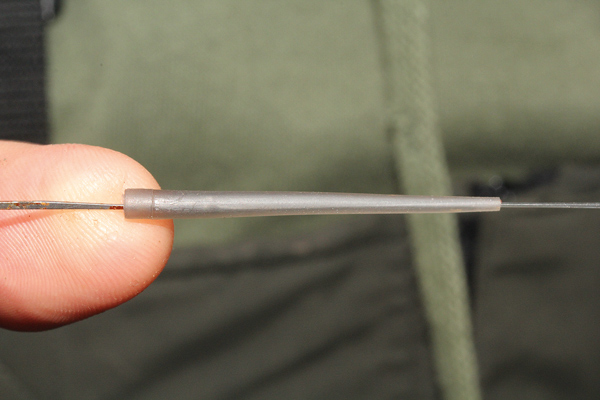 17) Slide on an anti-tangle sleeve, to keep it straight throughout the cast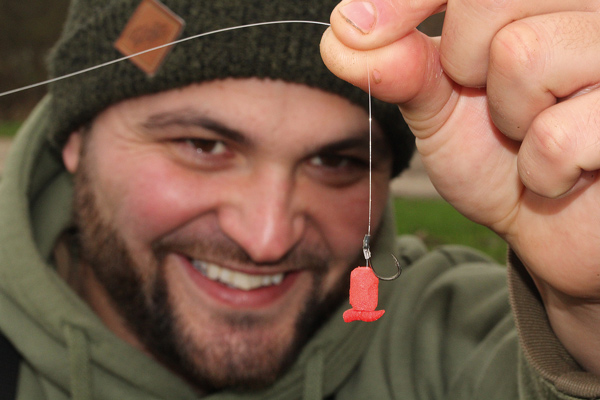 18) There you have it, a neat and tidy zig rig that Craig swears by
Angler File -
Name - Craig Mortimer
Age - 28
UK PB - 41lb 7oz
Sponsors - Bait-Tech, Gardner and Wofte
* Feature wrote February 2016 *