It's the best particle around and particularly comes into its own as the water cools. MARC COULSON reveals what makes hemp so great…


ONE: Value For Money -


Hemp is inherently decent value, especially if you take the time and make the effort to prepare your own. Consider how many grains you get in, say, even just 1lb of hemp and it is a considerable number. You can bait a very good area with just a couple of quid's worth of hemp and, unlike boilies, it can hold carp in an area for an extremely long time.
Even a PVA bag of hemp (see number five) can hold hundreds of grains and once that explodes and the bait disperses, that's a lot of bait for the carp to find and eat.
You can get preserved, reusable hemp these days (prepared) but I am not a fan. I don't like any additives, especially preservatives, added to my bait because it must surely lock in some for the natural attractors. If you prepare more hemp than you need then just bag it up and freeze it. This is fine for at least a month or two.
TWO: It Looks Like Snails? -


I've never really been sure about this one, but loads of anglers swear by the fact that hemp looks so similar to the carp's natural water snail diet. Undoubtedly, hemp does look a bit like small snails, but whether it's a factor in its effectiveness is another thing altogether. I don't feel that carp feed by sight that much, or certainly it isn't the primary sense that they use, so I have my doubts.
However, the fact that it does look like snails isn't going to cost you any bites, so that all-important confidence thing comes into play.
THREE: All About The Oil -


Hemp is an extremely oily bait, but the viscosity is such that it still works in winter, unlike fish oils. The oil that hemp leaks off sends tiny spots up to the surface, which can draw carp down from the middle layers and on to your bait.
However, the really good stuff is the supplied hemp oil, which works extremely well all year round and massively outperforms fish oils as the water cools.
Try this experiment. Put a bottle of hemp oil alongside a bottle of, say, salmon oil in your fridge. It won't take long for the salmon oil to start to congeal, whereas the hemp oil remains nice and thin for far longer. Just saying!
FOUR: Versatility -


There are so many ways in which hemp is effective. As part of a spod mix is probably the most popular way that anglers use it, usually with other particles included. I like to simply chop boilies up and add them to a bucket of hemp with the addition of a little oil. This is an easy mix to knock up and, yet, it works brilliantly on many waters. You can add pellets in summer as well, which soak up loads of the hemp liquid to provide a mix with an altogether different consistency.
The liquid from prepared hemp can be kept and used to add to other baits and it's especially good for rehydrating air-dried boilies.
One thing I like to do in winter is to add a few dried-off grains to my liquidised-bread PVA sticks, a brilliant cold-water tactic.
FIVE: You Can Bag It! -


Did you know that you can use hemp in a PVA bag, either the solid or mesh types? It's really easy: mix some hemp with a generous amount of salt and let it all soak in for a few minutes. You can then fill a PVA bag with it as you would with other dry baits. This is a massive edge to use with a bait that would normally melt PVA. A small bag of hemp over the top of spodded particles, or even cast at showing carp, can be a brilliant tactic and is certainly something different to what most anglers on your lake are probably using.
Many companies now supply PVA-friendly particles, which are extremely convenient, but I have to admit that I prefer to do mine myself with the salt method.
THREE OF THE BEST / PREPARED HEMP -
DYNAMITE FRENZIED FEEDER HEMP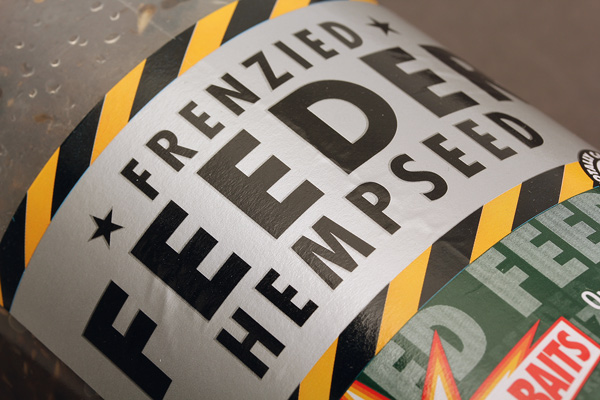 The original prepared hemp, Dynamite produces some of the best stuff out there. I remember when you couldn't go on a feature with an angler without them having at least a tub or two of Dynamite's prepared particles, the hemp being by far the most popular.
The large-capacity jars hold 2.5 litres of hemp and liquid and the vast majority of the seeds are a good size and nicely split. The cooking process takes place in the jars, retaining all the natural juices and goodness, the result being oily hemp and lots of it!

BAIT-TECH CHILLI HEMP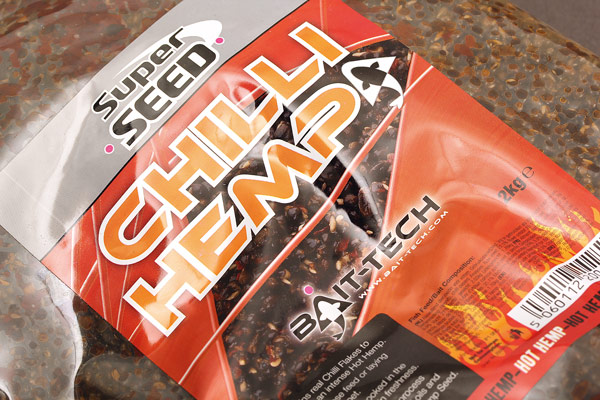 I like Bait-Tech's pouches of hemp because the packaging is so much easier to stash and then discard when they've been used, compared with tins or large tubs.
The hemp is good quality, with large grains, the majority of which are nicely and consistently split. It's also oily and the pouches are not full of bits of stalk and suchlike. This version has added chilli, a brilliant addition to particle mixes and which works especially well in the winter months. Bait-Tech also does a standard hemp-only variety.

SONUBAITS HEMP 'N' HOOKBAITS

Cooked in the tins to retain all the goodness, Sonubaits has added an extra dimension to its hemp with the inclusion of other particles in the different varieties.
I've chosen the Hemp 'N' Crushed Tigers as my favourite but there are also Maize, Black Tigers, Tigers or Corn versions, as well as straight hemp. The tins contain 1kg of baits, meaning a lot of seeds and plenty of the other particles, one or two of which can be removed and used at hook baits, hence the name.
Finally, all varieties are PVA friendly so can be used in bags and mesh without any additional preparation.

Like this article? Subscribe to TC for more great tips like these