This month James Jenner recounts one of his more productive and certainly better-weather campaigns on the River Arun, to shake those winter blues and remind us of a time when the sun came out and the grass was green!
In June 2017 I embarked on a short river campaign, the goal being to try and bank at least one of the wild carp that were rumoured to inhabit the stretch.
The River Arun starts its journey near the town of Horsham, meandering through the beautiful West Sussex countryside as a fairly narrow and sluggish stretch until it reaches Pulborough, where it becomes tidal all the way down to its confluence with the sea at Littlehampton. South of Pulborough the tidal range can provide quite a challenge to even the hardiest of anglers, but there are great rewards to be had for those that are willing to persevere.
Having had limited success on the tidal stretches, banking two carp to just shy of 19lb over 20 or so nights, I decided to join a local club and try my hand on the upper, non-tidal river.
My membership came through in early April and I set off for my first look. The banks were generally very steep and overgrown, indicating that there seemed to be very little in the way of angling pressure as we see it on the local gravel pits and lakes.
It was obvious from the outset that a venue of this type would require a mobile approach with minimal kit, keeping quiet and aiming to snatch a fish or two from a spot before moving on. I walked for a good mile-and-a-half through some delightful scenery before I found what I was looking for; an old fallen tree across 90 per cent of the width of the river, among which a great deal of flotsam and weed had collected in the submerged branches, forming a 'roof' around the size of two dining tables.
Ten yards downstream of this snag was a small set of lily pads, with thick grass and occasional brambles along the sheer opposite bank, all of which sat in a slightly wider pool compared to the rest of the river. This seemed like just the sort of place that the carp would choose to visit time and again, essentially something of a 'home' for them. The idea was always to find a spot such as this to introduce bait on a regular basis.
With a river there are literally miles of water that the carp can choose to frequent at any given time, and while they may stop in certain areas to feed as they pass through, by baiting an area that they were likely to reside in the odds were hopefully going to be in my favour.
Three hundred yards further downstream I found another spot; a wider section with an inlet stream directly opposite and abundant marginal weed growth. By baiting two areas I would always have a backup option if I found my chosen spot occupied, although I suspected that few anglers would be likely to venture as far away from the nearest car parking as I had chosen to do. Spots chosen, I began to formulate a baiting plan.
The first few introductions of bait would be purely small particles such as pigeon conditioner, with 10kg spread generously over each spot two to three times a week for the first two weeks. The aim here was to encourage the smaller fish to feed heavily on the free bait, effectively clearing the bottom of any debris and/or light weed. The water is always coloured along this stretch and so I could never be 100 percent certain of the effect, but it certainly felt right.
I will digress slightly here just to reflect on how difficult it was for me to keep the bait going in regularly at times. Having spent the last four years working for the Ambulance Service, at the ripe old age of 38 I decided to embark on a journey to become a registered operating department practitioner, trading my ambulance greens for surgical scrubs in a busy hospital. This involves enrolling on a university course, passing several exams, and then working 40 hours per week (unpaid) getting hands-on training at the hospital. In order to pay the bills, any days that I am not working 12-hour shifts at the hospital, I am working 12-hour shifts with the ambulance service.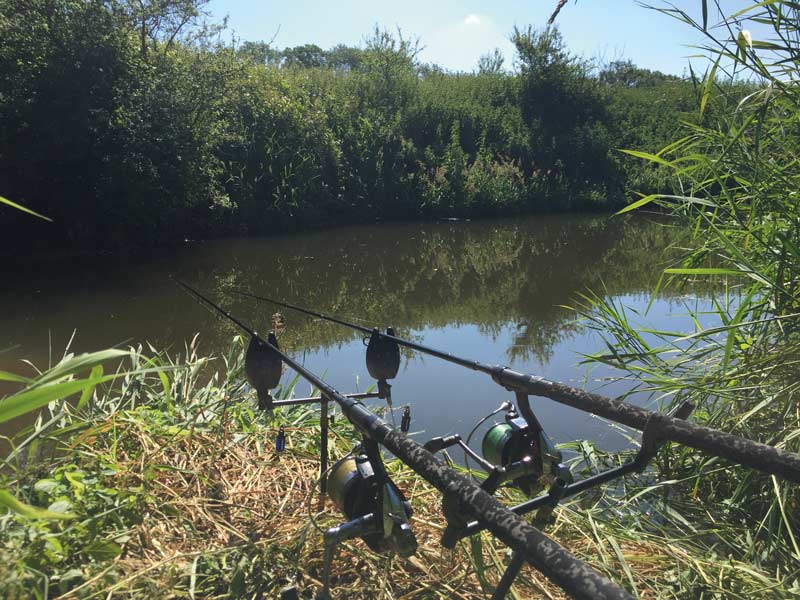 Suffice to say that staying up cooking particles after a long shift, and driving down to the river to throw it in after the next long shift, took more than a little determination on my part!
So, after the initial two weeks of baiting with small particles, I switched to whole maize and maples, plus a handful or two of 24mm halibut pellets, Solar Chilli Club Mix boilies and tiger nuts. If there were any carp visiting my spots, it was time to give them something to eat.
Two to three times a week leading up to June I would bait up rain or shine, often employing the help of my fishing buddy Leigh and housemate Darren to help me carry the bait all the way to the swims, for which I will always be grateful.
The magical June 16th fell on a Friday, and by half killing myself pulling double shifts wherever I could I managed to secure a whopping three days off over the weekend. The club doesn't allow night fishing so I planned to fish from 4am to 9pm each day, driving the 20 miles home for a couple of hours' sleep between sessions.
For the last three baiting trips I switched to feeding solely boilies, tigers, and the 24mm pellets, and despite overwhelming exhaustion, the anticipation of the first session was really building.
Soon enough it was the evening of June 15th and the kit was packed, rigs tied, all ready to go by the front door for a 3am departure. Tackle and rigs were to be kept as simple and as strong as possible: 15lb Big Game main line, 6ft lead-core leaders, 3oz flat pear leads fished helicopter style, 25lb coated braid hook links and simple bottom bait rigs incorporating razor-sharp size 4 wide-gape hooks. Finesse was not required, but if I were lucky enough to hook a carp then I certainly wanted to give myself every chance of landing it.
I couldn't get to sleep the night before the first session, and it was an incredibly warm night. I put the TV on and sat on the sofa at midnight, watching the clock tick by agonisingly slowly. Next thing I knew I awoke to a stiff neck and brilliant sunlight beaming in through the windows. No!
Yep, I'd fallen asleep and it was already 5am. Up in a flash and in the car within five minutes I soon pulled up at the car park to see two cars there, the first I'd seen other than my own since embarking on this campaign. The thought of my swims being occupied became a real worry as I hurriedly stormed past two lads at the first swim with a wave. A gallon of sweat and many nettle stings later I arrived at the first spot, and with immense relief noted that there were no anglers in sight. Tiptoeing down to the water's edge I carefully inserted the banksticks and laid down the plastic sheeting I had brought to sit on (to save the weight of bringing a chair). The first rod was baited with an 18mm Chilli Club boilie tipped with a tiger nut, and before underarming the rig into place I paused for a second to take it all in.
It was a glorious summer's day and the only sounds were those of nature all around me; the nearest road was over a mile away and I had this beautiful place all to myself. Without further delay the rig was cast alongside the snag tree to my left, followed by the second rod, baited with two tigers and cast just off the pads downstream.
Once the rods were settled I turned around and quietly walked the few metres to the rest of my kit, intending to bring my bits and pieces down to the swim quietly. I picked up my rucksack and turned to face the water just as the right-hand rod burst into life, taking me completely by surprise.
I was on the rod within three seconds, but on lifting into the fish I noticed the line angle and immediately realised something was wrong. The fished rolled on the surface opposite me and I could clearly see it was a scaly mirror, but the line was wrapped around a submerged branch from the tree raft to my left.
Gentle pressure resulted in nothing but a horrible grating sensation as the line rubbed against the branch, and though I could still feel the fish everything seemed to be becoming more and more solid. I couldn't believe I had hooked a wild river carp so quickly, and had an even harder time believing that I was potentially about to lose it. Putting the rod down and opening the bail arm, I quickly put on my chest waders before slipping into the water. Even at the near margin the water was instantly up to the top of my chest, and still the margins sloped deeper.
Clambering back out of the water I wrestled out of the chesties and gave the rod another slow, firm pull but everything was solid. Everyone always says: "I'm a strong swimmer" and maybe they are. I am a certified Rescue Diver, but even so I would not advise anyone to do anything as foolhardy as what I was about to do. Stripping down to just my boxers, rod in hand (the carbon-fibre one, cheeky!), I entered the water and swam upstream to the fallen tree. For 10 minutes I desperately tried to free the snagged line from the submerged branch, but it was hopeless. Starting to get a little out of breath I held on to a branch and took a little rest, reflecting on how stupid it would be for me to drown in this situation, and questioning my sanity.
At that instant the carp swam straight into me, literally right into my chest, causing me to shout a few stunned obscenities before quickly locating the trailing line and wrapping it around my free hand. I then threw the rod on to the bank, bit through the line attached to the submerged branch, and found myself again treading water, this time holding onto a river carp like a dog on a lead-core leash.
What happened next might seem hard to believe but I'm sorry, it's 100 per cent true. The fish slowly started to swim downstream away from me, taking my 15-stone bulk along for a leisurely ride! It towed me for a few feet before I guided it back towards the bank and the waiting landing net. With a scoop and a tricky climb out I finally stood there on the river bank, soaking wet, laughing, and looking down at prize in the net. I guess when your name's on it…
I popped the chesties back on (nobody deserves to see me in boxers!) and a T-shirt, and set about the weighing and self-taking photos. The lovely scaly mirror carp weighed 16lb and a few ounces, but I honestly couldn't have cared less if it was 10lb lighter or heavier – I'd done it! As is always the case I wish I could have admired my prize for longer, but it was a hot day and after a quick kiss and a thank you she was swimming away from me. I sat on the grass and dried out for a while before regaining my composure and getting the rods back out on the spots.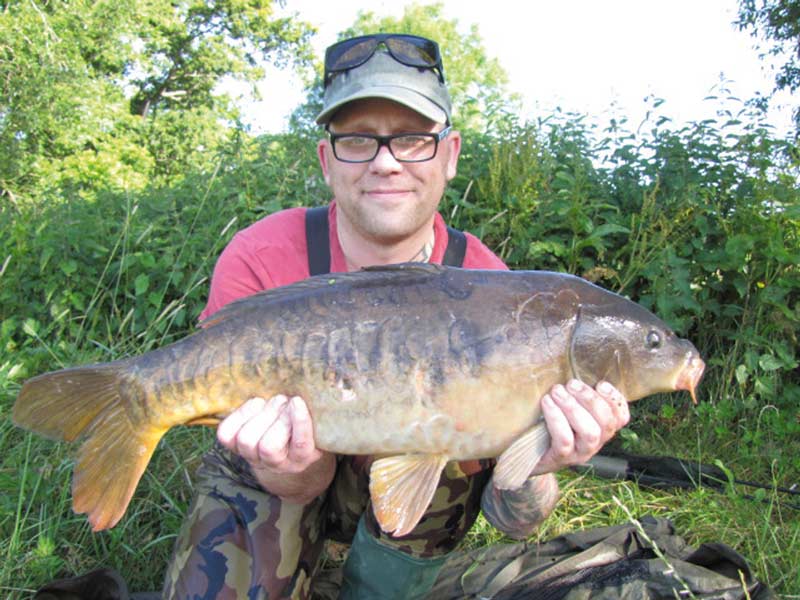 16lb

I didn't care if the buzzers remained silent for the rest of the day I was so happy, and anyway I was certain that the commotion caused by my morning swim would have been enough to send any fish in the vicinity running for the hills.
Imagine my surprise then when three minutes later the left-hand rod melted off, and I was once again attached to an angry carp! This fight was slower and more typical of a bigger fish, and sure enough a big ghostie was soon rolling over the net cord. At 23lb she was a real old warrior, and had clearly been through a lot over the course of her life in moving water.
I just couldn't believe how lucky I'd been to catch a river 'twenty' on my first session, but I did have a little smile and remarked to myself that effort really did seem to equal reward. I sent Leigh a text and told him what had happened, and he told me I needed to get myself down to the second spot and bag another one.
Leigh has had plenty of carp from the tidal stretch in his youth and so I was keen to follow his advice, but told him I needed to sit down for a few minutes and compose myself. It seemed mad to not have the rod back out on the spot while I did so! Sure enough, 15 minutes later the right rod was away again with an absolute one-toner as an angry carp made its way downstream. Once I had it in front of me it stayed deep, but through the polaroids I could see a long, chestnut mirror twisting and turning. On the scales she went 18lb and was one of the most impressive looking carp I've ever seen, a long, lean torpedo.
Slipping her back it just didn't seem to be possible, what an incredible way to open my campaign on the upper Arun.
It was midday by the time I got down to the second spot, dispatching two baits to likely looking areas before lying back to catch some sun and maybe a quick nap. The nap wasn't to be, as unbelievably one of the rods was away again, this time resulting in a 14lb mirror. This fish looked younger and had a shape more synonymous with a lake escapee, but it was certainly very welcome and was clearly thriving in its new home.
Two hours passed before the same rod went again, with what looked like another low-double mirror unfortunately slipping the hook. On any other day I would have been distraught at such a loss but today I simply shrugged and smiled, for the river had already been more than kind enough to me.
I did actually manage a little nap after this capture before the same rod went once again, and an 11lb common was soon in the net. Slipping him back I decided that I'd had more than my fair share for the day, and headed home.
I celebrated with a hot bath to soothe the nettle stings and sunburn, followed by a few cold cans of beer to celebrate the best opening day I'd had in over 35 years of angling. Everything really had come together perfectly for me, and it had been worth every minute of the effort I put in. The next day was ridiculously hot, the hottest day of the year in fact, and not surprisingly I gave up soon after reaching the first swim as it just didn't seem worth it. I did return at dawn on the Sunday though, managing a double-figure common from each spot and being back at home in the shower by 9am, ready for a day at the beach. Proper fishing.
A week went by before I returned to my beloved spots, but the session was memorable for all the wrong reasons. I saw the familiar sight of what I assumed to be the farmer's white van in the opposite field and waved my customary hello. I didn't receive a wave back this time, and two minutes later a Range Rover was steaming across the field towards me. I greeted the driver with a smile and a wave, but he didn't look happy.
"What do you think you're doing here?!"
"I'm fishing, here's my membership card."
"There's no fishing allowed here, you're too far downstream."
Bo****ks.
To give the old boy credit he was actually pretty civil to me when he realised that I wasn't a poacher and had just made an honest mistake with the boundary map, but that was that.
My river campaign was over as dramatically as it had started, but I'd had the good fortune to have managed a few captures before having to move on. I can't have any regrets, and those two short sessions and the work that went into them beforehand will always be very special to me.
As I type this we are heading into December and I still have my ticket. Last week I found a couple of spots on a new stretch that look like they might be worthy of some attention, and they're definitely not out of bounds, so watch this space!
I hope you've enjoyed reading this as much as I have enjoyed recounting the experiences, and would advise any of you to give the river carp a go if you haven't already. It's hard work, but when that first one comes along I guarantee that the smile won't leave your face for a week.
Tight lines.