Dave Magalhaes thinks back to his days as a young carp angler and reveals how what he learnt then keeps him catching throughout the winter months!
Carp fishing in the winter can be a daunting prospect and for many, the arrival of those first frosts will often mean the end of their fishing until the weather warms up in the spring. For me, though, I relish the winter months. The banks become far quieter in terms of angling pressure, but by choosing venues carefully action can still be quite prolific.
Thinking back, and I'm talking a long way here, years before I could even drive, I can still remember my friends and I sitting it out on our local park lakes. We'd be huddled together trying to keep warm, then all of a sudden one of our rods would rattle off and we'd all jump up excitedly. Generally, the person playing the fish would be all serious, while the rest of us would clown around until the carp was in the net. Once it was weighed and the photos taken, it would be returned and the rod recast, then we'd all huddle around once more to keep warm. It's funny the things you remember when you get a bit older, but much of what I learnt in those early days is what set me up for my love of winter fishing today.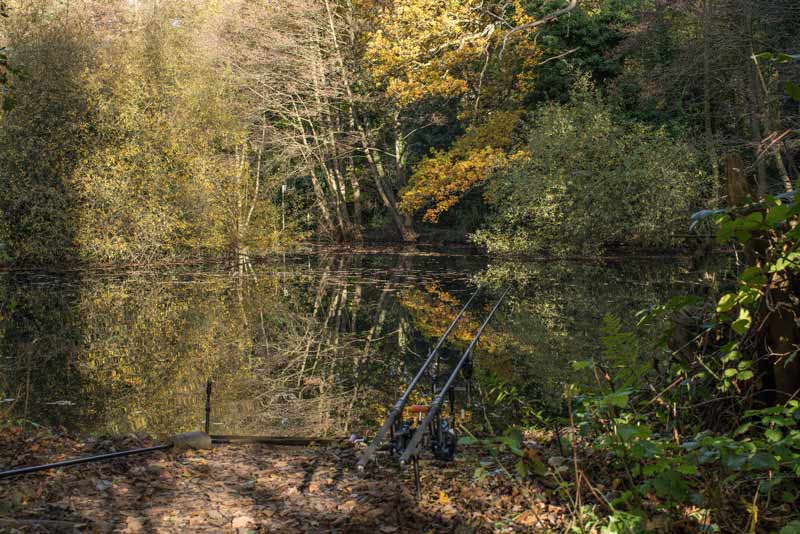 Back then, much of my time was spent on local park lakes. They were generally quite shallow and held a reasonable stock of carp, and no matter how cold it became we generally caught a carp or two. Fast forward to today and they are exactly the sort of venues I look for. Shallow lakes in the winter respond much better to any change in the weather and just a couple of days of mild weather can have the carp moving about and willing to feed.
Where we are today is typical of the sort of venue I'd look for. The lake itself is probably two acres in size and averages about four feet in depth. It doesn't have a huge head of carp, maybe 50 or so, but it does have plenty of other species, which I actually think helps to keep the carp active. I've set up in a corner of the lake that faces a big island, and directly in front of me is a big overhanging tree that actually goes into the water. This would be a natural holding area for the fish through the winter, but the fact that it's south facing and receives much of the day's sunlight only heightens its appeal for the carp.
Just to make things even more perfect, it receives the warmer westerly/southwesterly winds. Little details like this are easy to find out by doing a quick Google Maps search either at home or on the bank, and it really is amazing how often the fish will turn up on a south-facing margin, especially if there is a snag or two.
Today, I've decided to keep things fairly simple and will be fishing with small PVA bags of Scopex Squid pellets and crumbed Candy Nut Crush boilies. On the rig itself I'm using really bright, yellow pop-ups. During the colder months, the carp's metabolism slows right down and their eyesight is also at its worst, so I like to use a nice bright pop-up to get their attention. Carp are curious by nature, and as they don't have hands to inspect things quite often they'll suck something in to work out what it is, so a bright pop-up is a real winner at this time of year.
I've also opted for the Ronnie rig instead of my much-favoured chod rig today. I like to fish a chod when casting singles at showing fish, especially when I'm unsure of what's on the bottom. They generally present well whatever they land on, which means I'm always in with a chance of a fish hooking itself. It also lends itself to fishing over a prebaited area or with a good spread of boilies, but today I'm not doing either. Instead, I want to fish a nice low pop-up with a little PVA bag of goodies attached.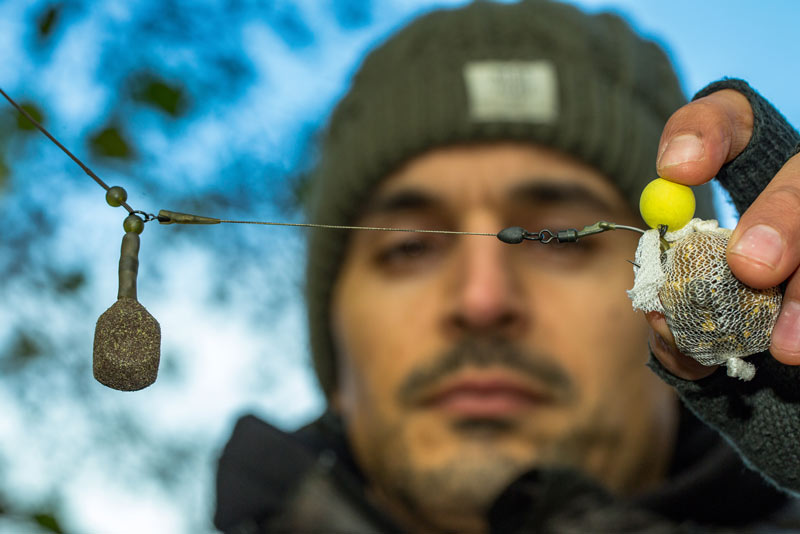 Plus, as I'm casting so close to snags, I want to use a bigger than normal hook to make sure I can bully the fish away if I need to. Again, in the warmer months I may have chosen a smaller hook but at this time of year I'm confident that the hook size won't hinder my chances.
Where to cast my rigs is made easy for me as there are two small cove-like areas in among the snaggy overhangs. The fish will often hold up quite tight under these areas for a number of reasons, so any little holes are often the best spots as it allows you to get nearer to where the carp want to be. It may sound silly, but you'll be amazed how being just a foot or two away from where the carp feel comfortable could be the difference between catching a fish and blanking, so a tight cast really does mean a TIGHT cast.
To make sure I get it right, I cast as close as I can to the spot without a rig attached, then put my line in the line clip on the reel and wind in. I then attach the rig and my PVA bag, before casting back to the spot. For a little added attraction, I then throw 10 or 12 boilies over the top. The rods are then placed on the rests and I tighten the clutches right up on the reels to make sure that no line can be pulled off by the carp. Then it's just a matter of putting the kettle on and sitting back.
At this time of year, bite times can be very predictable and the more you fish a venue, the more you'll learn when those times are. The feeding spells can also be quite short, so it can really pay to have spare rigs and bags tied up, ready to go.
This morning was a great example of that. I know that the fish in here like an early morning feed, especially when the skies are clear and the sun is out, as it hits the island margin the minute it rises behind us. I'd only just made my first tea of the day when my left-hand rod was away. The fish lunged hard to get under the branches, but by keeping the rod low and applying lots of pressure I quickly turned him. Once it was out in the open water, the fight was fairy straightforward and I was soon looking down on a lovely double-figure mirror.
Without wasting any time I quickly unhooked the fish in the net and soon had another rig back on the same spot. The decision was a good one too, as not long afterwards the same rod was away again. When fishing near snags, it's important to always be alert and sit close to your rods, and on this occasion I was glad that I was so close as the this fish really did try its hardest to make the sanctuary of the branches. Again, though, by keeping the rod low and applying lots of side strain, all the fish could do was kick a few times before finally coming away into open water. I could tell that this fish was bigger than the first, and when it finally went into the net I wasn't at all surprised to see that it was one of the better ones.
As quickly as the action came it was soon gone, and the next few hours passed by quietly except for a small skimmer. Rather than sit and wait for something to happen, after a couple of hours I reeled in the rods and recast them to slightly different spots around the trees, just in case the fish had moved or eaten the bait without hooking themselves. The only other thing that crossed my mind was to move and fish the middle of the lake. It really is uncanny how often the fish, for whatever reason, will all be sat out in the middle of the lake, with the bigger fish in particular renowned for it.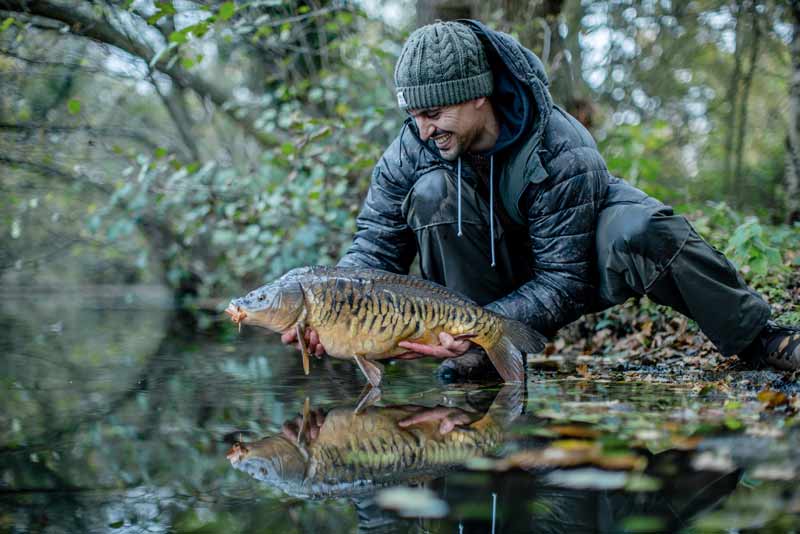 Instead, though, I decided to sit it out in my swim and wait for the fish to switch back on again. Sure enough, a few hours later I had another take, this time on my right-hand rod. Just like the first two, it lunged for the branches, battling hard to make the safety of the snags, but I was able to steer it away into open water and a few minutes later I was looking down on a truly gorgeous heavily scaled mirror.
Once the photos were done and the fish returned, we decided to call it day. Three lovely carp, on a cold day, was more than enough to make me happy, so we packed up and headed home.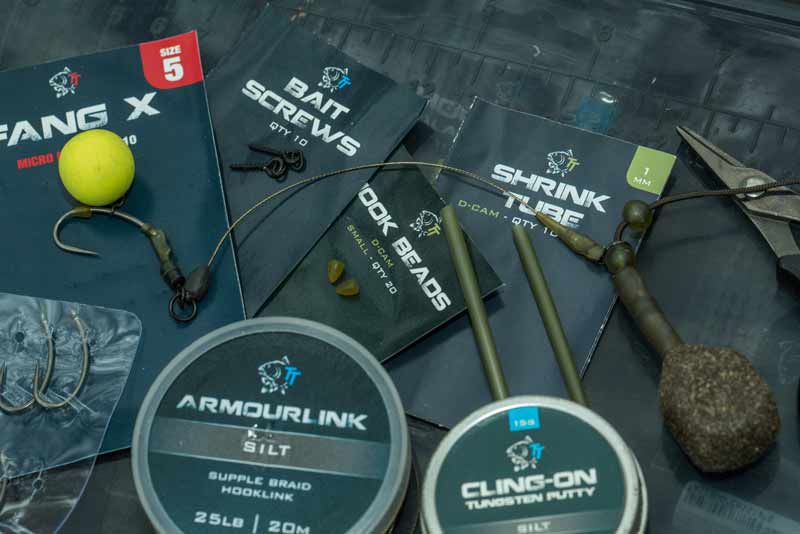 To construct Dave's Ronnie Rig you will need these simple and reliable components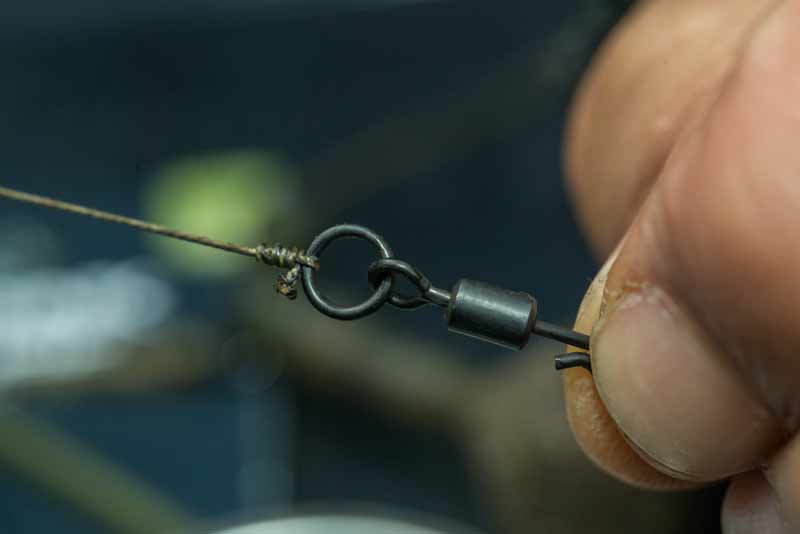 Tie a 9in section of Armourlink Supple Braid Hooklink to a size 11 quick-change ring swivel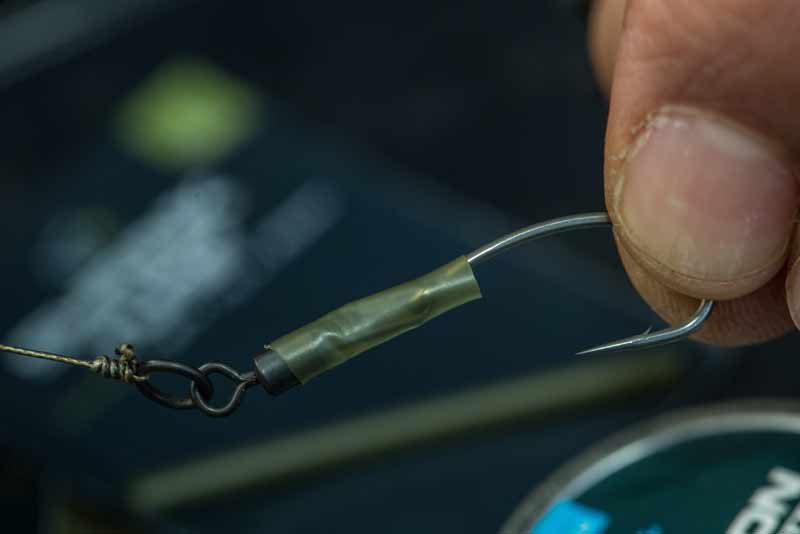 Clip a Fang X hook onto the quick-change ring swivel before covering with shrink tube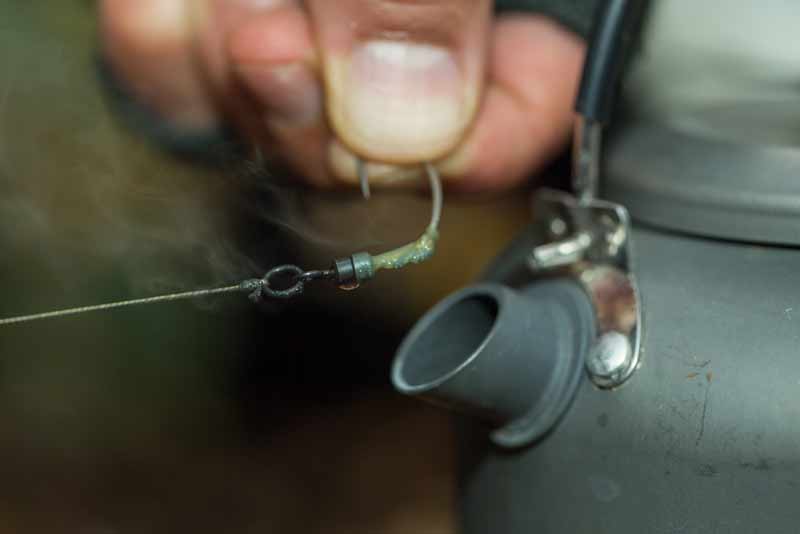 Shrink th tubing down in the steam from a kettle - be careful not to scald your fingers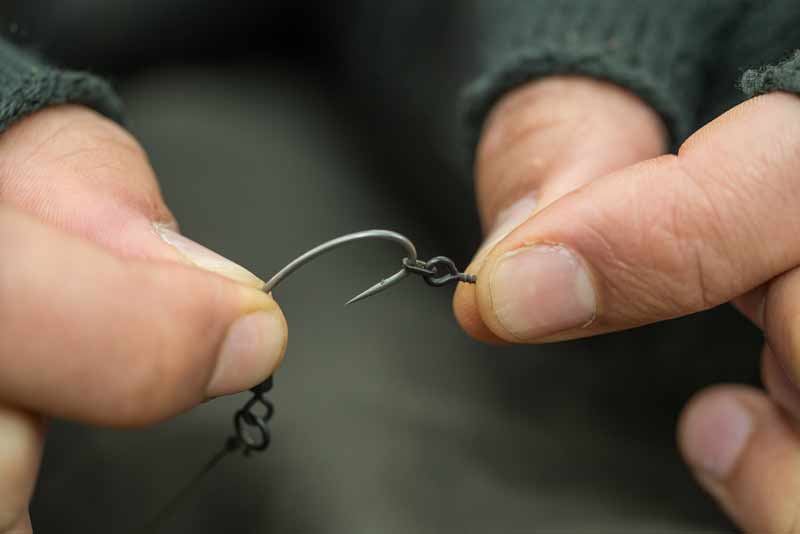 Slide a Bait Screw onto the shank of the Fang X hook

Follow this with a Hook Bead, making sure to position it opposite the barb on the hook

Position tungsten putty below the ring on the quick-change swivel to conuterbalance the pop-up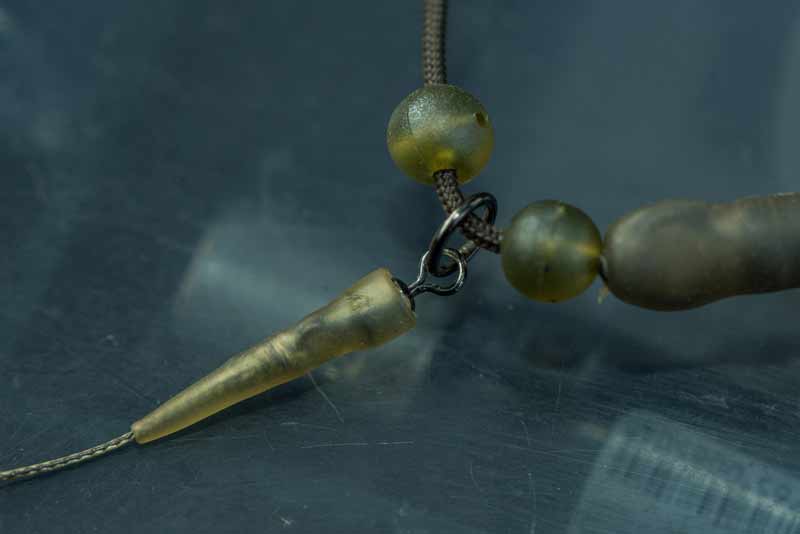 Dave attaches the rig with a ring swivel to the Cling0on leader and covers the join with a hook-link sleeve to prevent tangles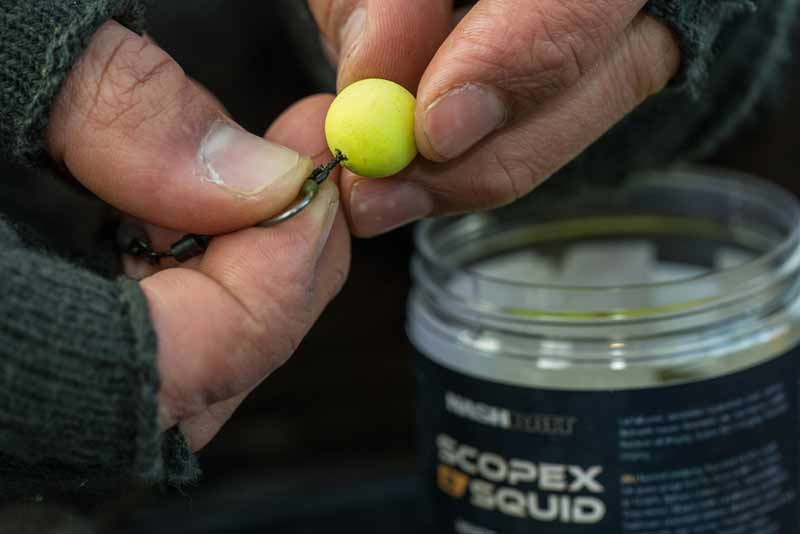 He attaches a bright pop-up with the bait screw and is now eady to cast out to the spot