Like most anglers, I guess, I've learnt my way from fishing the waters closest to home, which for me has been my local canal and the two large reservoirs of Upper and Lower Tamar Lakes. Obviously two quite different venues, although they do have one major thing in common – the fish have plenty of room to travel and hide.
In the case of Upper Tamar, the lake I am fishing here, there are some 80-plus acres of water for the superb head of perch, silver fish and, of course, high stock of carp to inhabit. Although the lake, split between a Cornish and Devon bank, does offer something that I find very valuable indeed – plenty of space to enjoy being out on the bank. Having acre upon acre of water in front of you can be a bit off-putting I guess, but it needn't be as much of a daunting idea as you might think. In fact, going into autumn, when the carp are hungry, active and feeding up for winter, it can be a very attractive and rewarding prospect indeed.
Okay, so you like the sound of beating the crowds and having plenty of space to work a piece of water rather than squeezing your rods in between the lines of a pressured venue. It sounds great, but where do you start? Well, unfortunately for the car park carpers out there, it means a fair bit of walking, looking and then in some cases a long run with the barrow. Carp on large waters can be pretty nomadic and are not always in areas visible from any one standpoint. So you do need to have a good look around first. This also helps to, well, almost shrink a large lake down a bit and make it more manageable because you can often discount areas already occupied or simply devoid of any signs of carp.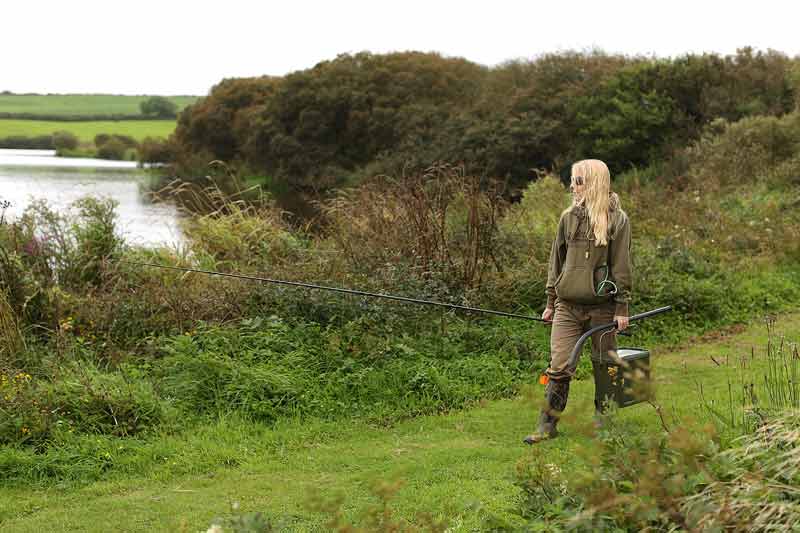 Spend time looking, feature finding and baiting.
It doesn't need to be complicated, beginning with the obvious and looking out from the bank that's accepting the wind is for me the best place to start. Big-pit carp, like the ressie fish at Tamar, are massively affected by weather conditions such as the wind direction when it comes to location. They love to follow a big wind, especially one that is new, warm or both, attracted by the prospect of food being stirred up in these areas. Although, in the case of Upper Tamar, where the wind can really pick up speed across the large open expanse of water, the fish can often back off a really big wind. Instead attracted by another influential element on a big lake: the undertow. This is basically a flow of water travelling beneath the surface caused by the wind travelling in the other direction. When the ripples turn to waves it's worth taking this into consideration and having a look further back down the lake from the bank that's accepting the wind or even on the back of it. I would also do this if the wind were cold. Carp are just like us in some ways. They're not always overly bothered by a cold breeze, but will often find the warmer areas off or at the back of a chilling wind more attractive. So the wind direction is really the first indicator as to where to start looking, basically with a keen eye over the water looking for signs of fish showing and activity.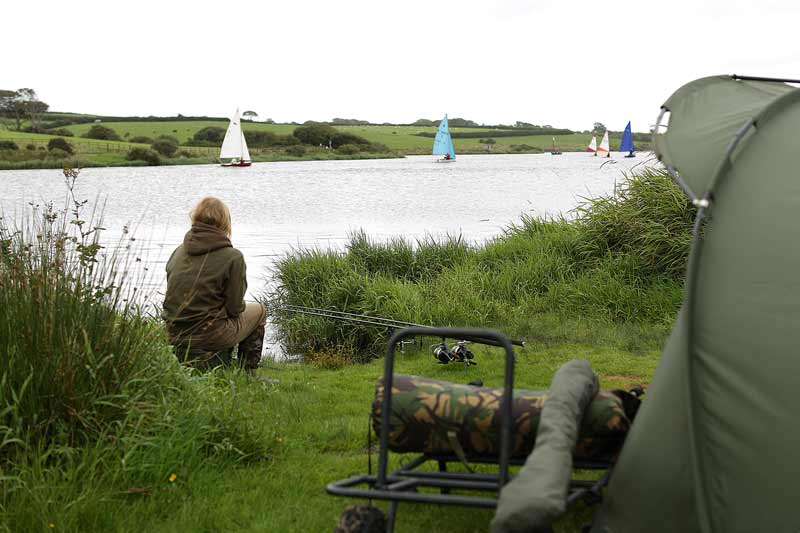 Watch for any small signs of carp betraying their location.
It's worth pointing out that I'm talking about fishing larger waters, so not necessarily low-stock venues, which of course could be any size. I'm referring to bigger lakes that hold a good number of fish. Tamar, for example, holds a terrific number of carp, so when you're on them you'd expect to catch a few.
The reason I'm pointing this out is that location-wise there's other things to consider, particularly when it's difficult to get on the main body of fish due to swims already being taken, something I often encounter as a weekend angler. In this scenario I'd look at areas that offer good access to water that I'd expect fish to frequent. Side bays and point-like sections of bank especially, and any vantage point where I can spread my rods, keep my eyes on the water and cast at any sign of carp I see. As I keep mentioning, keep your eyes on the water, and even listening out into the darkness at night is a good idea. If you see or hear crashing out somewhere, then there's nothing else for it other than a move.
A need to be mobile coupled with the fact you are generally going to be barrowing some distance at times, means that it does pay to travel light where possible. Luckily, my tactics are pretty straightforward on the big ressie, so there's no real need to push anything other than essential tackle.
Once you've plotted up somewhere it really does pay to take time and make a few casts with the marker rod, especially when you may have barrowed a mile and a bit. There's no point wasting all that effort. Your traps need to be set in the best possible positions, which are not always that far out. If I were to cast out and find weed or see it at the surface then I'd be looking for holes within it and clear presentable spots, but 99 per cent of the time this is not the case at Tamar or the large waters I fish. Generally speaking, they are silty and deep, which means that depth, or rather changes of depth, are important and one of the things I'm looking for with the marker rod.
With acres and acres of fairly uniform lake bed, any undulation or small patch of harder/smooth bottom within the silt can be a proper little 'catch' gold mine. They may seem small and insignificant to us when dragging a lead but will standout much more to the carp, which have often created them anyway. Perhaps cleaning away layers of silt by feeding on natural foods such as snails and bloodworm. Either way, small spots such as this and any little change in depth is certainly worth noting, which leads me onto what is the one of the best features of all on a large lake: the drop-off.
This section of lake bed, where the marginal shelf begins to level out or ease off, is one that is affected greatly by the winds and undertows found so attractive by the carp. In most cases a silty lake bed will firm up at this point and gravel areas in contrast to the majority of the bottom can be found. Great for good rig presentation and the place where food is stirred up and therefore a place carp would also expect to find food. The ideal place to despatch your bait.
As I've mentioned, deep water is also often encountered, so I try and place my baits at varying depths to hedge my bets as to which layers of water the fish are travelling in and then most comfortable to feed in. Depth and the marginal drop-off; get these covered and it's time to apply some bait.
Spomb a few baits over the top of your stringer or bag.
Boilies, or rather food source boilies, really are my main focus, especially through autumn. Full of nutrition and attraction, they really are perfect for targeting hungry carp on a big lake. Not only do they go some way to avoiding nuisance fish, they really suit the baiting situation that I'm trying to create, which is a good spread of baits around my rigs. I may cast out a couple of Spombs to place a nucleus of bait around my rigs, but essentially I'm looking for a spread of boilies within my swim. The throwing stick is the ideal tool for this – quick, quiet and accurate – dotting baits around at the range I'm fishing, and giving off a big food signal over a wide area for the carp to pick up on. Hopefully a few fish come across a bait or two, begin to feed and search for more baits, having to move between the spread boilies, in turn gaining confidence and becoming very catchable.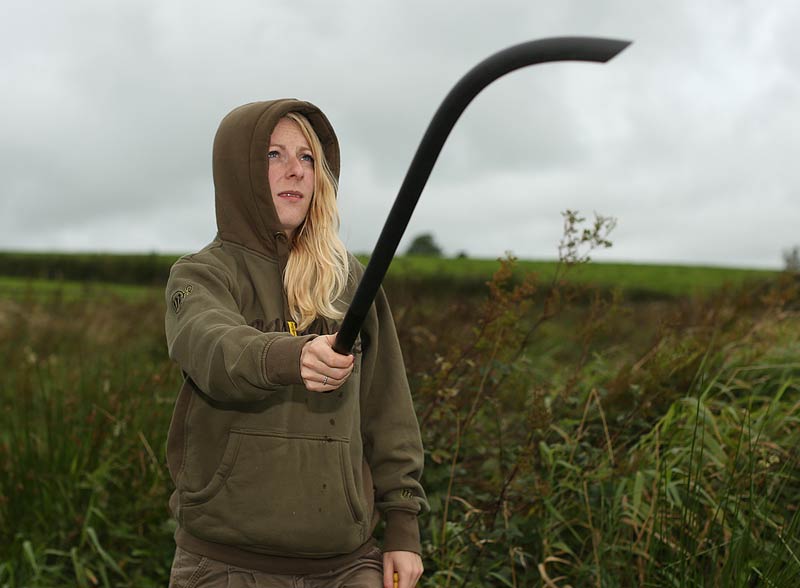 You'll often catch within throwing-stick range...
As I've already said, location is massively important on a larger water and I have found that prebaiting can help localise fish to likely areas. I'm not one for using masses of bait and I don't think you need it, just a few handfuls to get the fish accustomed to finding your bait in your chosen areas. If nothing else, the fish will be gaining confidence in your boilie flavour, which is another plus point of using a food source boilie such as the Mainline freezer baits and the Essential Cell I'm using here. Crucially, these baits are easily digested by the fish so you can apply them the whole year through, simply reducing or increasing the amount of feed dependant on the session activity or time of year. I really like this because it makes things really simple where bait is concerned, and it's not only the confidence of the fish that grows, but your own as well. It's something extremely valuable when you're perhaps taking on an 80-plus-acre water in the middle of winter.
So with a spread of bait in the swim I like to boost the attraction of my hook bait a little with liquid attraction. The Hook Bait Enhancement System dips are perfect for this, dispersing an attractive food signal throughout the water column and giving emphasis to the location of my hook bait. Plus, they are unaffected by low water temperatures, so I can again keep to a working formula the whole year. Being PVA friendly is another advantage – I can not only dip my hook bait, but a small stringer too; a tactic that I really like. Again it's a simple way to boost attraction and improve presentation, with the weight of a two or three-bait stringer helping to keep my light, Balanced Wafter hook bait away from my lead setup during the cast and helping prevent tangles. Not to mention placing a few baits close to the hook bait and again improving the attractiveness of my presentation.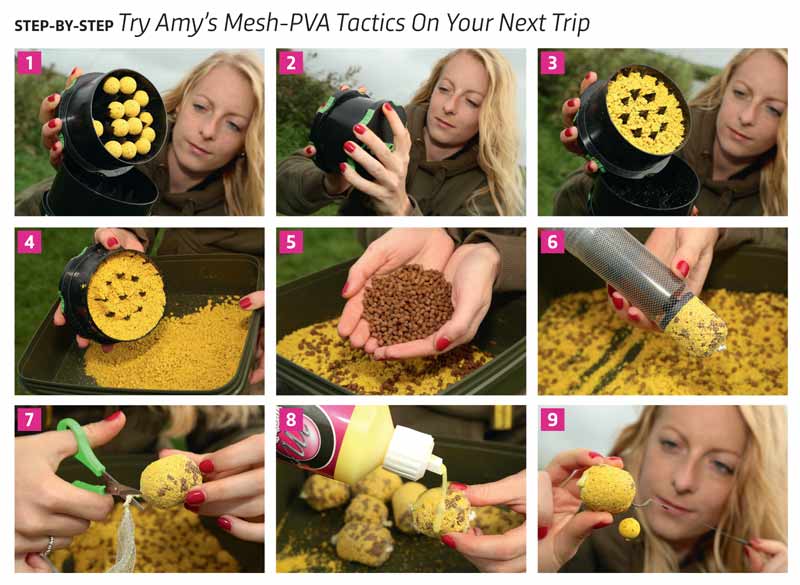 1 The Korda Krushers make light work of crumbing up boilies. You'll need to do a few baits at a time…
2 … and give them a few turns to grind them to your required consistency. More turns equals finer crumb.
3 Just a dozen or so baits gives you all of this crumb, making your boilies go a heck of a lot further too.
4 Amy pours a few Krushers worth of crumb into a bait tub. Make sure the tub is nice and dry to start off with.
5 Mainline's Response Pellets, which in this case match the Essential Cell boilies, are added to the bait tub. Not too many.
6 The crumb and pellets are then combined before Amy puts a small handful into her PVA mesh tube.
7 She then ties it off into a tight ball, maintaining the tension throughout, and trims the PVA.
8 A little PVA-friendly syrup is poured onto the bag just prior to casting, to further boost the attraction levels.
The tight bag literally explodes by the hook bait, leaving an enticing pile of goodies for the carp.
PVA sticks or bags are another good way of doing this, simply crushing down a few boilies, perhaps adding a little Response Pellet and then some liquid attraction. It's really easy to do, but when combined with the Response Balanced Wafter hook baits it creates quite an advanced setup. What's more, these stringers and PVA tactics are very instant in their appeal – great for casting at showing fish at any time of year or a minimal tactic in winter.
Rig-wise, things needn't be complicated either. Simple and reliable is what I find important, and a 'rotary' helicopter arrangement provides just that for my lead setup. It's ideal for fishing over the silt that I'm generally faced with because the lead can plug a little without pulling in the rig. It's also great for preventing rig tangles.
Helicopter rigs: simple yet extremely effective.
Another element that sums up fishing large waters is that it pays to keep things simple. Keep to a trusted bait and the things you're most confident in. This allows you to concentrate on location, which as soon as you even look at a big lake becomes the most obvious and important side of success. When you get this right, a large lake suddenly becomes a very small one and the bites will come!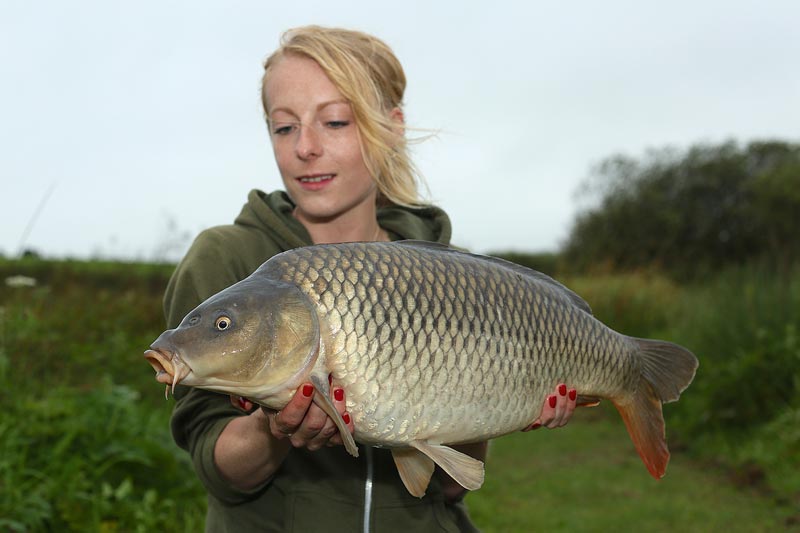 Like what you see?

Or buy a single issue