Since I was a kid I have been attracted to fishing flowing water… there's something magical about it, don't you think?
Growing up in the north had its restrictions, yet as a kid I would fish the local rivers as much as possible. Although the carp were few and far between I would often catch barbel and chub, which helped me to learn a lot about river fishing. I did manage a rare carp from the River Dane, which is far from a typical carp type river; with fast shallows and a few deep pools it was barbel territory, but this only further fuelled my passion for river carp.
Fishing the rivers for the last few years has been challenging; it can often be moody and unpredictable, but ever so rewarding. So where do you start when trying to catch carp from the river?
Well my advice would be to treat it like you would a lake. The first thing to do is to do it target an area that looks typically 'carpy'. Places to always investigate first are areas of relatively slack water; look for features like bridges, deep bends, bankside cover, lily pads and weed beds – basically just use your watercraft skills. Carp in the river are similar to their stillwater cousins; they want an easy life if possible and prefer to avoid rushing water, they like to meander around the margins in slacker water and any area offering good cover will most likely hold them.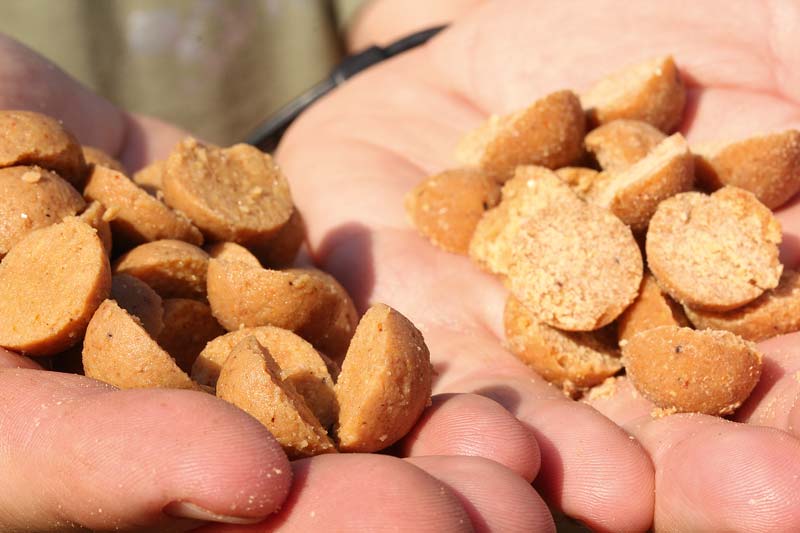 Halved baits are great but look at the ones on the left which have been soaking in the CSL, so much more attraction is present.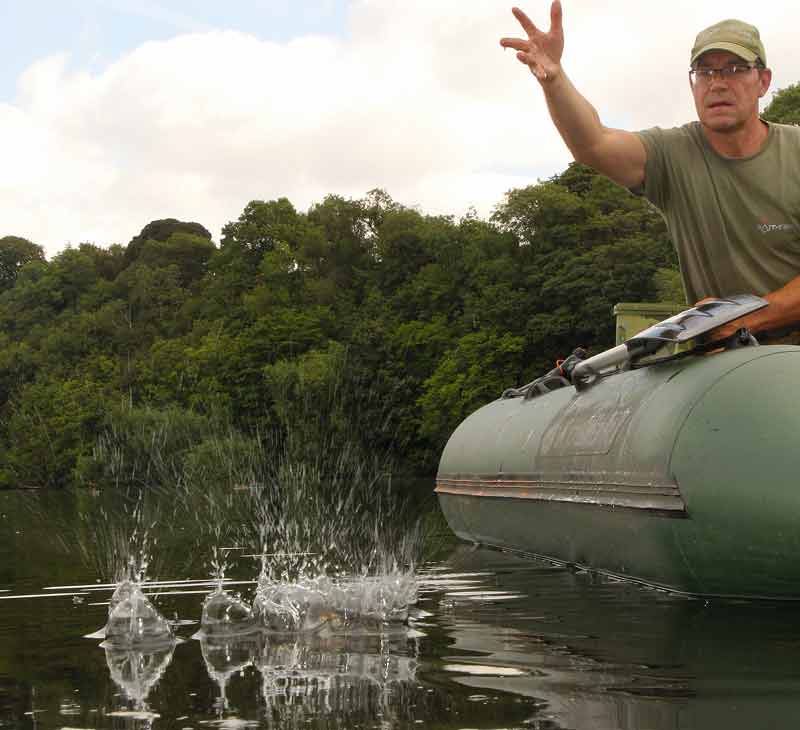 A handful or two of bait is all you need.
River carp generally tend to be lighter in weight than their stillwater boilie-munching cousins, which I guess is pretty obvious considering they spend half the year fighting the current. In fact this season the first six weeks saw conditions far from ideal due to constant rain; the ground was saturated and whatever rain we had just kept on seeping into the river, holding the water level above normal for the time of year. Higher than normal water levels are not ideal, and the fact that the water was holding a deep brown coloration meant the carp were not where you would normally find them.
When these conditions take hold, carp will head to the nearest sanctuary places such as boat marinas and any backwaters and collect in tight groups. Depending on how large the river run is, they could alternatively be spread wide in search of more comfortable areas, but fear not as soon as the river levels drop back to normal then they return to the spots we first talked about.
Another point to mention is that you have to wait until June 16th to fish the river, this gives you the chance to pre-bait any likely looking spots well in advance and do your homework, so if conditions do turn for the worse you know where you might stand a better chance of locating a carp.
Before I headed off on my last session I checked the weather forecast a few days in advance and the Environment Agency (EA) water levels on its website, which is always a good starting point before I drive the 80 or so miles to the river. When I arrived for this session the river was running low, which was expected at this time of year. A rigid inflatable dinghy and petrol outboard is definitely a great investment; this has given me an advantage over others as I can search out areas that others cannot reach, away from the madding crowds.
My latest session started with the rigmarole of inflating the boat, which takes around 10 minutes, so it's not a major chore, followed by loading the gear and attaching the outboard. There are plenty of spots where you can drive up to the river and launch the boat. Once loaded I was off in search of these wily old river creatures. A riverboat licence is a must as the EA does patrol the river. It's available online via the Canal & River Trust website.
It didn't take me too long to find a swim with all the features that looked like it would hold a carp or two. The spot I chose had good marginal weed growth extending out into darker, deeper water. Further downstream also looked good for a bite as overhanging trees extended into deeper slack water. The main draw to this area was the fact I had different habitats and therefore a greater chance overall.
Once on dry land I set up the rods with flat leads on a lead-clip setup. I've found the carp are not generally rig shy, but I do fish slightly longer than normal hook links if fishing into gently flowing water; the idea being that the flow will straighten them out along with an anti-tangle sleeve, while a small blob of tungsten putty is used to help the rigs to settle on the substrate. However, when targeting the margins, I fish rigs similar to those you would use on a stillwater.
A D-rig setup is my favourite rig, fished with a balanced pop-up and bottom bait hook bait, snowman style. The bright 10mm fluorescent pop-up sits on top and aids visual attraction, while the bottom bait I use is a Bait-Tech Poloni boilie, offering superior levels of attraction and scent. The rigs are tied using Fox Weedy Green hook links and Fang X hooks. I strip a small section of braid just below the hook to give a supple section and add a blob of tungsten putty. The hooks have a super-sharp straight point, which means they are sticky sharp straight from the packet and I have achieved good hook-holds.
Large hooks and a fleck of colour, two important attributes to Ians attack.
As we all know, rivers also support a whole host of other species, which we would rather avoid. The bream range from 3lb to 8lb and can easily pick up small baits so those are best avoided, as are pellets – they home in on those like a magnet. I will put hemp in the margins if I think it's too shallow or close for the bream to venture; it works most times and gives the carp something to grub about for, holding them for a period of time, hopefully giving them more time to locate the hook bait.
If bream do become a problem I will use two 18mm Poloni boilies on a hair. Another great alternative hook bait I will also try is a hardened Poloni Dumbell, especially if I'm leaving the baits in for a long period. Available in two sizes, 10 x 14mm and 14 x 18mm, I prefer the larger size.
By using of the boat the rods are positioned carefully, two just on the edge of the marginal weed and one a good distance downstream to the tree line on the bottom of a shelf in deeper water. It seemed a great patrol route where natural food would gather. Just a couple of handfuls of both 18mm pre-soaked boilies follow each rig. I always pre-soak the boilies, with Super CSL Krill & Tuna flavour being my first choice.
On the river I believe we are always fishing for a marauding carp; my thoughts are that they move around in small groups so if you do get one then you just repeat the feeding pattern and wait for another small group to pass. With limited food available these river carp will soon home in on the scent. The Poloni boilies' secret herb and spice mix gives it a pungent, savoury flavour that will constantly be leaking flavour, unlike artificially flavoured boilies that tend to leak out the flavour quite quickly. I want my bait to be working for a longer period and the Poloni does just that. Coupled to the fact that they have been pre-soaked in Super CSL aids the attraction immensely and can often lead to a very quick take.
Once I have placed the boilies over the rigs I will pour the bucket of Super CSL liquid into the water, the amino-rich scent will slowly drift downstream with the idea being the carp will pick up on it and follow it to the source, leading them to the baited spots.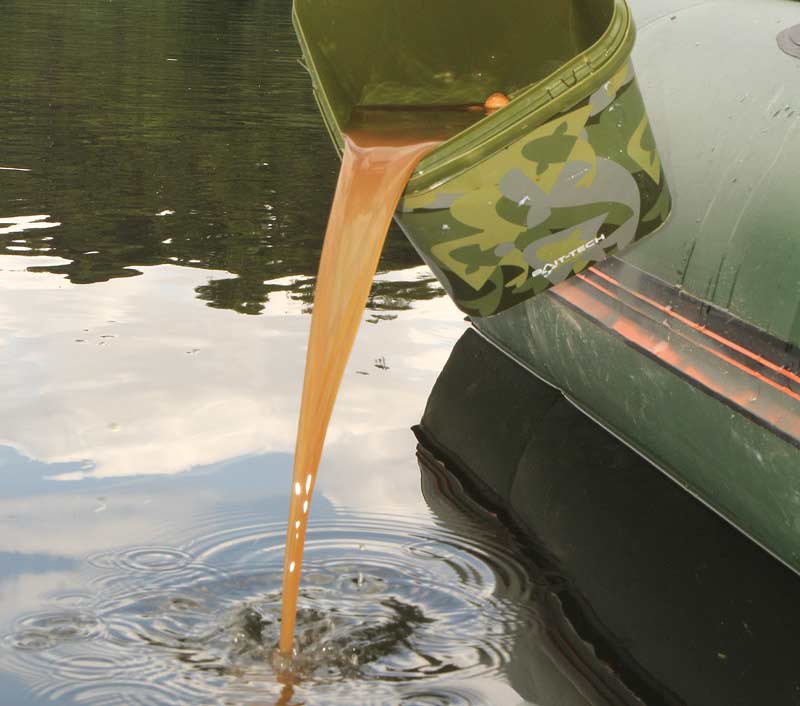 Make use of liquids to add pulling power.
On this particular session, the sun was out for most of the day and it was hot. The odd large cruiser boat passed and fortunately stayed over the opposite side of the river, which was deeper so no real disturbance was created. Mid-afternoon arrived and without warning I had a take on the margin rod. I dashed to the rod and hit it, and after a scrappy battle a mid-double mirror was in the net. I was happy, as the mirrors are rarer than the commons. Saying that there are so many lakes that border the river, lord knows how many fish have ended up in the river after the winter floods. Most of the bigger carp haven't spent all their life in the river and there are some real surprises to be had – ornamentals, deep-bodied mirrors and some stunning fully scaled among them. Every time you get a take you just don't know what surprise is going to be on the end of it. This is one of the reasons I love fishing the river, it's so unpredictable and exciting.
The rest of the day passed quietly and as the evening drew in, the boat traffic began to disappear and I settled down for the night. The conditions looked bang on – I was expecting action that night. Nothing occurred, unfortunately, so I reeled in mid-morning, checked the rigs and put on fresh baits. This time, before positioning the baits I decided to glug the snowman rigs in the new Poloni glug. It complements the Poloni boilies perfectly and oozes attraction.
Another batch of pre-soaked Poloni boilies were again positioned on the spots. I had mixed the CSL with river water the night before and added a couple of kilos of boilies. The Super CSL had soaked right through the bait, they looked so good I could have munched a handful myself.
I tied the boat up again and sat back as the sun began to burn through the light cloud, and after a while started to think about how peaceful it was. No-one was casting spombs, no-one was casting anything. The wildlife and flowers were untrampled, other than the few I had flattened! I lazily lay back soaking up the tranquillity and sun, thinking to myself this is what fishing is all about – I just needed another carp to round it off. I just lay there waiting for the clutch to scream off and like all good carp fishing stories it did just that.
It screamed off like a steam train, the reel just couldn't keep up. I grabbed the rod and immediately slackened off the clutch a bit more, hoping that I would not get a dreaded hook-pull. Fortunately, it held and a decent fish angrily ploughed up and down the river. I have had plenty of the stubby nosed lean, mid-double commons that inhabit the river but this one felt a better fish. I dashed on to the boat and despite the motor's propeller being stuck in the mud I somehow managed to force it out into open water. The fish headed for the weed beds and got well and truly stuck. Fortunately, I was able to get over it thanks to the boat and pull it free, whereupon it set off again into the deeper water; my heart was pounding from the exertions of getting the dinghy into the open water and the excitement of playing the fish – the adrenaline rush when you hook a good fish is just awesome and so addictive, it's definitely one of the reasons we all love carp fishing.
I was anxious to see the carp but keen not to try and get it up too soon, and the fight lasted for what seemed an age before I saw it. Eventually it rose to the surface and I was blown away when I saw this beautiful common carp begrudgingly enter my net. I was elated. The sun was shining and all was good, a quick weigh indicated it was 21lb 14oz. It was a stunning looking fish and one of the surprises that the river is famous for.
I didn't mind the rest of the day passing quietly as I had a stunning looking common for my efforts. So why not give it a go for yourself, you never know what secrets you might be the first to reveal.
A much rarer river mirror; who knows where it came from or where it will end up.
Like what you see?

Or buy a single issue