Over the last 15 years or so now, from April right through until November time, I have used fishmeal boilies. I really don't think they can be beaten, especially during the summer months. Even if it is cold in April, I still feel that it is the time that the carp's metabolism quickens and they are on the hunt for proper food.
It doesn't have to be introduced in large quantities, though, and that is key. At the start of the year I only put small amounts of it all over the lake that I am fishing. They won't be smashing bait that early on, so just the odd little taster will get them ready for the year ahead.
I have been lucky enough to be able to use a boat on my main water for the last few seasons and the things I have seen are incredible. I have absolutely no doubt whatsoever that using a bait such as the Krill through the summer months is such an edge, especially when fishing for big fish.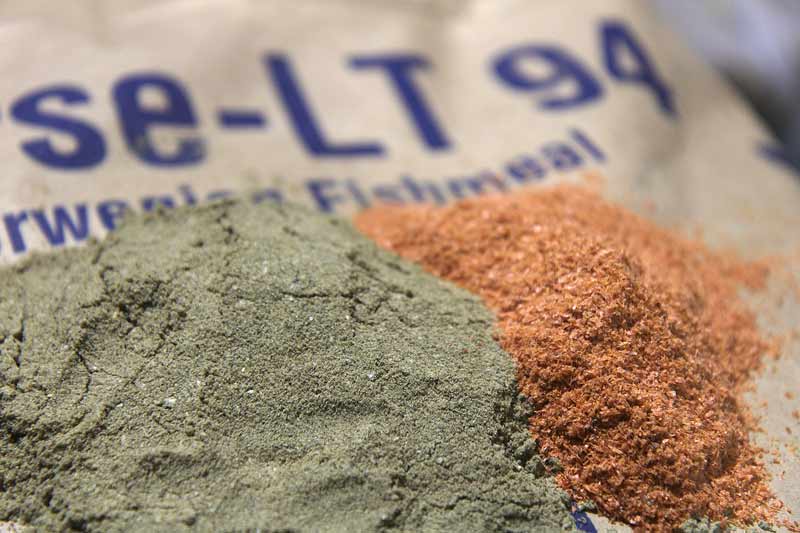 Simply, a boilie's ingredients will dictate its effectiveness.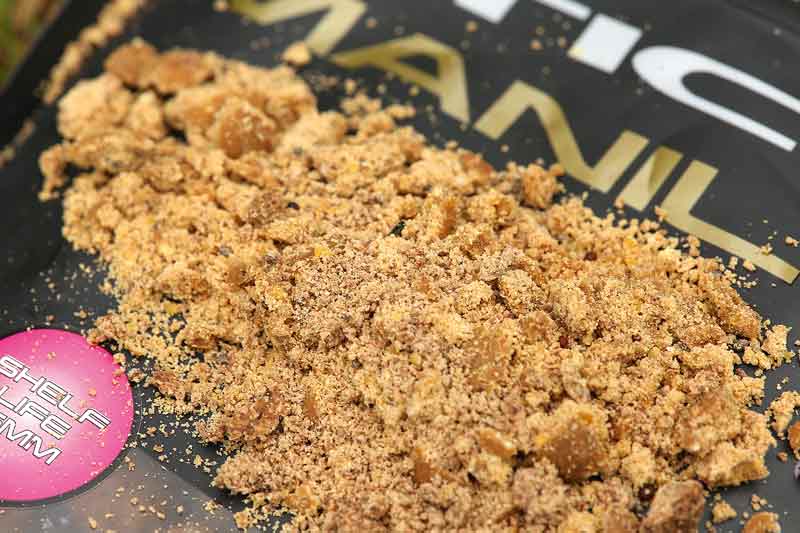 Crushed boilies – carp absolutely love this simple variation.
I have seen carp literally demolish areas that were once small holes in the weed, turning them into clearings the size of a transit van. The beauty of a bait like the Krill is that they really do become addicted to it. It is high in protein and fats and this is exactly what the carp need when their metabolism is racing.
I have noticed that over the years, more and more companies have gone down the nut-based, milk protein bait route and use that as their flagship boilie to use all year round. This makes it even better for anyone using fishmeals during the summer months as, in my opinion, there is no comparison, especially when fishing for bigger fish.
When it gets to the colder months, however, I do favour something less rich and fishy and go for a bird food, milk-protein bait. Baits like this are much easier for the carp to digest. The milks that go in to these bird food baits are so important, firstly for the protein content and secondly, for the solubility and ability for the bait to release its attractors well.
I have been with Sticky for four years now and I know how meticulous they are when it comes to producing bait with the right protein levels. Usually, most baits of this description have a very low protein content, but the Manilla sits at over 40 per cent.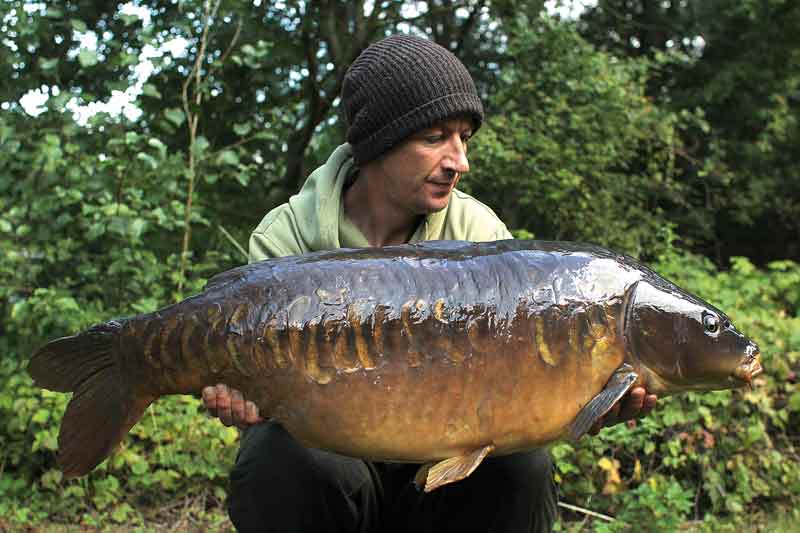 A switch to Manilla resulted in Adam's best winter in 25 years of angling.
You may wonder why that would be important during a time of year when they don't really eat anything. However, during testing it was clear that once the fish had found the bait, anglers didn't just get lucky and catch one, they ended up having a hit. It is no coincidence that so many lads on a variety of waters all caught exceptionally well. The combination of the right nutritional profile, and perhaps even more importantly the correct attractor package too, made the bait so successful.
The vanilla flavour used in the Manilla is perfect. It comes through but isn't overpowering, which is something I like in a bait. I actually find myself eating the freezer bait and it is so smooth and creamy, with no bitter taste at all. It may sound odd, but eating your bait is important. I don't mean polish off a kilo, but a couple of baits in the mouth, followed by a quick chew will let you know what it is like.
The Manilla freezer bait is lovely and you can see why the fish enjoy eating so much of it. Some baits can have an acrid, synthetic taste to them and, while we all know that carp's taste receptors are different to ours, surely it's better to have a naturally flavoursome bait over an artificial tasting one?
If you leave a kilo of Manilla boilies in a bucket of water overnight, by the morning the water is white. This is all the milks and flavours oozing out the bait and exactly what you want for the winter.
I know a lot of people like to begin to mix their winter bait with the summer bait as winter comes in. I stick with the fishmeals, right until we get the first real frosts. As soon as the lake slows down, that's when I will introduce the Manilla.
I fished over on Christchurch last winter and was catching fish on the Krill into January. The weather was mild, though, and the fish were still eating it, so there was no need to change. I even managed to catch one of the biggest fish in the lake at over 46lb!
Then, minus 10ºC came in and the lake went dead. This is when I had to have a think and change a few things to try and entice the fish to really feed. I was back at the venue the following week but just for a night. It was bitterly cold and nobody else was on the lake.
I had planned what I wanted to do in my head: fish one night and bait heavily before I left. I assembled a mix of crumbed Manilla, sweetcorn, Bloodworm and Bloodworm pellets before giving the mix a good helping of the Cloudy Manilla Liquid. This and the hook-bait dip give off so much attraction and scent and that's what I wanted.
With that mix there is so much smell, taste and attraction and very minimal food. It is all small items, so the fish have to spend quite a while eating it, but don't get full up.
I didn't put any whole boilies out, just small chops and crumb. Firstly, it keeps the fish feeding in the area for longer and secondly, fish adore boilie crumb. It also acts as a great carrier for the liquids too. The additional liquids will soak into the crumb a lot quicker than they would do with a whole bait.
It meant that I could hold the fish in the swim for a long period of time. The fish won't move far in the winter and if you can find the areas where they naturally want to hold up, the introduction of this mix will keep them there for weeks. I think that spot did over 80 bites in total, which is totally unheard of for that lake, especially in February.
The rigs and the way you fish over such a mix are key too. The fish feed very cutely in the colder months and they won't come in and hoover it all up straightaway. With the mix having so many small items of food, I like to keep my hook baits small too.
In the past I have been a huge fan of bright baits in the colder months. With this bait, though, I knew that they were seeking out the boilies. Every fish that I had was passing the bait all over the mat and it was all boilies. Knowing that is what they wanted, I fished with a small, trimmed-down Manilla wafter.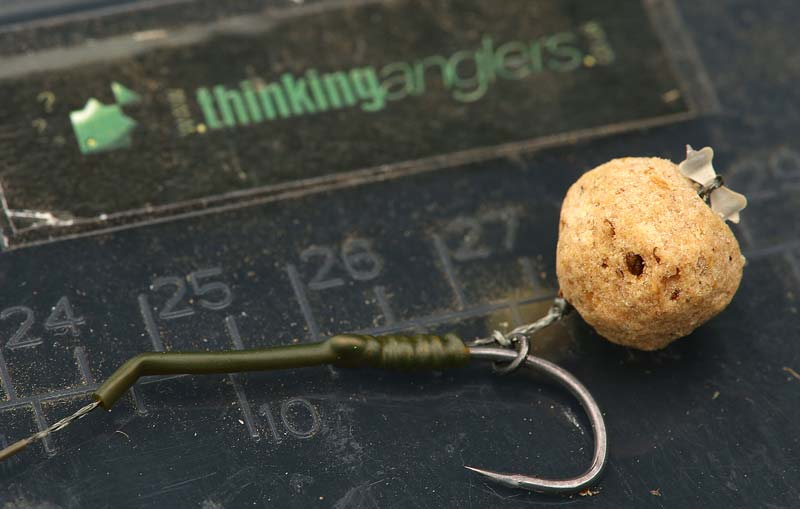 Wafters – the perfect autumn and winter hook bait.
The hook would disappear in the silt and the hook bait would be slightly proud of it. I made my own, just so that I could adjust the buoyancy of the actual hook bait, but the standard versions 'out of the pot' are equally as good and trimming one of the larger ones to expose the inner wafter can be a good tactic with these.
Coupled with an aggressive rig that is hard to eject, this arrangement is perfect. That small, slightly buoyant hook bait will behave naturally when the fish sucks it in, just like all the freebies that the carp will have no doubt been eating for a while.
I actually took the putty off the rigs, which is something I don't normally do. I was done a few times and I believe that the fish were using the light weight of the putty to sense something was wrong and eject the rig.
With them feeding so close to the bottom and not having to move around too much for each bit of food, I like decent sized lead to drive that hook home once the fish picks up the bait.
I was using a 4oz flat pear and I suffered very few losses. In fact, I think I had 17 fish one session with just two losses, which for that lake is very good. I landed a season's worth of carp in that trip alone, with eight thirties and a 45lb mirror known as Scar.
It was amazing to see, with just a few of us having access to Manilla catching and other lads struggling. I even gave some to a lad who was struggling and he went on to catch three fish to over 43lb. Another one of my friends didn't have any, so I gave him a couple of kilos and he had a number of fish, including The Slate at over 45lb.
I don't know if I would have caught that many in February on the Krill, but one thing I do know is that the Manilla works so well in the winter. I have always been into my sweetcorn and maggot fishing, but after last year the basis of my mix will revolve around the boilies.
One of the fish that I caught, a mirror known as Heartleys, which weighed over 38lb, was streaming the bait on the mat. I was sure that the fish were almost addicted to it, as they were very full up, at their top weights and still smashing the bait.
Some sessions I was even getting liners while I was spodding, which is something you don't even see in the spring on there. I have always been a huge fan of the milk protein baits in the winter, but using the Manilla last winter totally cemented those thoughts.
I am still using the Krill now, as it has caught me so many special fish in the past few years. However, once the colder weather sets in, I will turn to that special bait that helped me achieve my best winter in over 25 years of angling. I'd thoroughly recommend it to all of you reading this, but if you already have a bait company that you favour then at least give some thought to a switch to a milk protein bait when the temperatures start to really dip. Good luck!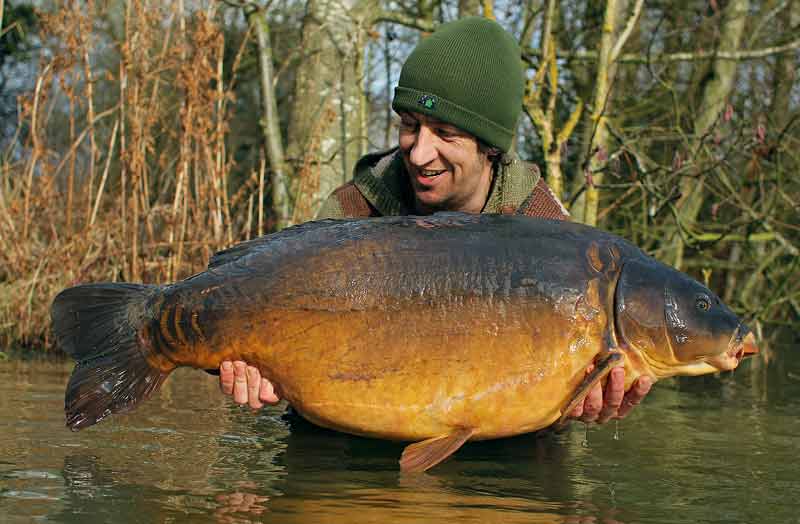 Another stunning carp falls for Adam's bait tactics. This was one of a huge string of successes last autumn.
Like what you see?

Or buy a single issue