I use plastic baits for about a third of my fishing, which I am sure you will agree is quite a lot, but I find them effective and easy to use so why not. Some of the purists may frown on the use of imitation baits, but that's not my problem or concern, I simply use them because I keep getting excellent results on them.
As you may know I have used the Enterprise versions since the very early beginnings of the company and consider them easily the best out there, and by some margin. I have been lucky enough to have a big hand in the testing and concept behind many of the products; however, I still mess around constantly with additives and attractors that I can add to the baits to enhance their effectiveness. I concede that unflavoured versions will and do catch fish very well, but from my comparison tests over the years I have found the flavoured ones will outfish the unflavoured by quite some margin.
This is the case with baits fished on or near the bottom; however, quite the reverse is true of baits used on zig rigs. I find, strangely, that unflavoured zig baits seem to work best although occasionally I have had better results in the night on a flavoured zig.
In recent years and in all four seasons I have found zigs to be incredibly good at night; this should be of no surprise really as most fly hatches seem to take place in the dark, so I guess the carp are used to looking for emerging flies in the middle and upper layers at night. How many times have you heard carp crashing at night on waters where to see a carp show in daylight is a rare event? I don't think this is just coincidence.
For years we have sat behind motionless rods at night, fishing three bottom baits, thinking the carp are simply not on the feed or whatever. Yet they were more than likely feasting on a hatch. Zig rigs have transformed carp fishing in that scenario now.
It feels strange sat using three rods fishing zigs using nothing more than three tiny pieces of black or brown unflavoured foam in the upper layers of the lake, especially at night, but if it's working then what would you rather do – fish hard on the bottom and struggle or give the zigs a good crack? Be under no illusion there are times when it will be almost impossible to get bites on the bottom, when zigs can provide plenty of action and very big fish too.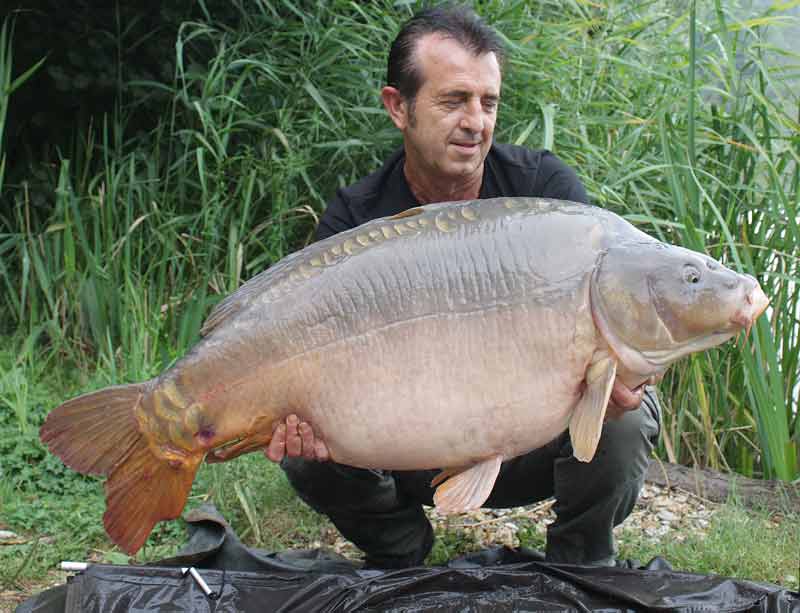 Don't let anybody tell you that plastic baits are only for small carp.
I realised this many years ago, luckily, and the use of zigs and having the patience to give them a proper good go soon revealed that carp were feeding in the upper layers much of the time.
I had a classic example of this happen soon after writing my book. I had spent most of the winter sat in the house writing, and found it especially frustrating as in the UK we had the mildest winter in living memory. Many waters were fishing very well and I was forced to sit indoors, writing, but as soon as the book was complete and put to bed I quickly arranged a two-night session on one of my favourite lakes, Kingfisher Lake on the Bluebell complex.
I heard through catch reports that this deep water was slow, despite good conditions, as deep venues can be in cold winter conditions. I heard many of the day-ticket boys were persisting on using boilies on the bottom, but I simply knew that zigs were the answer. I had been sent a new imitation bait by my good friend Chris Hornsby, one of the owners of Enterprise, specifically for zig fishing, and which looked like an insect, namely a Zig Beetle. I chose the black version as all of my good results had previously mainly been on black foam.
The swim I chose had six metres of water in front of me so I set the rig at 5.5 metres – a very good starting depth on any water is half a metre under the surface, both day and night.
At 1am on a freezing early March morning, in full-moon conditions, the zig rod rattled off and after a very fraught, scary scrap I landed a mint condition common of 41lb. This fish is a very rare visitor to the bank and hardly ever gets caught, and was a fantastic reward for my return to the bank.
Of course, imitation baits are not restricted to zig fishing and I use them for all manner of fishing nearer the bottom. Plastic corn is the most often used of all the imitation baits and I use it a lot too. I think the Pineapple and N-Butyric acid version ready supplied by Enterprise is a classic proven winner, as is the Tutti Fruity version; there is nothing to choose between the two as they both catch carp well, but of course these are off-the-shelf versions available to all. You might well want to make your own special blends that are unique to you. In fact the world is your oyster in this respect, and Enterprise has recently introduced a bespoke service where you can order various flavour and colour combinations of the corn itself.
Think about what you store your plastic in as well, as in a dip or glug of some description. The addition of a good essential oil can be a massive edge. Clove oil, for example, is an underused essential oil these days, but it's absolutely brilliant.
I use six drops of clove oil to 20ml of flavour in a pot to soak my plastic baits in, with one of my favourites being the old Rod Hutchinson Ultra Spice. Cinnamon and aniseed are other winners, especially in cooler weather, that I always blend with the clove oil.
Black pepper oil is a well proven winner and for good reason – it is incredible. I again blend this with classic flavours such as peach, squid, octopus or monster crab.
Grapefruit essential oil in another excellent one, but should be used sparingly. It's so powerful I only use three drops to 20ml of something like Rod Hutchinson's Sublime flavour – this is a ridiculously good combination all year round to soak the plastics in. I told Danny Fairbrass about this combo just after I had let him try some of my glugged plastic corn, and he proceeded to bang out his then-personal-best UK mirror on it on a cold January night – it weighed 43lb.
I won't go overboard giving away too many examples, as the ones mentioned are good enough and work very well indeed. However, all additions will benefit from a small inclusion of N-Butyric acid; it's a timeless attractor for carp and six drops in any blend of flavours and essential oils will catch you more carp.
If you want to take the hassle out of this then Enterprise actually supplies neat little pots of corn already in a flavoured dip. These include flavours from loads of the top bait companies and have been blended to optimum levels. I would thoroughly recommend them.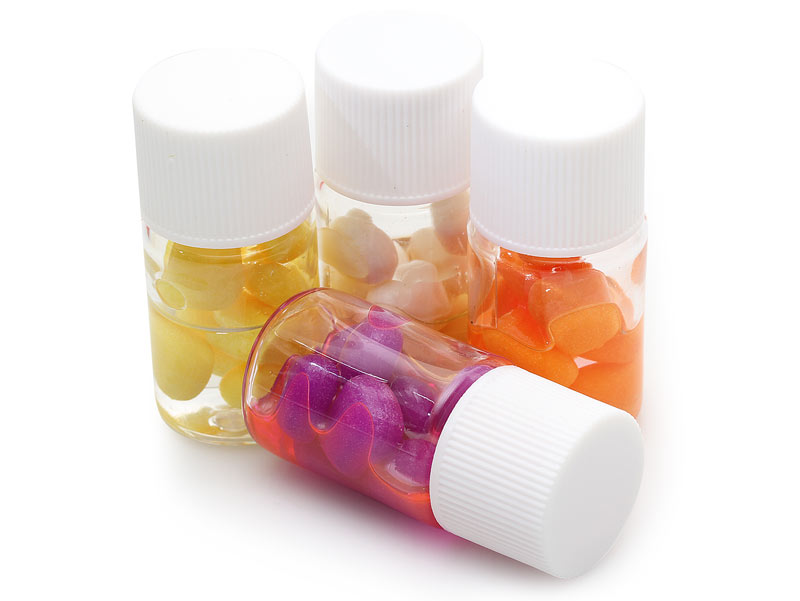 The Enterprise pots are well worth a try.
It has been popular over recent years to tip boilie hook baits with imitation plastic baits, particularly corn in various colours. This is indeed a good way of drawing attention to your hook bait, particularly dark food baits that might easily go unnoticed for a while and is always worth a try.
However, rather than using the corn on top of a straight bottom bait out of the bag I prefer to use the corn on top of a wafter hook bait. I make my own wafters, but you can use the commercially available ones if you prefer. I make mine to be ultra critically balanced so that they behave the same as the freebies once the plastic corn is added. You can do this by trimming away at a shop-bought wafter if you need to.
There's nothing stopping you adding a piece of corn as a tipper on a pop-up on both a fluoro or food bait; this gives another dimension and can make a big difference. Washed-out baits are quite fashionable again at the moment so it's worth combining one with one of the new washed-out Enterprise corns.
Okay, so here's my single biggest tip for plastic baits: use two pieces of the giant corn on a chod rig. This is completely different to the usual pop-ups on chods that are used to death these days, and it presents perfectly as well as looking spot on. I've had a ridiculous amount of success on this bait and rig combination and I would urge you to give it a try.
There are a huge number of other plastic baits available outside of the most popular corns, all of which are extremely effective in the right conditions. Imitation boilies are a great option as a hook bait on waters where nuisance species or crayfish are an issue. Try the darker coloured ones or washed-out versions, which can be flavoured to match your freebies, or try the really bright ones as single, attractor baits.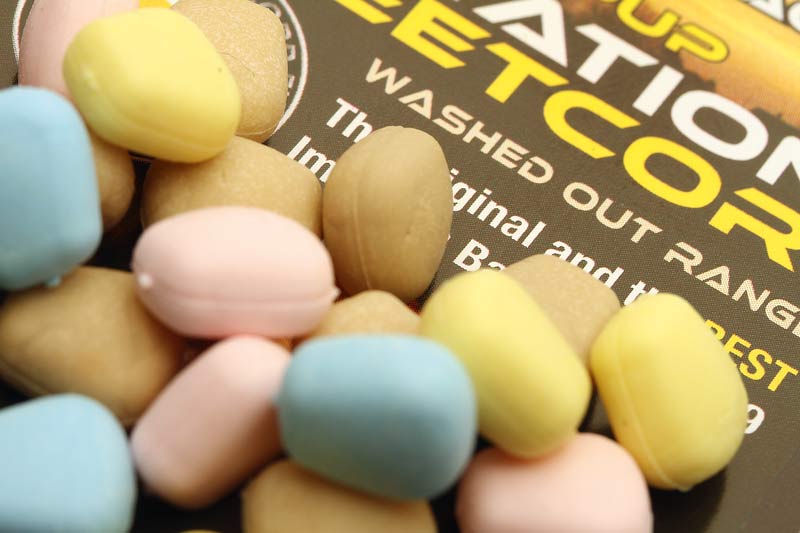 Washed-out baits are all the rage these days.
Plastic tiger nuts are super effective and probably the best-kept secret among plastic bait users. Fished on a really short chod rig they can be absolutely devastating, as my friend Paul Hunt proved over a decade ago on Elstow.
Pellets are another imitation bait that are not really talked about that much, but which can be devastating. We all know the effectiveness of pellets as a carp bait and carp up and down the land must eat thousands of them over any given period of time. As such, they rarely associate pellets with danger as they've probably never been hooked after picking up just pellets.
A solid PVA bag full of pellets is a hugely popular tactic among carp anglers, but nearly all of them use something totally different as the hook bait. I can't help thinking that if they used pellets on the hook then they would be even more successful. An imitation pellet is the perfect option in this case and they're available in several sizes to match your freebies.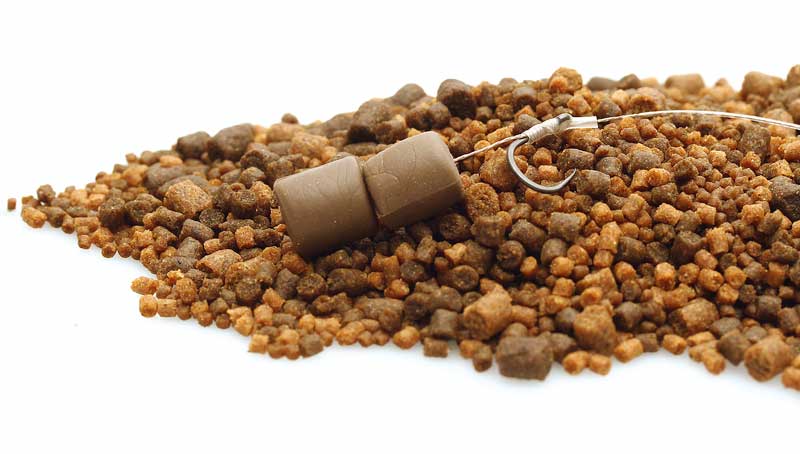 Transform your solid PVA bag fishing with imitation pellets.
I could write for days on end about imitation baits, such is my enthusiasm for their use. As a stand-alone bait from the packet, or with your own added flavours, used alone or in conjunction with other baits, the opportunities are almost endless. I hope some of what I've told you here will inspire you to either try some of them or improve the way you use them if you already do so. Good luck!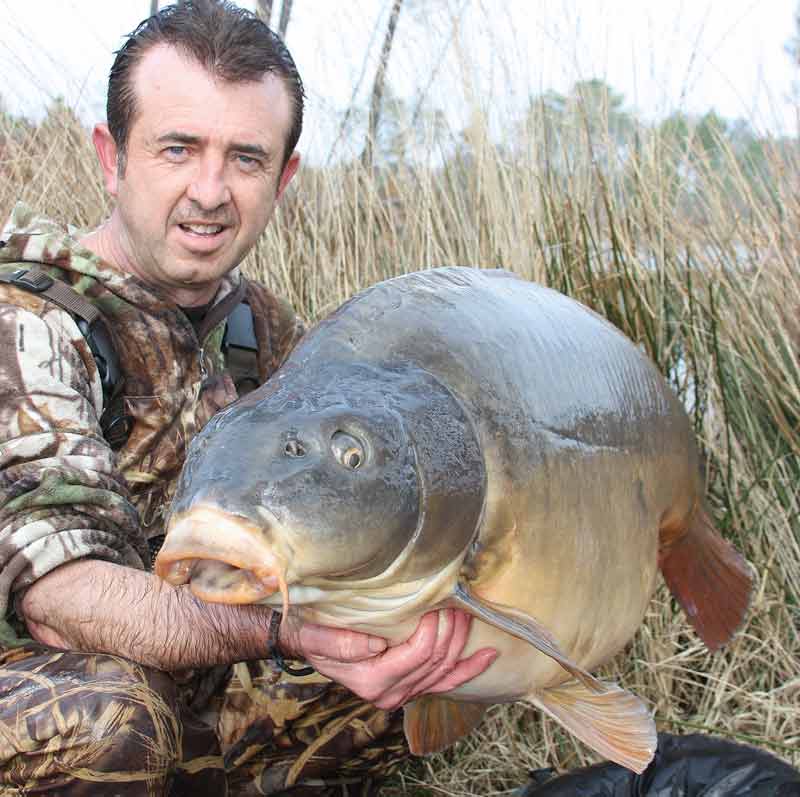 Imitation baits have helped me catch big carp for many years now. Get on 'em!
Like what you see?

Or buy a single issue