Carp go nuts for nuts, there is no question that they adore them. They are salty, tasty, crunchy and such factors seem to really appeal. Whether that is peanuts, tiger nuts, brazils or even macadamia nuts, they seem to have this instant appeal, and there is really no need to introduce many to get a bite.
As a consequence, it can be a really fruitful tactic to create a small parcel of nuttyy food around your hook bait that will be most successful as a nut, such as a tiger or brazil.
PVA sticks come into their own for nicking a bite when the going is tough. A PVA stick is basically a bound, stick-shaped parcel of bait that is compressed inside a PVA tube and tied off in the shape of a stick. This will fly through the air easier than round versions, will allow you to pull your hook link through the stick protecting it from bottom debris and eliminate tangles on the cast.
The mix shown in the sequence allows you to create a nice, firm PVA stick and it is jam-packed with appealing goodness that will ooze aromas and tastes through the water column as the PVA melts.
We start off by adding Live System bag mix to an empty bait tub. The mix contains Live System base mix, crushed boilies and matching pellets. The boilie is a milk protein and gives off a nice, smooth, almond-like aroma, making it the perfect bait to use in combination with any kind of nut.
Add a handful or two of peanut meal. Carp love this stuff and it adds a high protein content to the mix. Peanuts are also oily. The next ingredient is a deep, red, fruity mix known as Meggablend Red. This adds a great deal to baits, including texture, binding properties, a beautifully subtle-sweet taste, oils, sugars, leakage properties and, of course, red flecks to pale baits. It will give another dimension to your stick mix and again is a lovely combo when used with nutty aromas.
To bind the mix together, add a good dose of Roasted Nut Extract and mix it thoroughly. This stuff is unique. With its deep, roastednut aroma and creamy-sweet nut taste, it also has a valuable nutrient profile that delivers natural sugars, starch, oils and proteins to stimulate fish to feed in search of their varying essential nutrient requirements at different stages of their yearly cycle. The gloopy liquid will help the mix to bind. Add just enough so that it's sticky, but not wet. The right consistency will squeeze together in your hand. To create the stick you will need a PVA system. Simply place the tube into the bait tub and scoop up the ingredients. Place the plunger into the tube and while holding your thumb on the base, push the plunger down, then carefully push out the stick before tying off!
It's a super appealing stick that will pump out attractors all around your hook bait.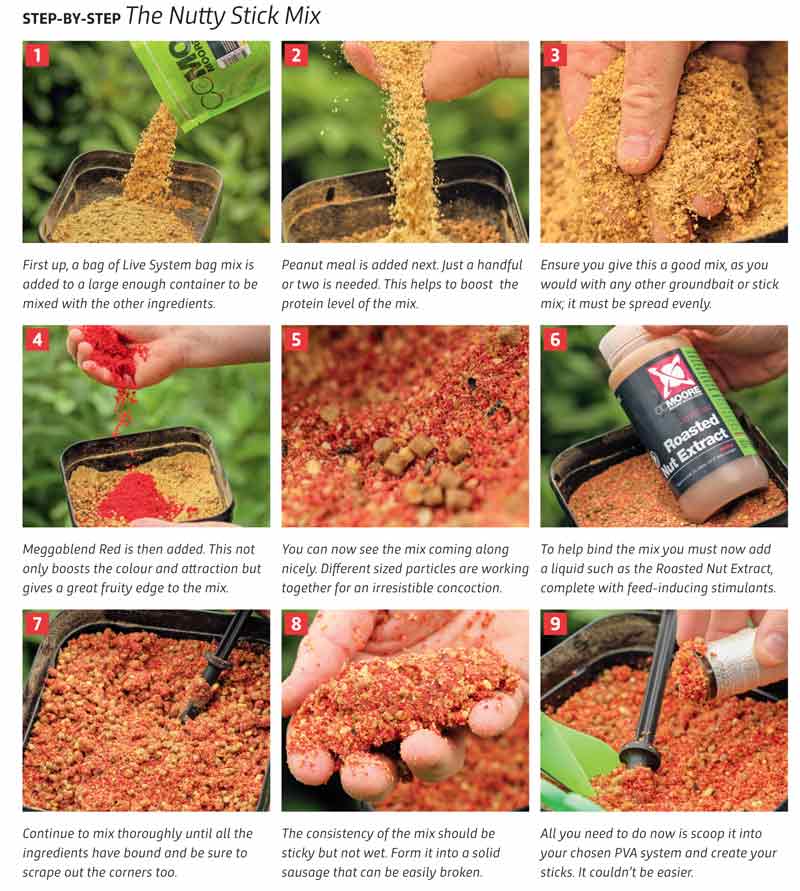 Like what you see?

Or buy a single issue