These days there is a wide selection of top-quality boilies to choose from. The most consistent anglers tend to favour a certain boilie and readily apply this to their venue throughout the course of a season. This encourages the carp to feed happily on each morsel, identifying it as a regular, safe, food source. If you opt for one of the top companies, then the boilie will be of good quality and the baiting-game approach will always pay off handsomely in the long run. However, like most situations, many anglers will sometimes go through a barren spell, whether that is in the soaring summer temperatures or the depths of winter.
The more consistent anglers, who will catch through these trickier times, will not only be readily introducing a quality bait but they will no doubt be giving themselves a distinct little edge in one form or another. Try something that others won't be doing, a method that the carp simply can't resist during their slowest feeding moods.
The 'heat treatment' is one such edge and a tip that some of the best anglers are adopting – Matt Jackson and Gaz Fareham to name but a few.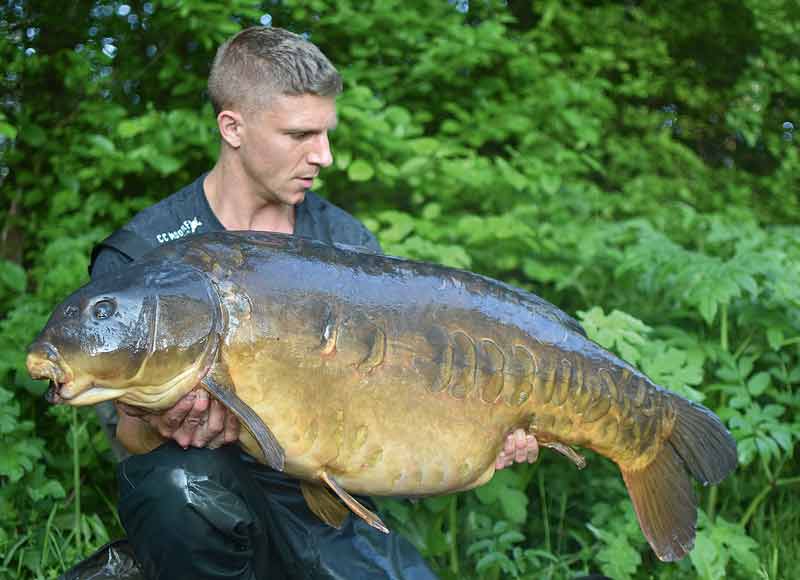 Matt Jackson with the largest carp in the UK. The mighty Parrot fell for the boosted baits.
The method incorporates the use of heat to soften the texture of the baits, which makes them more porous. This allows water exchange in and out of the bait, giving an array of uses that we will talk about shortly. These days, baits are often made too hard, whether that's for use in a throwing stick or to combat nuisance species such as crayfish. However, by boiling them hard or air-drying, the attractors will be very encased inside the boilie. By applying hot water, the texture alters almost immediately, with the baits expanding and softening, almost becoming a paste-like consistency for a short while. What's more, you can do this both on the bank or at home.
You will need to remove your frozen or shelf-life boilies from the bag and place them into a decent sized bucket. Enough to hold a kilo or two is perfect. Boil the kettle and then cover the baits. Place the lid onto the bucket, sealing it, allowing the steam and water to enter the baits. Leave the boilies to soak for 10 minutes or so. They will go much lighter in colour, softening dramatically, and they will also swell and expand.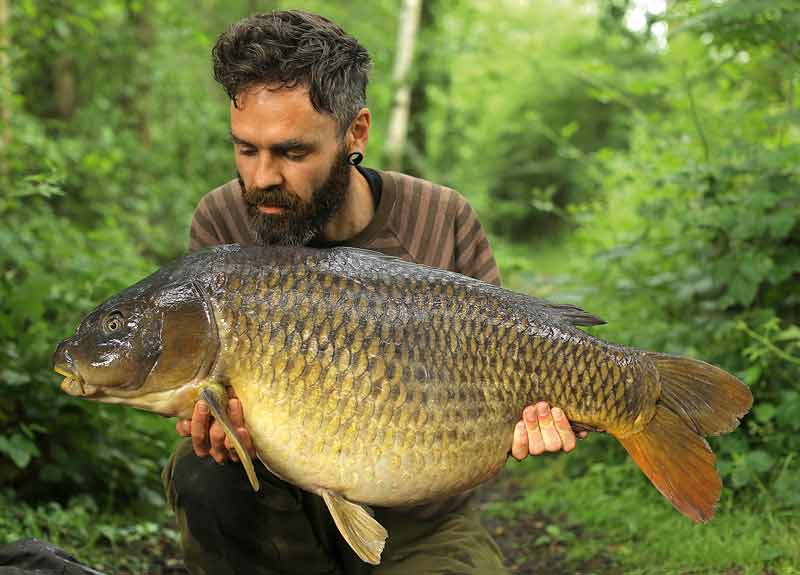 Gaz Fareham with a 37lb 2oz Yateley Match Lake common.
After draining the baits, you can now get as inventive as you like really. There is a huge array of high-quality liquids on the market – Tuna L030, Liquid Salmon Extract, Roasted Nut Extract and many more. For the purpose of this we have made a lovely creamy, nutty mix and have therefore opted for Roasted Nut Extract.
While the baits are still hot, add a liberal glug of your liquid food to the bucket and give the baits a thorough mix around, making sure they are totally coated. Don't be shy here; really give them a good amount so they are absolutely covered. Replace the bucket lid and again leave them to 'stew' in the nutrient-rich soup you have created.
As the baits begin to cool they will start to absorb this highly attractive liquid, becoming laden with extra attraction and goodness. Highly soluble liquids such as Feedstim – XP, L030 and Nut Extract are perfect for this process because they will begin to disperse and spread through the water column immediately after you introduce baits into you swim, sending out a message to any carp in the vicinity that food is available.
The next step is to add a final dose of attraction. Again this is open to experimentation and there are numerous quality additives you can try. In this instance we are using Live System boilies with the Nut liquid, so the obvious choice to complement this was Lactose B, with a distinctive vanilla, cream aroma and amazing nutrient profile.
Simply take a teaspoon and add a good sprinkling of this to the coated baits, giving them a really good shake so they are all covered. The powder will adhere quite well to the surface and as the bait cools it will bind nicely, giving them a huge boost of both taste and attraction once fed over your chosen spot.
Overall, the heat treatment process is a very simple one and is something that can definitely give you a serious edge over the other anglers on your venue fishing a standard boilie approach. Your treated baits can either be introduced straightaway while still hot (this can be deadly!) or you can do this at home and bag the baits into a freezer until your next trip. By doing this, they will obviously contract and shrink back to their normal diameter, and much of the liquid coating will be drawn deep within the bait as this happens. This again will massively increase their level of attraction once you take them from the freezer on your next session.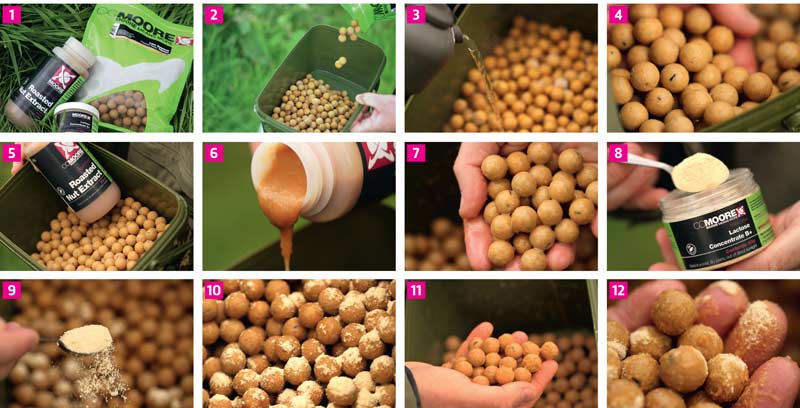 1 To begin the process you will require your selected boilies, liquid attractant and powdered additive.
2 Begin by placing your boilies into a large bucket or container. Remember you will need room to agitate them.
3 Bring your kettle to the boil and, taking care, pour the now steaming water over your hook baits.
4 Place a lid on the container and leave for a good 10 minutes. They will absorb the water and begin to soften and expand.
5 We like to match the liquid attractant to what will complement the boilies best. Sweet baits, sweet liquid, for example.
6 Take the liquid and pour it generously over the now swollen baits, ensuring they get a good coating.
7 Your boilies should now be smelling wonderful and glistening in your chosen liquid attractant.
8 Next up is the powdered additive. Again this is up to you but try and match the flavours as well as possible.
9 Take a spoonful at a time and sprinkle it over your wet baits. Around two spoonfuls should suffice but adjust accordingly.
10 Your baits will now begin to look like this, so the next job is to mix it well and spread the powder throughout.
11 After a good shake the baits will now all be taking on the goodness from both additives.
12 Each bait will be enhanced tenfold, absolutely bursting with attraction that the carp won't be able to resist.
Like what you see?

Or buy a single issue