With the increasing popularity of carp fishing in the last 15 years, it is fair to say that many other species have been left neglected. Nevertheless, that doesn't mean they aren't still in abundance and thriving. They have enjoyed the lack of pressure and are happy to feast on the goodies we use to try and tempt a carp. On the vast majority of commercial fisheries and small club waters large shoals of tench and bream can be a problem when targeting carp. With so much artificial feed being introduced, from pellets, boilies to groundbaits and more, it's clear to see why these so-called nuisance species turn their noses up at naturals and seek out these quick and easy food sources, just as carp so commonly do.
Craig has been fishing from a young age for a variety of species using a host of common tactics, so he uses his knowledge to the best of his ability to try and target what he would like to catch. Makes sense, right? So let's see how he does it.
Location
I have found particular habitats are great for certain species and although there will always be some level of crossover, knowing where to look and when is always a great start. Getting to the fishery early allows you to watch the water and look for the signs of fish you will need to chose your swim. First light is always a good time for all species, so here we are looking for different shows. Bream tend to roll, not making much of a splash, just porpoising over, similar to a dolphin. Bream can often congregate in large shoals and particularly prefer open water. Conversely, tench love the marginal shelf. Rolling similar to a bream, they are easy to identify with their wide paintbrush-like tails flopping over in the early morning mist.
Of course, it can always be a good start to dismiss these areas altogether. We want to catch carp, not these little fellas, and the disturbance they will make could potentially spook carp off your area. On heavily stocked, mixed species venues I will look for cover and protection such as snaggy areas and up against islands or obstructions. Although you may get a tench or two knocking around, this isn't a typical habitat for a slimy Bernard the bream. Try to dismiss the open water if big shoals of bream are present. That said, if the carp are showing in the middle then fish for them there. This is only a guide and should be treated as so with a little common sense.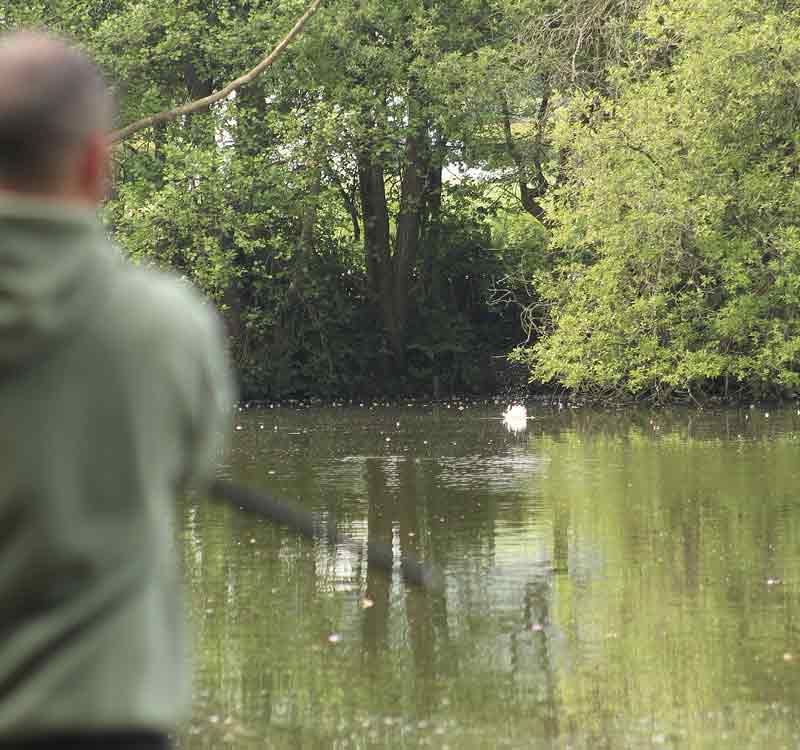 Getting the rigs out of open water helps Craig target carp.
Bait
With anglers using a wide array of baits on every venue to target carp, it is very hard to use bait that these other species won't have seen or be familiar with as a food source. Ensure you don't take what they are looking for. Stay away from high-oil pellets because once the bream get a sniff of them you're in trouble. Maggots, corn and groundbait are good to ignore too, unless you are trickling in the edge or a particular spot that you can watch.
It is also worth bearing in mind that particular smells and tastes are a weakness to certain species. For example, tench seem to love green-lipped mussel. I don't know why, but they will find it and they will plague you until you either fail to cast out or you catch the lot.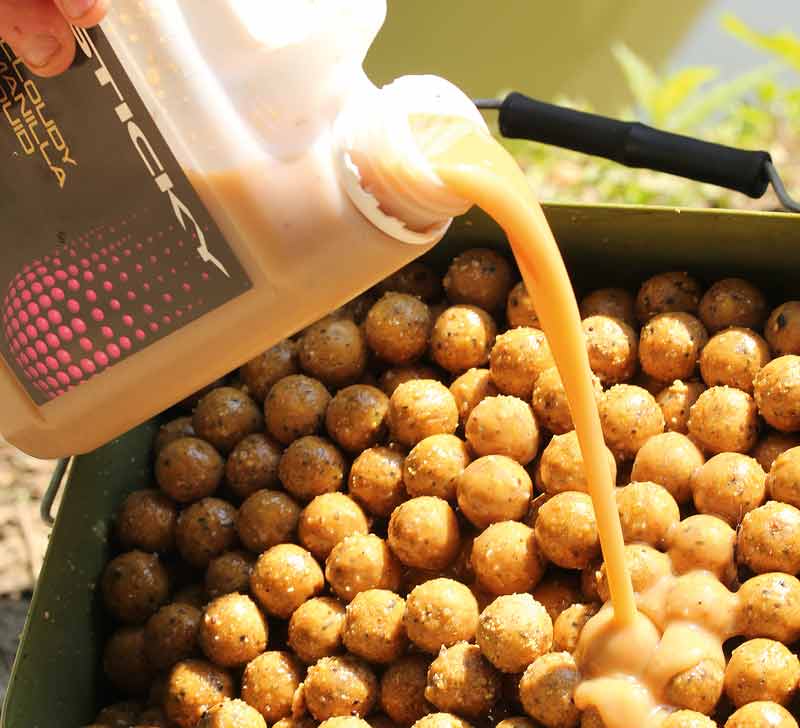 Adding liquid flavours to larger baits adds attraction without introducing smaller feed items.
As far as boilies go, I think if any species is hungry enough or in the vicinity it has a chance of picking it up, so this is where size comes into play. It is not a guaranteed fail-safe but it will prevent the majority of pick-ups from these finicky feeders and their friend the greedy bream. For this I will chose 20mm baits. I can spruce them up with a liquid or additive to add attraction but if the fish are struggling to pick the baits up it won't be long before the carp sense the bait signal, move in, and hopefully bully the other species off the spot.
KILLER KIT
Baiting up with a throwing stick allows Craig to tightly bait his far margin spots with minimal disturbance.
Smaller baits can be readily picked up and whittled down in no time. If the bream, for instance, are extremely ferocious then steer away from fishmeal baits if you can. It is for this reason that I have decided to leave the Krill in the freezer and take the new Sticky Manilla. With its sweet mouth-watering nutty aroma, this effective bait still has very high and attractive protein levels. Bread and dog biscuits on the surface are another great way to ensure you are fishing for carp as opposed to just waiting for a bite, but here we want to cover conventional bottom-bait tactics, so perhaps I will save that for another day.
Nuts are another safe option, if permitted. Now, over the years I have seen and heard of bream taking the odd tiger nut but again the chances are slimmer than a 14mm halibut pellet and, as with any aspect of fishing, it is about compiling as many little percentages in your favour as possible. The rest, I'm afraid, is just down to the day and the lake, but, hey, that's what keeps us coming back.
A cracking litte common that succumbed to these very tactics.
KILLER KIT
Adding an element of buoyancy to Craig's fluorocarbon rig is essential because it will help reset itself and aid in hooking.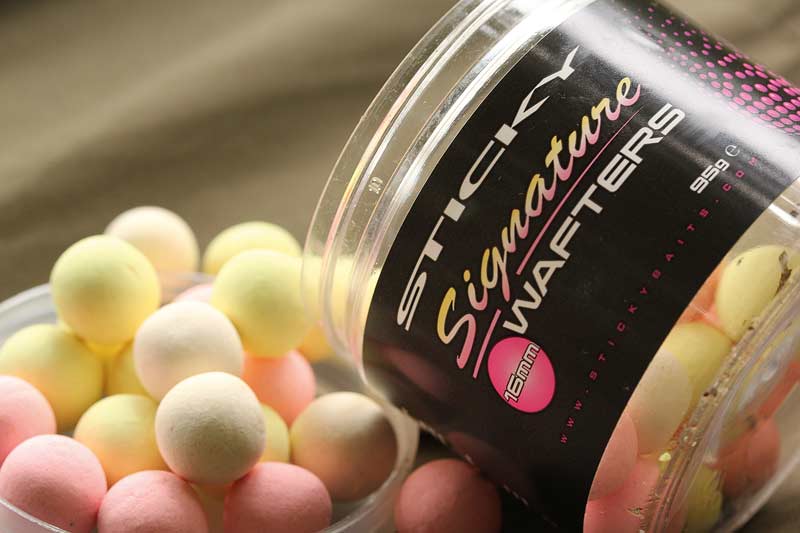 Rigs
As long as your rig has a hook there is a possibility of catching any fish that fancies taking a nibble and trying its chances. However, it is proven that certain rigs will again decrease the chance of certain species picking it up. Tench are very finicky feeders and large bulbous rigs do tend to keep them out the way. This isn't to say tie a rig using the biggest bait and hook you own. Oh no, you still want a good solid presentation you are happy with, but try using it in the right way with a balanced collection of components. A lot of carp anglers will tell you how they feel certain rigs such as the stiff hinged are better presentations for large carp as opposed to small carp. Using this logic, surely it is more suited to carp than other species?
I am no stranger to the stiff hinged rig and as a result there are always a few in my armoury because it is a fail-safe way of presenting a bait, whether it be a single cast to a showing fish at distance or placed delicately over a baited area. Although a bream or two have managed to pick me up over the course of using it, 99.5 per cent of the time it's a carp that I'm attached too.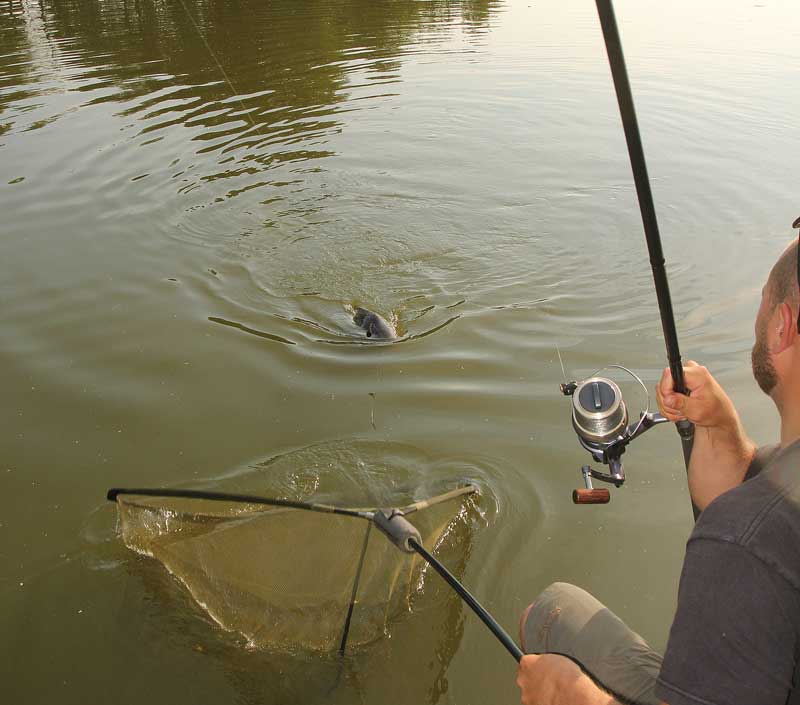 That's another carp that hits the net cord.
When using big hook baits I like to use a fairly large hook, for obvious reasons, and attached to this I want a strong and stiff hook link such as a fluorocarbon material. This not only helps prevent tangles but by being quite awkward for carp to eject, it can also be harder to pick up in the less ferocious and smaller mouths of tench and bream.
I like to use a fluorocarbon wafter rig that I've developed. The hook link is Gardner Tackle Subterfuge in 15lb, which is actually its super-soft variety yet still stiff enough to reset itself if picked up. A size 5 Gardner Chod is my go-to hook. It provides an aggressive angle that is great for hooking, and the hook-holds have been phenomenal. I then favour a wafter-type hook bait so that I can get away with using a large bait while retaining an element of buoyancy, which I feel is crucial in successfully and repeatedly hooking carp.
It's foolproof but I do feel that when adding all these elements together I have a much greater chance in deterring nuisance species and increasing my chance of banking a few carp.
I hope you can apply some of this to your angling and, who knows, maybe on your next session your mat and landing net won't smell of dirty bream slime come the end of your time on the bank.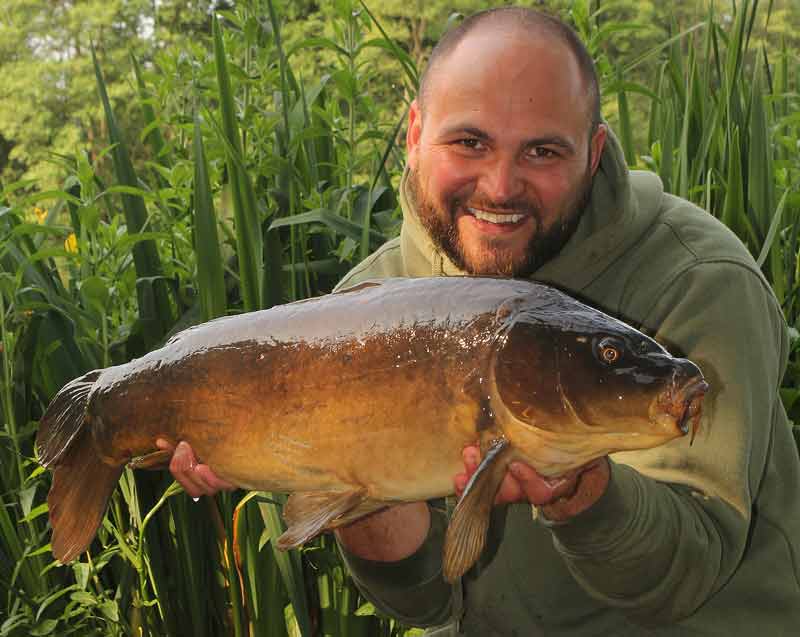 By now Craig was three carp up with no tench and no bream... success.
CRAIG MORTIMER
AGE: 30
UK PB: 41lb 7oz
OCCUPATION: IT consultant
SPONSORS: Gardner, Sticky
and Daiwa
INSTAGRAM: @totalcarper
FACEBOOK: Craig Mortimer
Like what you see?

Or buy a single issue