I had a date booked in to meet with the Wychwood cameras for a couple of days and, with filming and photography plans afoot, I knew we needed a good chance of catching fish. We were due to meet on the Monday so I headed out on Saturday to scout a few venues.
By the time Monday arrived it was an easy decision to drop onto a local club pool first and take it from there.
As we arrived, I loaded the minimal surface gear onto my back and set off round the lake that was devoid of anglers but looking decidedly less active than Saturday. I'd seen plenty and got them feeding on the top, so I was a little surprised when nothing broke the lake's glistening surface in the spot they were packed into before. I continued around the lake, and with a slight breeze pushing ripples down the narrow water it came as no surprise that a few of the lake's residents were held up at the end that's littered with overhanging trees, with a raft of scum sitting on the surface.
KILLER KIT
If you can't see the carp then you can't fish for them, it is as simple as that. Spend time looking and don't rush, patience will pay off.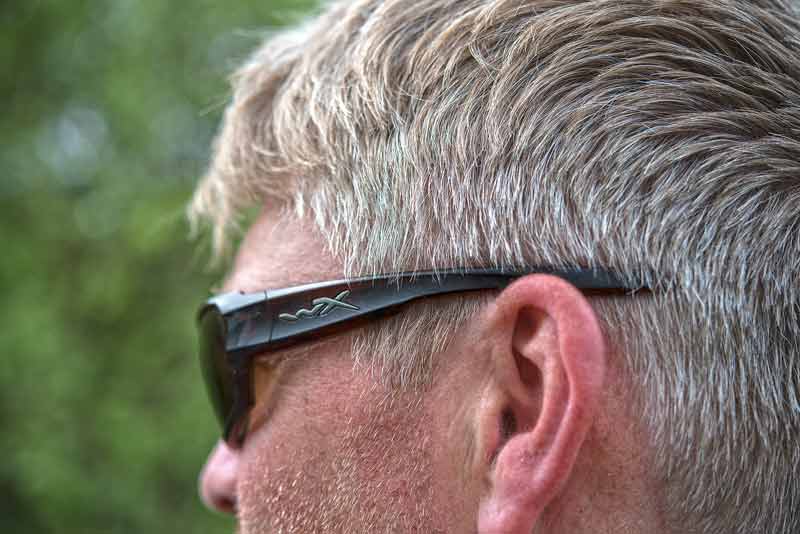 The carp were surprisingly cagey but I knew there'd be a good chance, so I set about feeding them and trying to draw them from the safety and sanctuary of the branches. As always, I had nothing more than a sack of 11mm expanders to feed them on, and after a few tentative minutes one of the carp drew away from the safety of the cover and nicked a mixer off the top. Surely the rest would follow suit as they built their confidence?
TOP SURFACE BAITS
Bread
Cheap and easy to use, plus all carp love a chunk of white!
Pop-Ups
Easy to keep on the hair and you can alter the buoyancy perfectly.
Dog Biscuits/Mixers
Great at getting the carp going and can create a good oily slick.

I like to keep things very simple when I'm surface fishing. I will opt for a hook bait slightly larger than my 11mm expanders and anything that's a little lighter in colour; the flavour is irrelevant. Because the fish were at reasonably close range I set up with a simple size 10 wide gape tied to 8lb straight through main line with a palomar knot, then the tag end is shank tied to the hook and finished with a hair loop. The shank tie forces the hook bait to hold the hook close and gives me a much better hooking potential – it doesn't get any simpler. I do carry inline floats but much prefer catching without one, it throws up its own challenges but is much more rewarding, in my opinion.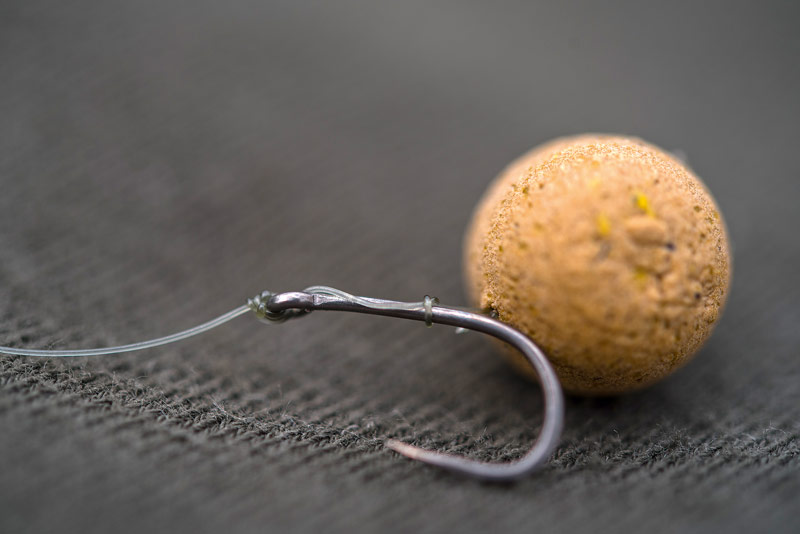 With a shank knot the pop-up sits tightly to the hook shank.
As the carp became more and more active I began to flick my 9ft Extricator around the tight swim, drawing the easily visible hook bait back in front of any feeding carp. Although it took more time than I'd have liked, it wasn't long before the first fish came darting towards my hook bait and I braced for impact. I basically snatched the hook bait directly out of its mouth; maybe it's fair to say the excitement got the better of me. Although I was casting a lot, there's very little disturbance without a bulky float, so there's merely a plop every time I cast out the small hook bait pop-up. It's also very important to keep your line 'mended'. The slight breeze is whipping up a savage tow in the surprisingly deep water and there's nothing worse than striking a take as the lips bear down over the hook bait, only to watch bows of line whip off the water as your hook stays perfectly still. The carp will just swim off unfazed.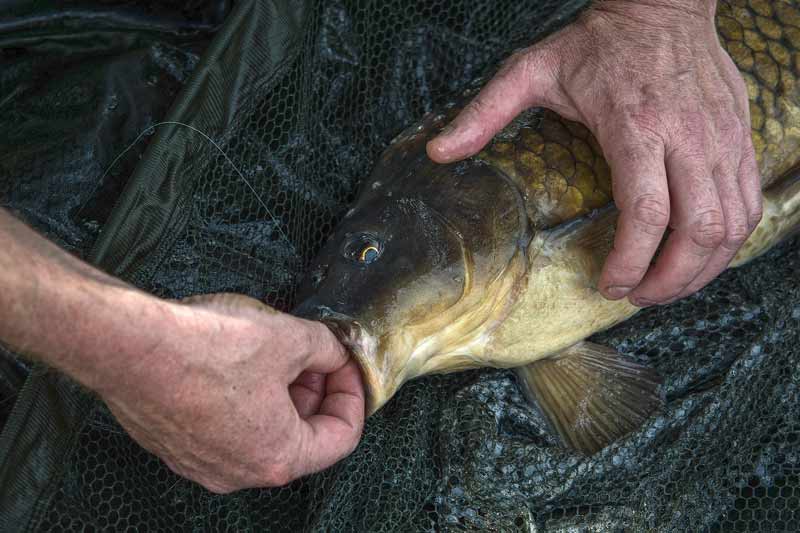 One of the first to fall victim to Nick's simple surface setup.
I'd had a couple of aborted takes by now and the carp were certainly finicky, but eventually I trotted the pop-up back and on to the nose of a hungry one. The surface erupted, the carp made a beeline for cover and my rod snatched down as it dropped lower in the water. Before long the first fish, a small, scaly mirror, was unhooked, photographed and released back into the lake. Although my rambling may make it feel like I'd been there for two days already, we'd been on site for less than 30 minutes, proving that quick-hit carping is certainly possible.
Within minutes of returning the first little mirror, and after several casts to get a better position, my second carp was hooked. It charged around the swim and gave a real good account of itself, despite its small size. The fish had been continuing to feed despite the disturbance of the first capture and it was clear that their confidence had grown because they were holding in open water now. The common was eventually netted and released as I continued to fish for the feeding carp, but I was being much more selective on which ones I wanted to hook now. At close range it was easy to pick out the bigger residents with my polarised glasses on, so I was twitching the bait out of the way on occasion and doing my best to drop it in very precise places to 'drop it on their noses' at other times.
A larger pair of lips rose and then began to descend on the light pop-up attached to my hook. I'd followed the carp as it meandered between the branches and came out into open water and began taking the odd mixer. I was well attached to the fish as it instantly dropped at least 10 feet in the water and the rod arced wildly. It kited left, right and tried to make the cover of the nearside marginal bushes, but the short energetic battle came to a halt as I scooped the net up hastily around it. The long, lean mirror had an almost golden belly with stacks of small starburst scales all down its flanks. It was a real peach and a very distinctive one at that. With the necessaries done and the fish returned it was straight back to the fishing.
They became very cagey shortly after because, unfortunately, I hooked one of the bigger fish but failed to land it. I struck into the fish just as it took the hook, but it instantly powered off down to my right, deep in the water. I had just seconds to gain control before the line began grating down the near side as it sought sanctuary around an underwater snag, before, inevitably, the line parted.
We were about 90 minutes into the session by now, so my fish tally was good, but I was unsure if it would continue. The fish were now well back, taking cover under the branches and shade of the old trees at the end of the lake.
Wychwood 9ft Extricator MLT £49.99
A great rod for close combat and stalking while retaining some backbone when needed. A cork handle is also available if you really want to look the part.
PVA MESH BAGS
This is the best way to get baits around your hook bait and adds valuable casting weight when freelining.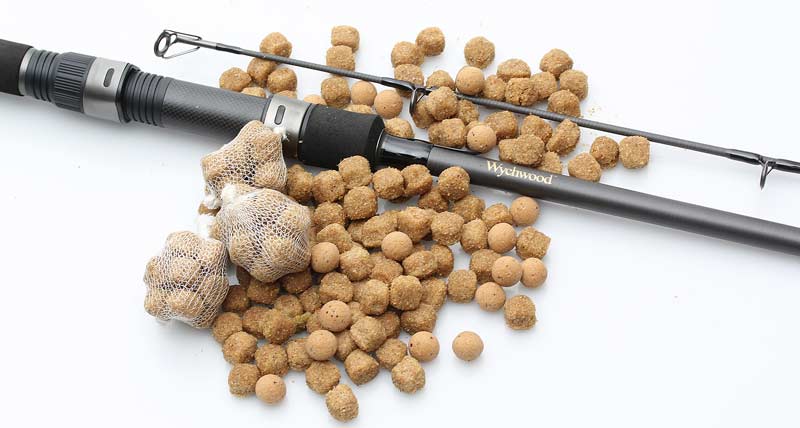 I spent the next half an hour or so feeding the expanders to try and encourage another feeding situation but things were looking bleak. Eventually the fish began to appear and feed in mutliples again, and I could start flicking my hook at them once more.
Disaster struck once again as an aborted take had me ready to throw the rod. No matter how many carp I catch, I still get frustrated at missing an opportunity. Little improved as a second aborted take saw the fish taking cover again just minutes later.
Surface fishing can be very futile, but you just have to keep plugging away. The methods are simple, but practising and honing the technique undoubtedly makes you more efficient in hooking and landing surface-feeding carp, although you'll never land near to every take so just give yourself as many chances as possible.
A short while later there was a larger carp circling and taking the odd mixer. This one I wanted; it was a case of multiple casts to try and intercept it. It circled plenty, slowed very little, but finally I dropped the biscuit on its nose. Nothing! This continued for what felt like an age, but was probably just minutes. The breeze had picked up and the carp was sticking to the edge of the snaggy tree line. Casting to it was easy, but the tow of the lake would drag my hook bait away quickly, so I tied a small PVA bag of expanders on which held firm until it melted, depositing 10 or 15 baits around my hook bait, while keeping a straight line to it in the ripple. The free offerings drifted on the wind, and knowing I should have already hooked that carp really got my back up, but eventually I was slowly drawing my pop-up into its line of direction.
A huge boil erupted on the surface and the fish dropped in the water rapidly. The rod was bent double under the force as it just felt like a dead weight plummeting down in the layers. Eventually it began to move left to right as I began to gain line on it. The fish was very erratic and as it kited left, towards where I'd lost the one earlier, I was powerless to stop it. The grating had me grimacing with tension because I could see the conclusion panning out before it happened. Luckily it kited back left and out into open water again. I made a point of hurriedly ending the fight and landing the carp because I didn't want it to head down to my right again and try to cut me off.
This was a much bigger mirror with big apple-slice scales down its side and my perseverance paid off. With a little bit to camera and a few snaps taken, it was released. The swim was now devoid of fish – they'd spooked during the fight – and with plans to head to the next venue, it seemed like a great time to move on. I spent around two and a half hours fishing and landed four carp. What more could you want with a limited time frame? Perfect for those summer evenings after work if you're struggling to get out.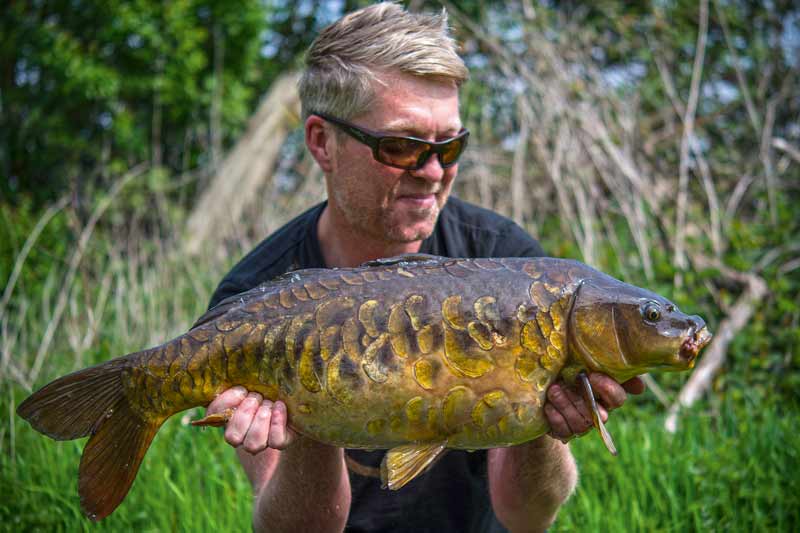 The pick of the bunch was this scaly character – what a carp!
Like what you see?

Or buy a single issue