We can often fall into the trap that you need to cast long distances to ensure we catch a specimen fish, and that might well be true on high-pressured venues or when you are fishing a water with a low stock. However, if you are someone who regularly fishes club carp lakes or day-ticket venues, the best fishing can often be found right under your feet, especially during the summer months when the fish are actively feeding. So the challenge has been set and here's how I plan to succeed!
The margins offer a great natural food supply, be it grubs falling into the water off overhanging trees and bushes, or an abundance of snails and invertebrates clinging to reeds and roots, so it makes sense that fish will explore these areas. It's not just naturals either, how often have you seen an angler pack up and throw their excess bait into the water, close to the bank? The carp become aware of this and as soon as they hear the noise, they move in to investigate.
I have often walked around Bob's Lake here at Hordle and seen big tails swirling in the shallow, murky water of a swim recently vacated by a day-ticket angler, so it's one of the areas I would head for if I fancied a few hours stalking late in the day.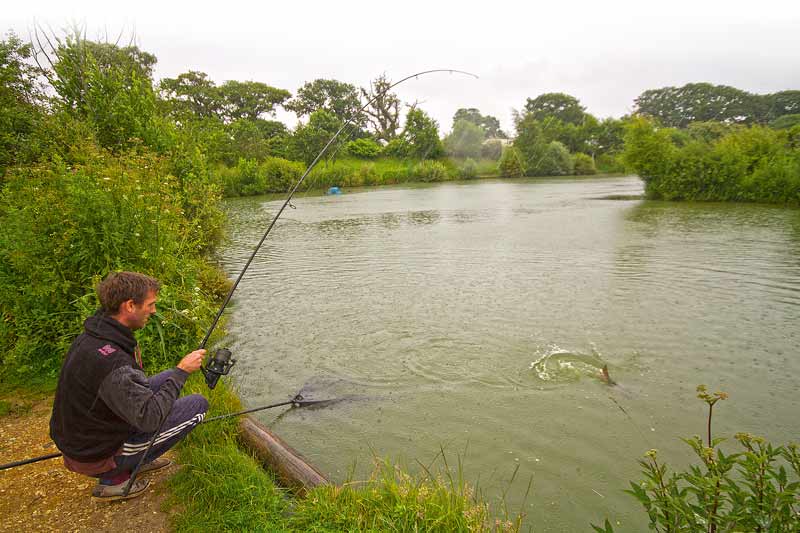 Rich connected with his first carp of the session in the middle of a heavy afternoon downpour!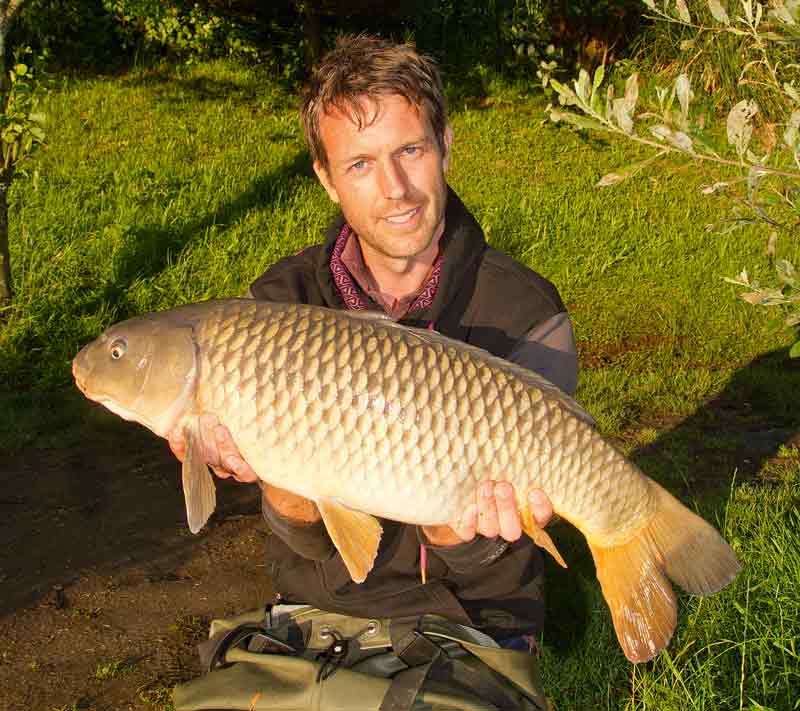 This near-20lb common is proof the better fish get in the margins too.
However, it's not always that simple, especially if I'm looking to fish an unfamiliar venue, but there are clues that will point me in the right direction. Carp tend to follow the wind in summer, so a good starting point is to move to that end of the lake and keep an eye out for any rolling fish in the area. Then, if I find some likely looking swims that boast features and shallow water, I will spend a little time dragging a lead around each to find out what sort of bottom's present. Depending on the substrate – clay or gravel, for instance – I will look for clear, hard spots that might indicate that fish have fed there before. I will also drag the lead around the swim close to the bankside features especially to ensure there are no snags, because the safety of the fish is always paramount.
I guess that you have realised by now that you have to be pretty mobile if you are looking to target carp in the margins, so it's all about travelling light. I like to maximise my chances of catching, so I will take two rods, the minimum of terminal tackle and accessories, plus a bucket of feed and some hook baits. Oh, and a net and unhooking mat. There's no need for alarms and pods because once I have placed my baits in the water, I will place the rods on the bank with the free spool set, then sit back and wait for the spool to 'scream'.
Because you can become quite focused when you are stalking fish, and especially in the summer when it's hot, you need to ensure you take plenty of fluids, and don't forget the sun cream and cap! Where possible, it's great if you can earmark a number of swims because this allows you to fish margins with differing characteristics. Often, when it's very bright a carp might prefer to feed in the shadow of an overhang, but if there's shade from a line of trees, then even a bare bank is worth looking at. I would certainly explore any possibility, as long as the water is 18 inches or deeper. I usually prefer to fish a boilie at close-quarters and to attract the fish I feed a selection of different-sized pellets soaked in Krill liquid.
Pure Krill Liquid is added to boost the flavour and pulling power.
My feed consists of 2.3mm, 4mm and 6mm Sticky Bloodworm pellets, to which I add 6mm Krill pellets and 2.3mm Vor-tex pellets. Once on the bottom they form a small carpet of light and dark particles, which combined with the Krill liquid gives off plenty of attraction, which is key when the water is coloured.
How much I feed can depend on what other species are present. If there are a lot of bream, then it might mean that I have to top up the swims a few times, even before I start to fish them. Whatever the scenario, I will scatter three handfuls of my pellet mix into each swim at the start and gauge it from there. For the hook bait, my choice is a Sticky 16mm Manilla bottom bait, which, because I would be fishing two rods, is a whole bait on one and a trimmed boilie on the other. A pellet-shaped bait will often work better when feeding pellets. Both of these I would fish with a small PVA mesh bag or stick of my pellet mix. I will also take a few drilled 12mm pellets, just as an alternative.

A 3oz inline flat pear keeps the rig locked over the feed.
This setup ensures a quick hook-hold as the fish bolts.
A small bag of pellets leaves a concentrated patch of food.
The are no complications when it come to the rig I use, which consists of a 3oz Korda inline pear lead, to which I attach a 4in length of Korda Dark Matter, onto which I tie a size 8 Korda Kaptor Kurv hook, with a standard hair that incorporates a rig ring.
These are my go-to options, but there are a few alternatives that I would consider in the summer months, which are all good when fishing within a rod length of the bank. The first is maize/corn and hemp, where I would loose feed hemp and corn instead of the mixed pellets, and then I would fish a big grain of maize in tandem with a small PVA mesh bag of salted hemp, or eight grains of salted corn, which would create a really bright patch of attraction on the lake bed. Another option would be a tiger nut fished with a PVA stick of crushed baits, fished over a few loose-fed broken freebies. Finally, there's the trusty maggots option – fished with a Mag-Aligner setup and a big bag of maggots in a PVA mesh bag. When fishing the maggots option, I would still prime each swim with either live or dead maggots, or a mix of the two.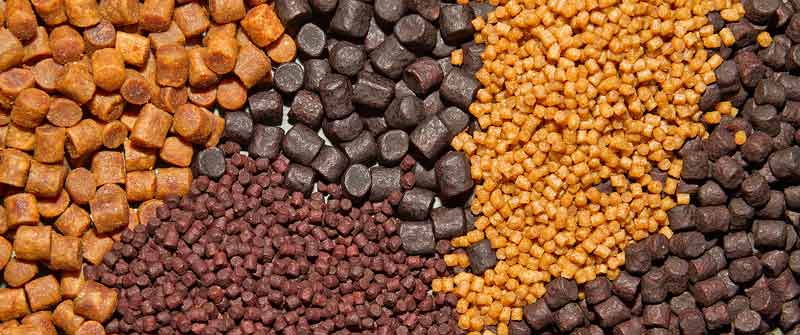 KILLER KIT
A selection of pellets in varying sizes and flavours will create a visual and attractive feed. This also helps with a different stream of breakdown times and, of course, hook bait options for you to use.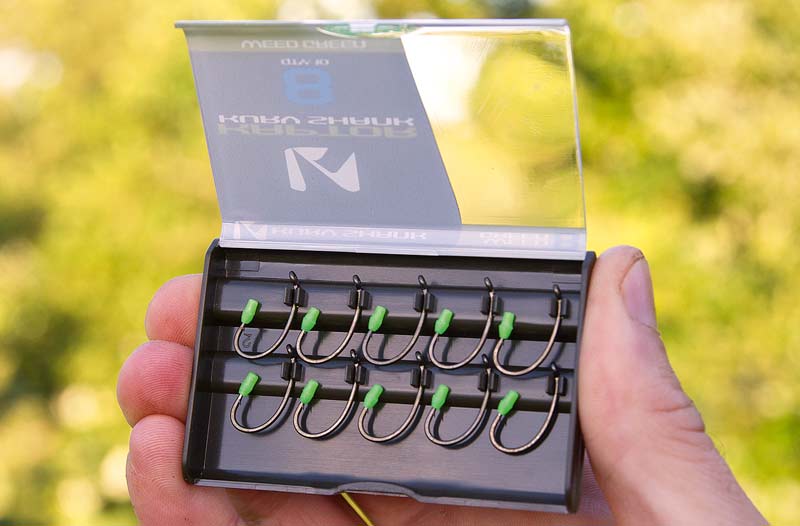 KILLER KIT
The Korda Kaptor Kurv is ultra-sharp helping for a clean hook-up when a fish bolts from the shallow water. It is also wise to use strong tackle because the fight can be pretty explosive at close quarters and you wouldn't want to lose one.
Once I've chosen and prebaited my swims, I then stand well away from the bank to allow the carp to move in. It's a time to be light-footed because the fish can spook at any sudden noise. However, using any bankside cover, I will creep up to each swim just to see if I can spot any telltale swirls or even a tail. If I don't, I will add a little more feed and wait a while longer before dropping a bait in.
Even if I don't see any clues of the carp being present, they may still be there, so to ensure I don't spook them I will approach the swim stealthily, and carefully lower my rig into the water over the bed of feed. Once the lead has settled, I will pull the line off the reel and slowly walk backwards until I can lie the rod on the ground with just a few rings sitting over the water. Then, leaving a slack line, I'll set the free spool and move back from the bank. It's then a question of just sitting and waiting for the sound of the clutch!
I like to be proactive, so if I don't get any interest after around 20 minutes, I will reel in, add more feed pellets and move to the next swim to allow the area to rest. Bream can often move in first, so if they do pester me I will again add more feed and then try another swim, returning again later. I'm usually pretty confident that a fish or two will turn up but it pays to be mindful of the conditions because the wind might turn, which could push the fish to another area of the lake. Just remember to watch for any signs of fish and be prepared to move and follow the fish.
I've been lucky today because the wind, and some serious rain at times, has stayed in the same direction, so I've had some nice commons and mirrors to 20lb, all of them taking a bait fished less than a metre from the bank using the tactics I've described. Challenge completed!
This cracking mirror was spotted mooching around in the reeds just before Rich dropped in his bait. cking mirror was spotted mooching around in the reeds just before Rich dropped in his bait
Angler File
Name: Rich Seeds
Age: 31
Occupation: Fishery manager
UK PB: 49lb 5oz
Sponsors: JRC, Sticky, Korda
Like what you see?

Or buy a single issue