This month my Roamer series saw me make the 200-mile journey from my home in the northeast down to Manor Farm Fisheries in Bedfordshire. Lying just a stone's throw from the A1 the complex comprises seven day-ticket lakes, plus a stretch of the River Ivel, as well as a superbly stocked tackle shop on site. While all the lakes boast an impressive stock, Winters Lake is regarded as the specimen water and is where I have come to try and tempt one of the complex's larger residents. With less than 24 hours at my disposal time was certainly not on my side on this occasion, especially on a venue that has a reputation for being rather tricky. Thankfully, however, prior to shooting this feature I had actually spent 24 hours on the complex filming episode 11 of The Challenge. I won't tell you how that ended in case you haven't seen it yet, but I did briefly spend some time fishing on Winters Lake and was rewarded with a fine 22lb 7oz common, so at least I had something of a heads-up going into this session. So, with all the filming wrapped up I was eager to carry on where I had left off and promptly set up in the same swim that had produced the 22-pounder. On that occasion it was surface tactics that had done the business and with a number of carp still visible in the upper layers I saw no reason to change my line of attack. It was now early evening and I quickly got to work with the throwing stick and began to trickle in a few floating dog biscuits.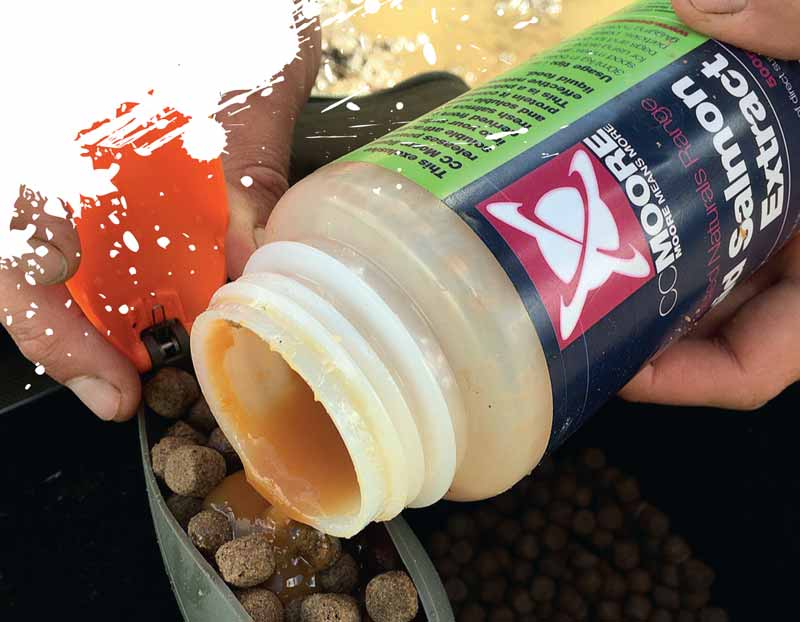 Oily liquid added to floaters can transform them.
To really crank up the food signals being emitted, the biscuits were given a generous glug of CC Moore Liquid Salmon Extract, which ensures the bait leaks off an attractive oily slick. This also allows me to see where the floaters are drifting within the swim. This is important because it enables me to adjust the feeding accordingly. The wind was somewhat irregular in terms of its strength and direction, and introducing too much bait could see the floaters drift out of the swim and take the fish with them, only for other anglers to then capitalise on my hard work. So, knowing where the floaters are at all times allows me to gauge how much to apply, and where to apply it to ensure it remains within the boundaries of the swim. Strangely, the carp seemed a little hesitant to investigate the free offerings, but there were plenty of other creatures that had found their appetite, because every bird on the complex suddenly descended en masse! I see a lot of people getting seriously stressed out when our feathered friends put in an untimely appearance, but more often than not they can be fed off or discouraged. I always carry several bags of cheap dog biscuits in the back of the van. With a pair of swans and their signets proving to be the most stubborn and persistent of all the birds, these were kept out of harm's way with half a bag of economy mixers tipped in the edge of the lake. With the swans out of the equation, all that remained were the ducks and seagulls and following constant feeding it didn't take long for their appetite to be satisfied.
Water aids casting and the bolt-rig effect.
It's at times like these that the advantages of using a throwing stick to introduce floaters become apparent. Regular introductions of bait can take its toll on a catapult over the course of a session and the stick certainly saves a lot of messing around carrying out repairs on elastics and pouches, plus lightweight baits can be introduced at greater distances than can be achieved with a catapult. As the birds began to disperse, one solitary fish began to sample a few pellets. This feeding activity was the catalyst needed to encourage the rest of the group to have a feed. Within moments there were a number of mouths slurping down the floaters and it was time for me to make a cast. For me, floater fishing is not something to be done half-heartedly. All too often I see anglers in prime floater fishing situations hurriedly cobbling together a makeshift setup to try and tempt a carp off the surface, which often ends in failure and frustration. A lightweight rod of around 2.25lb to 2.5lb is perfect for the job because it acts as a buffer, or shock absorber, which reduces the risk of breakages when using the fine-diameter lines and smaller hooks that are often employed with this style of fishing. This is coupled with a 10000 EOS reel, which again is small and lightweight and balances the rod superbly. This was loaded with 15lb Fox Surface main line below which was a 12lb Zig + Floater hook link, and both lines are perfect for the job because they are incredibly buoyant, virtually invisible in water, and also have a high breaking strain in comparison to their fine diameter. The hook bait was an 11mm soft floating pellet, which was presented on a small hair rig tied to a size 10 barbless prototype Zig + Floater hook, and to get it out there I employed a Fox X-Large In-line Bolt Bubble Float. It may seem excessive to use such a large float but this allows me to cast well beyond any feeding fish and wind it slowly back without causing any disturbance or arousing suspicion. So, having over-cast the float it was then drawn back into the group of fish, which were certainly unfazed by the stealthy introduction of the rig. Despite the carp now gobbling up the free offerings like Pac-Man, time and time again the hook bait would be rejected. After half an hour of missed chances I decided to make a slight adjustment. The hook link was shortened from a couple of feet down to little more than 12 inches, to ensure that as soon as the carp picked up the hook bait it would be in almost immediate contact with the weight of the float and really emphasise the "bolt effect". This often results in some pretty explosive takes and what happened next was textbook and perfectly illustrated what I have just mentioned. An eruption on the surface followed by the fizzing of the clutch indicated that a very angry carp had made a mistake. The fish immediately powered off on a series of surging runs in a bid to find sanctuary among the dense weed beds that festooned the swim. It was clear it was of a decent stamp, which certainly made for some nerve-racking moments, but following an epic tussle the fish finally succumbed and it slid in the net at the first time of asking. The fish was absolutely nailed, and even after becoming lodged in several weed beds everything held secure until another fine-looking common slid into the net. Tipping the scales at 23lb 1oz it was a superb fish to get this session up and running and with a mid- double common following the very next cast I decided to celebrate with a large Domino's pizza, which was delivered to the fishery gates. As darkness began to approach, and feeling fit to burst, I decided to rest the swim (and myself ) for the night ahead and get cracking at first light to try for some more surface action. However, heavy overnight rain put the dampeners on things in more ways than one, and it wasn't until mid-morning that the temperature began to climb and the fish elevated in the water column to take advantage of the sun's warming rays. Unlike the previous day, they took a lot more persuasion to sample the free offerings and they also appeared to be more spread out around the swim rather in one area. For that reason, I resorted to my old match fishing tactics and began to bait several lines of attack.
Out goes the bubble float as the carp start feeding with vigour.
The spod rod was brought into play and an area was baited at around 40-yards range with biscuits, along with a good helping of Salmon Extract in every spod. In addition, two short-range areas were baited with the throwing stick to the left and right of the swim. Once again a change of tactics had almost immediate effect and before long fish were taking the free offerings confidently over all three baited zones; I was spoilt for choice! With the majority of the carp feeding that bit further out, I made the first cast of the day and it wasn't long before the clutch was fizzing as an angry carp made its bid for freedom. While playing the fish I made regular introductions of bait on the close-in spots to keep the fish feeding confidently. That's another advantage of using a throwing stick; it allows you to introduce bait one handed! Once again the fish fought like a demon, but everything held secure and at around 15lb it was a promising start to the day. With plenty more fish milling around in the area I was sure more would follow – and they did. By baiting and working three areas I was able to extract another two mid-double-figure carp in quick succession before it was time for me to hit the road. Having landed five carp in what was little more than a "quick overnighter" I certainly left Manor Farm feeling very happy indeed. In fact, it was one of the most enjoyable floater fishing sessions I'd had in a long time and I can't wait to make a return.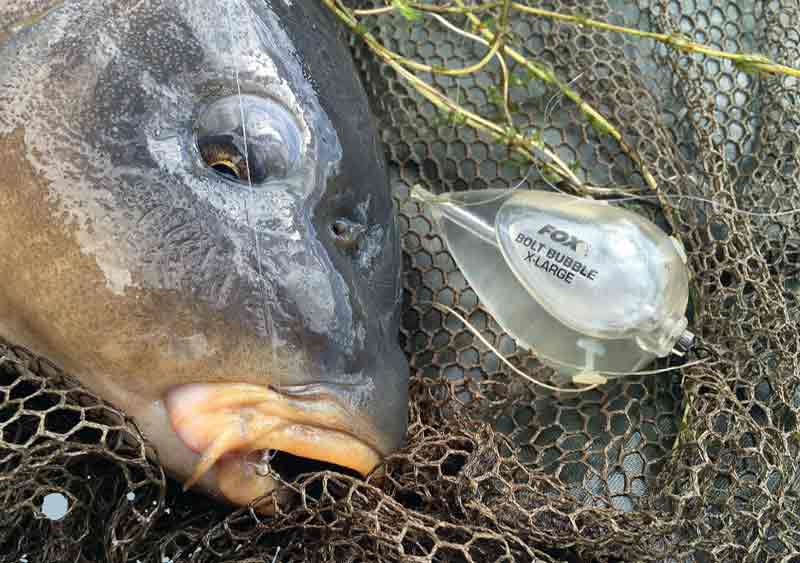 Nailed!
Like what you see?

Or buy a single issue