Tip Of The Month
For those of you with a keen eye and a good memory, you will remember that I covered how to utilise any old bait you may have laying around before.
Last time we simply took the hook baits and stuck them in a blender creating a highly effective multi-coloured mix that drifts seamlessly through the water column creating clouds of attraction. This time, however, we want to get a little more body to the mix so that it can be utilised on the bottom just as effectively as it is throughout the upper layers.
Starting with the old hook baits, these can be wafters, pop-ups or even hard hookers. Throw them in a blender and blend them nice and fine. Second, look around for any other spare bait that may be going out of date. This could be pellets, groundbait or even half-used particles. These also go in the food blender but just blend it once or twice; bigger items are essential and will work for you in this mix.
Lastly, we are going to look around for liquids, hemp oil and fish oils; anything with an oil base really. Fear not if you don't have any; sunflower oil will suffice and this can generally be found in the back of anyone's kitchen cupboard. Pour a generous glug of your chosen liquid in.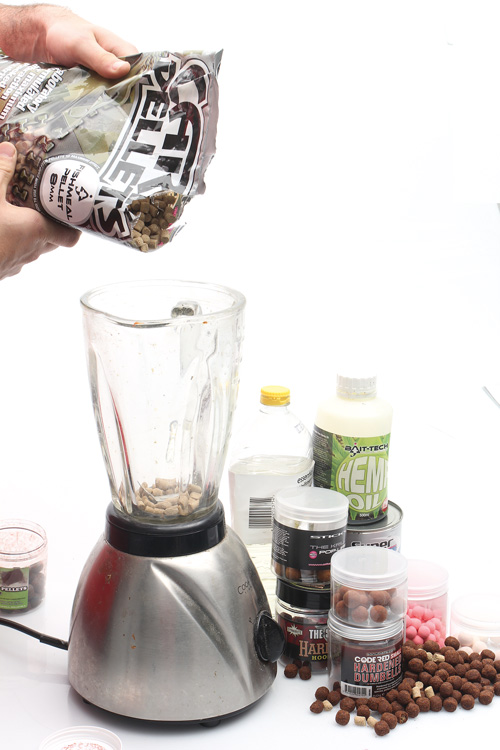 To finish, we place the mix in a zip-lock-style bag or container, remove the air as best we can and freeze. This will make a great instant stick mix that you can keep for a fair while out of the freezer as long as you keep it in a dark, cool place, and even longer when frozen.
It's key to mention that we don't advise using out-of-date bait because this can actually be to the detriment of the carp. If it's mouldy or you aren't too sure, throw it away.
Like what you see?

Or buy a single issue