AG: How long have you had your ticket here?
DG: I am the young gun on the syndicate over here, so to speak. This is my third season on here and also my last because I feel now is the right time to move on to new ventures. I have a baby coming in a few months, so my time on the bank will be fairly restricted. I waited four years to get my ticket and it has without doubt been some of the best fishing I have experienced.
AG: Can you briefly describe the lake?
DG: It's quite an odd shape to be honest and difficult to describe. It has a few bays that lead off from the main body of water, two islands positioned fairly centrally and a small lake that is attached to the main lake via an inlet. It is beautifully mature and generally quite shallow all over. In recent years it has been very weedy but it is now being dyed so the lake is pretty clear.
AG: How do the fish generally behave over here? Do they hold back off the pressure or are their movements dictated more by the weather?
DG: They can be extremely temperamental; some days they will follow a big wind and finding them isn't usually an issue. At other times they will be hiding in the bays and moving great distances across the lake. As soon as a few get caught in a certain area they are on the move, so, yes, they certainly react quickly to angling pressure. Just like many other lakes, big low-pressure fronts encourage a hard feeding response.
AG: Do you target specific spots or are you just looking to fish areas of the lake?
DG: With so little weed, specific spots are completely irrelevant. The fish no longer hold up in the weed or use patrol routes, but instead move about a lot more. Location is the key factor and getting on the fish is more important than finding a specific spot or area that feels nice to present a bait. Don't get me wrong, I still feel for a decent drop when I'm on the fish to ensure my rig is well presented. The fish can often turn up in the most unlikely places, so setting up in areas that give a good view of the lake is useful for seeing shows.
AG: What do you look for in a big-fish bait that you will use throughout the course of a season?
DG: It has to be a high-quality fishmeal, such as the Odyssey XXX or Pacific Tuna, which I will look to introduce over a period of time. This has accounted for much of my success. When I first joined Welly, they said you would never catch them on a red fishmeal. Well I certainly proved that wrong! Last year kicked off in style for me on the Pacific Tuna and I am now up to 93 fish in the three seasons I have been here.
AG: With such a big head of fish, most anglers would think they are there for the taking but Welly receives a lot of pressure, right?
DG: Many would think that Welly has a similar stock to busy day-ticket waters such as St John's, but in fact the number of fish is quite small in relative terms to the size of the lake. There are probably 90 to 100 fish in the lake now. Many of them are quite old and have seen years of pressure from some exceptional anglers. When you look at the size of the lake, the shape of the bays and then the stock of fish, it only works out on average at three or four fish per acre. I know that isn't always the case because they shoal up and move about in groups, but that gives you an idea of how few fish there can be in certain areas at certain times. Only this weekend just gone, 18 anglers were on and only two caught, but it's always the success stories in the media that portray this differently.
AG: I've noticed your rigs are considerably longer than the norm. Why is this?
DG: As I mentioned, location is the key factor in my fishing and getting onto fish with rigs in place with as little disturbance as possible has certainly been a winning tactic here. The long links and helicopter setup ensure that wherever that lead lands, I can be safe in the knowledge that the rig is presented. The fish are extremely cute, so the fewer casts I can get away with the better. The last thing I want is to spend time finding fish, only to push them off.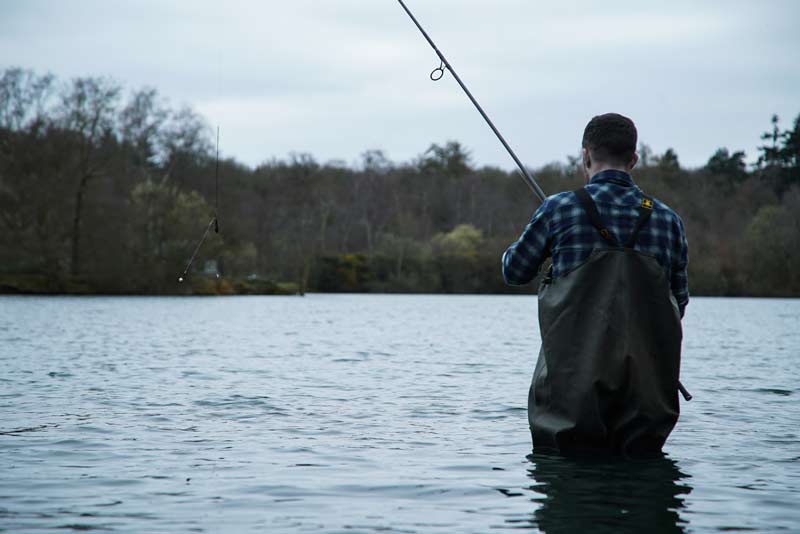 AG: You place a lot of emphasis on water temperature. Why is this and does it affect your fishing?
DG: In spring, I think this is one of the most vital elements that gets the fish moving and eating bait. I cannot monitor the temperature of the water when I'm not at the lake, but throughout my session I will take note of the temperature to see if it is rising and when it would possibly peak. If temperatures are rising a degree an hour in spring, I would look to maybe introduce more bait. Yesterday, when I had that double take, the temperature was 7ºC degrees in the morning and by 4pm it was 11! Half an hour later I had a double take at the warmest point of the day.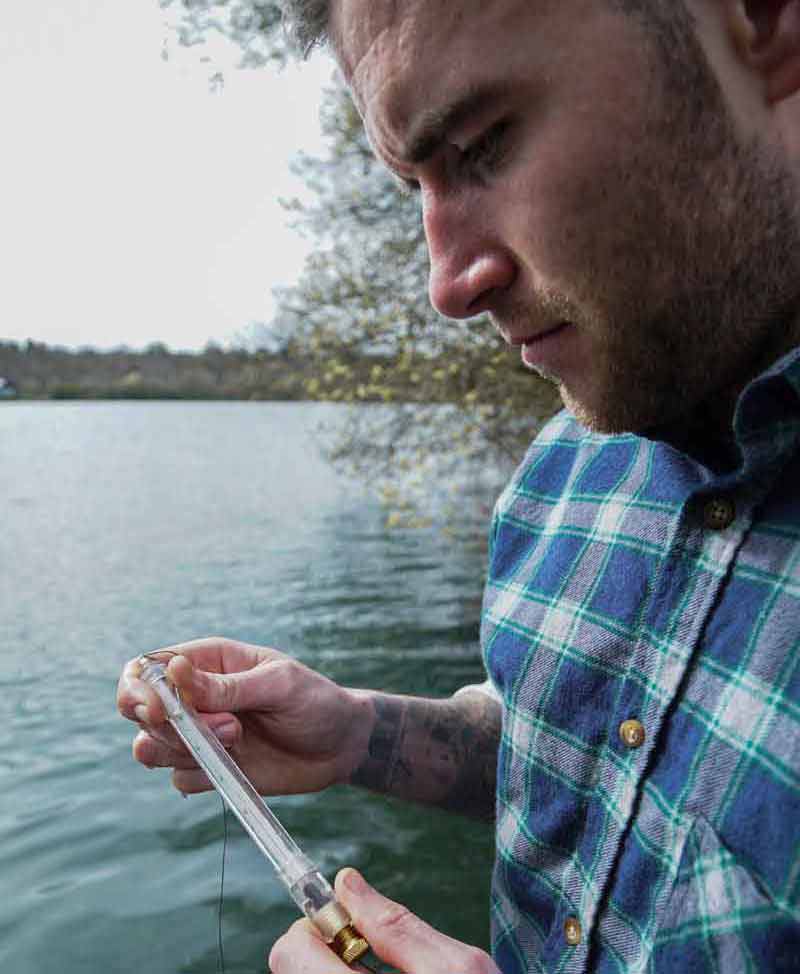 AG: I've noticed your white hook baits are tipped with black? What are you trying to achieve by doing this?
DG: This is something I have been doing for years and I'm sure it provides me with a little edge! This time of year the naturals are beginning to replenish, with numbers of snails and small tadpoles that the fish will naturally graze on. These small naturals certainly flock towards the fishmeals I'm using, often covering them completely. With the small piece of black foam secured to the top of my white Northern Special hook baits, I think it looks quite like a snail from above. It's a simple trick I have been using over here and it has certainly worked!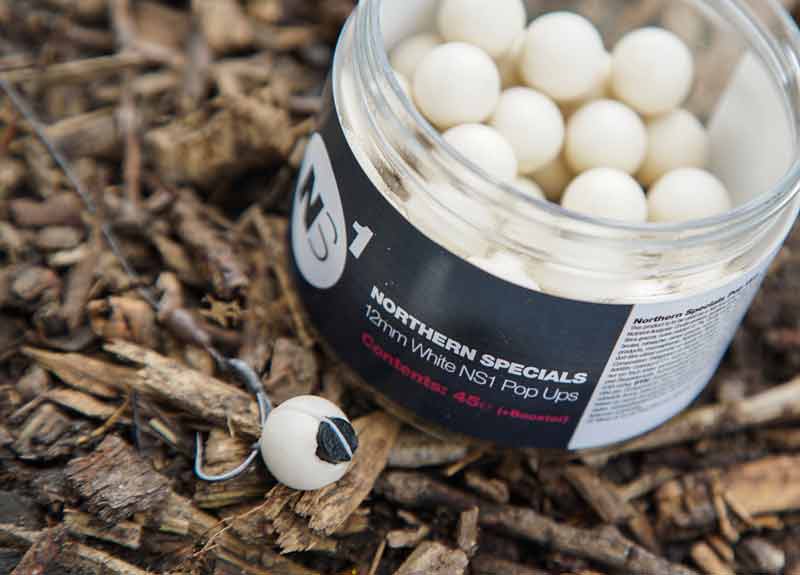 AG: You have had great success recently, managing to bag a whopping brace the day before I arrived, you must be in a productive area?
DG: The island that I am fishing has been a productive area for me in seasons gone by; it's a fair distance, around 130 to 140-yards range. It's often quite difficult to get rigs positioned well at that range. I always aim to get it as close to the island as possible. The fish regularly show very close to the island, obviously patrolling the side of it, potentially rubbing up against the branches to rid themselves of any leeches from the winter. I managed two bites in quick succession, but then things went quiet. They obviously moved off with the disturbance that was caused.
AG: The bites came in quick succession. Why was this?
DG: It certainly helps to predict feeding spells on a lake like this. Like I mentioned, I closely monitored the temperatures throughout the day. The obvious rise meant that by the afternoon the temperatures would peak. I recast the rods and got them perfect around lunch time and, sure enough, the takes came around 4.30pm when the temperatures had peaked. If I had repositioned those rods later in the afternoon, things would certainly have been different.
AG: After landing the first fish, what happened next? Did you manage to tame the second beast with no problems?
DG: The first fish certainly wasn't an issue, but the second caused a little more drama. It took off at a rate of knots down the island and somehow had picked up a branch in the process. I managed to get it back closer and closer and then all of a sudden this large branch appeared on the surface. I couldn't work out what had happened initially, but then it became noticeable that the branch had become tangled in the main line, with the fish wallowing closely behind. Somehow we managed to bundle the beast into the net, branch and all! I grabbed the line and Doc, who helped me out, quickly swooped the net under the giant carp.
It was heart-wrenching stuff, but fortunately the faithful size 6 Gardner Mugga held firm! We looked at each other in disbelief because we knew it was one of the 50-pounders!
AG: It's quiet over here today, are you looking to move anytime soon and what will influence this decision?
DG: I would have expected a bite to materialise by now. We have seen fish show close to the island, so there has certainly been some in the area. Saying that, we have seen fish right on the end of the wind in a big open expanse of water with no lines. If I haven't had a take by 5pm, I will quickly pack down and head round there for a closer look. They certainly become in tune with pressure on here, so a quick move could bring another bonus fish before I pack up tomorrow!
AG: It certainly proved worthwhile. As we left, Dave made a quick move round to the other side and shortly after was rewarded with a deep-bellied mirror tipping the scales at over 48lb!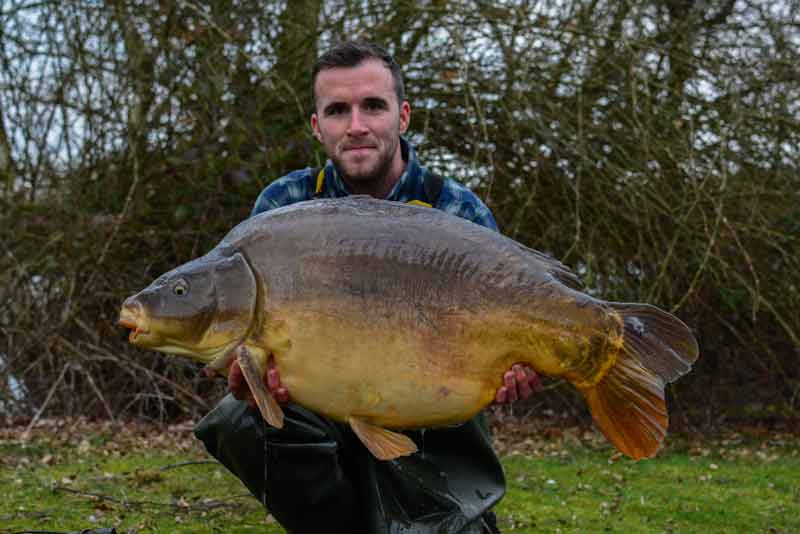 Like what you see?

Or buy a single issue