It is a warm morning with a stormy, atmospheric feel to it. The rain begins to drizzle down and it looks like a perfect morning to be catching carp off the bottom. Nevertheless, I have every faith in Rob Burgess who has been set the task of catching carp off the surface live for the cameras.
It is 6.30am as I pull up to the Farlows gates. Along the road bank I find Rob, who is already spombing out in the swim. I ask him how he is doing and the usual chitchat follows. I can't help but notice a significant slurping sound out in the lake; there are mouths and disturbances littering the surface. He must have more than 20 fish feeding, all wrestling each other for the clearly appealing food items that he has delivered.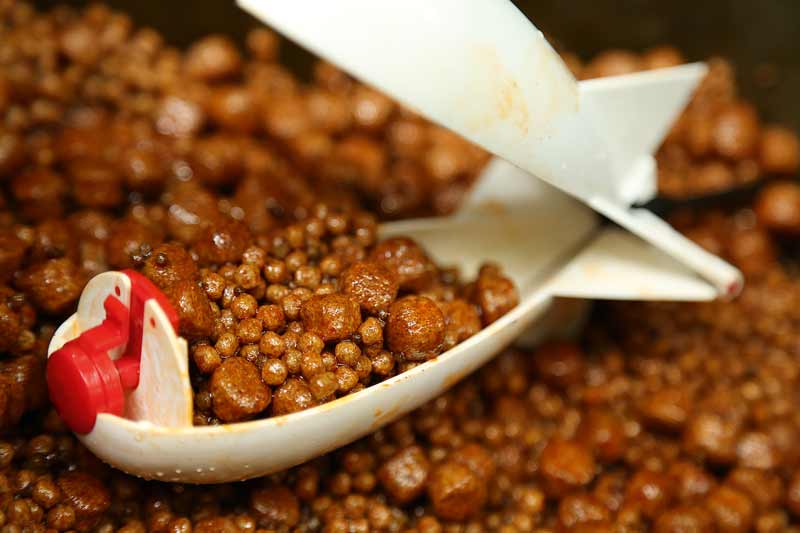 "I actually came down yesterday for a go," states Rob. "I ended up with something like 18 fish to 29lb, all off the top. These Farlows carp love a mixer and if you get it right, you really can have a great day.
"First and last light are the best times to entice the fish to feed. A lot of people think that when the sun is at its highest in the middle of the day is the best opportunity to floater fish. Yes, the fish are on the surface, but quite often they are just gliding around with little interest in feeding. I prefer it slightly overcast and even a little drizzle. It makes it harder for the fish to suss the rig and they seem to feed more confidently."
Rob continues to plop the odd Spomb around 30 yards out. He doesn't go mad, just one every 10 minutes or so. I have seen him in action before and the way these carp feed off the surface is like nothing I have witnessed before, so I am intrigued to see exactly what it is that he puts in the bucket.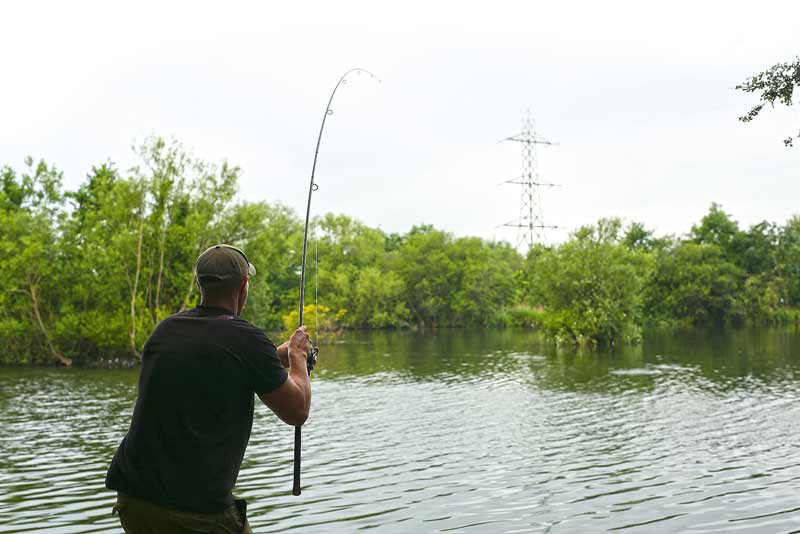 "I use a mixture of small 6mm pellets and some mixers too. The smaller pellets are great for getting the carp to feed and they really do love them. The problem lies when they become preoccupied on them, which can easily happen. That is why I always introduce larger mixers into it, which will be a similar size to the hook bait. If you fish a 12mm hook bait over the small pellets you will have little chance of a bite, especially on here."
The fish are feeding confidently and he assembles the rod. He quickly trims down a bait and attaches it to the hair. He then casts the float out past the feeding fish, drawing it back slowly over the top of their heads.
In seconds, just as the float stays still, a set of lips engulfs the hook bait and in a flash the rod is whipped up in the air. The fish is on and it strips a good 10 yards of line.
Amazingly, they are still feeding throughout the fight and he nets a nice looking zip linear. He quickly unhooks the fish in the net and checks the hook and the bait before firing it back out to the spot.
Again it takes a matter of seconds before he is in again. Jack Funnel is alongside him as they work together trying to make the most of the opportunity. Like a team, they simultaneously feed and fish, keeping the fish in the swim all the time.
"I am just going to pop these fish in retainers for 10 minutes for a couple of reasons," Rob states. "They really do fight hard at this time of the year and I want to give them a little rest before I take them out of he water. I also want to try and capitalise on this feeding spell because it could die of death at any moment."
The fish are safely placed in the slings until they run out. At that point, Rob fires half a dozen Spombs out, to keep the fish feeding while we do the pictures. There are some crackers among them, as they save the better looking ones for some snaps. They have also slipped back half a dozen smaller fish, making it an incredible 20 minutes or so fishing.
"Well, that went to plan mate didn't it. I don't know how many we had in the end but it was a great bit of fun that's for sure. I suppose the biggest was around 27lb. I didn't want to weigh them, they are fragile at this time of year and I didn't want to put it through any extra distress. They all went back healthily and to me that is the best bit."
The tackle has been tested, with there being so much weed in the swim, so Rob ties up a fresh hook link. I have noticed that it is a lot shorter than others that I have seen so I quiz him about it.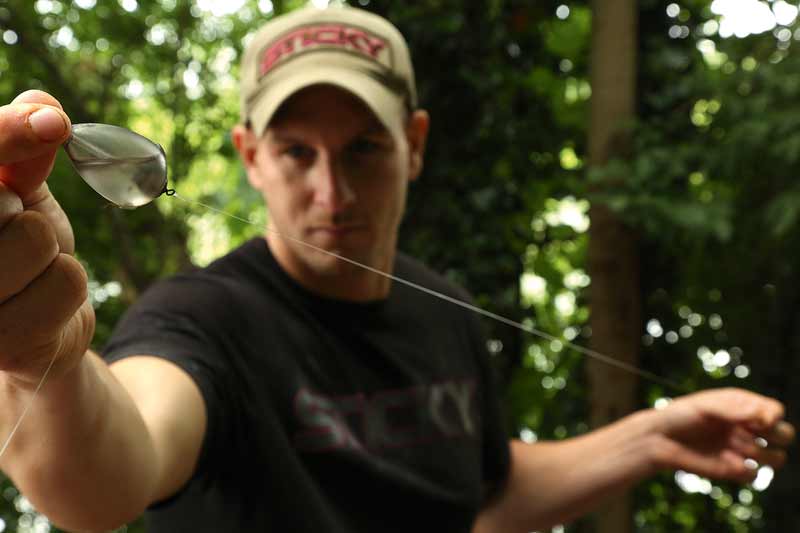 "I like my hook links to be around two and a half feet. The fish are not scared of the float; in fact, it is quite the opposite. I want a nice, short hook link to enable me to strike and make contact with the fish as soon as possible. I don't watch the float; I always keep an eye on the mixer and strike when the fish sucks it in. Quite often, if you wait for the float to move, the fish has already spat the mixer out.
"I always carry different sized hooks, ranging from 8 to 12, and the choice is made once I have assessed the situation I am faced with. If the lake is very weedy, then I will use a bigger hook. Equally, if they are bigger fish, I will up the size of the hook too.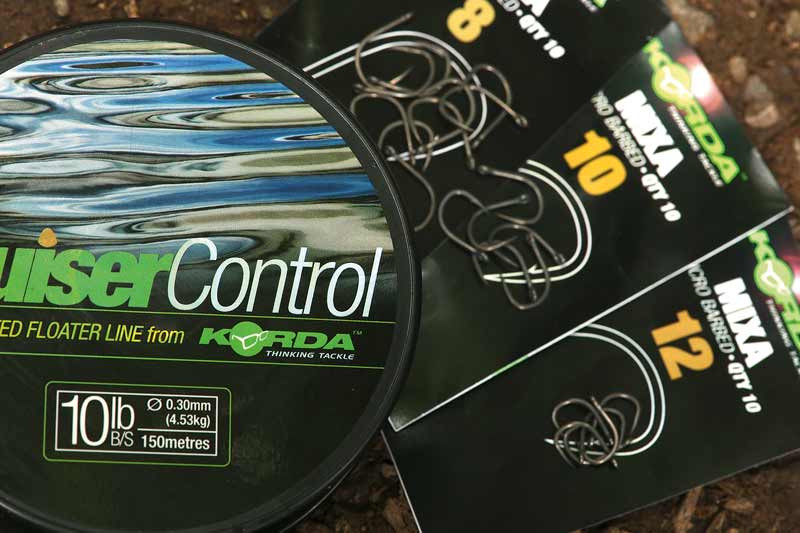 "The line is 12lb Kruiser from Korda and it is so strong that I don't have to worry about that. It is perfect for pretty much all situations that I am faced with and I have not been cut off once this session.
"It is also important to match your tackle with your terminal tackle. I use a light floater rod for a reason. With using light lines and hooks you need a balance in tackle. Larger rods will increase hook-pulls and the chances of breaking the hook link. That softer rod will cushion and absorb the pressure of the fight and reduce the stress on your terminal tackle."
Rob gets back to feeding the mixers and the fish are still taking, albeit a little more cautiously and with less regularity. The fish caught has clearly put the others on edge, but it seems that many can't resist the tasty little morsels that they are being fed.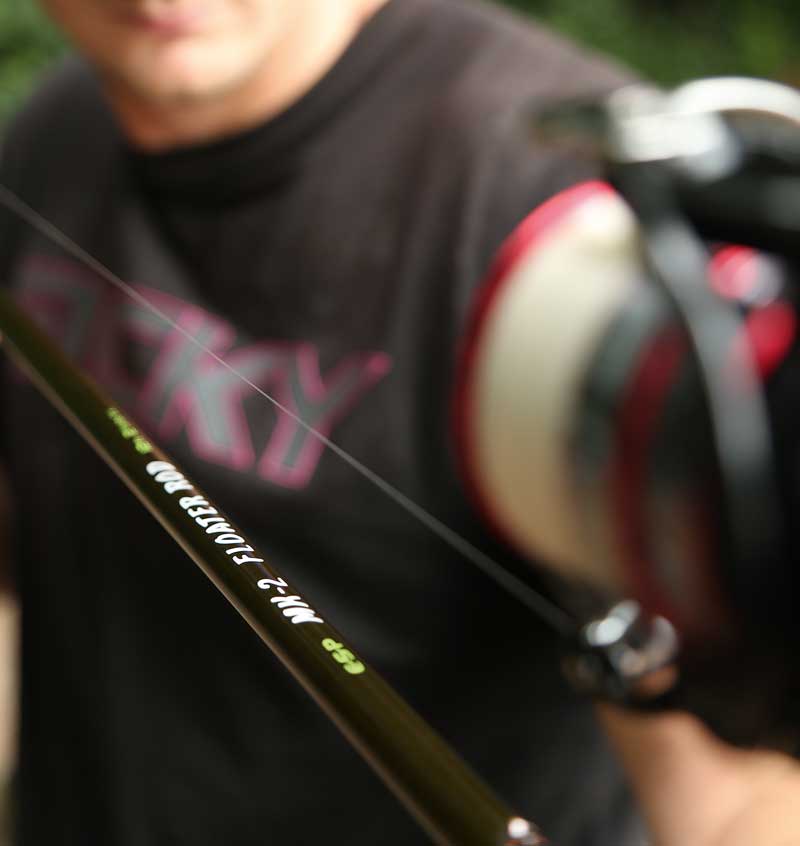 "You may have noticed that the Spomb is stained red. There is red all over my hat and my face too," laughs Rob. "That is because my bait is covered in Cap-Oil. I couldn't go floater fishing without it. It creates a huge flat spot on the surface, making it easier to see your hook bait. It also smells incredible, giving off a rich, pungent salmon aroma and taste that the carp simply adore, especially during the summer months.
"You don't need loads. I suppose a litre jerry can would quite easily last me four or five days floater fishing. I always carry a spare can in the van and extra mixers too, just in case I need more."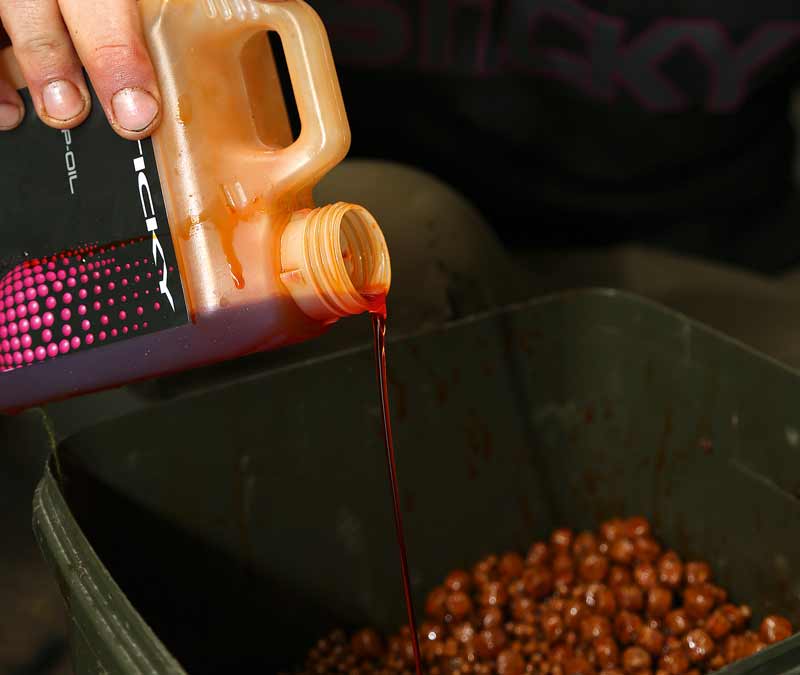 There seems to have been a lot of fish move out of the swim, but with a handful still taking, Rob casts the rod back out in search of another bite. He also makes a quick change of hook baits.
"If the fish are feeding confidently, I normally use a pop-up as a hook bait. I have recently been using a trimmed down Manilla pop-up, which works extremely well. They are ultra-durable, meaning that I can get a number of casts out of them before they need to be changed.
"If the fish are being very tricky and picky, then I will use a banded pellet. A match-the-hatch-type strategy will get you bites even when they are feeding cautiously. They are a pain, though, and you do need to change them after every couple of casts. They go very soft and lose their buoyancy quickly too."
With one eye on the water, Rob is quick to react, striking as soon as the fish takes the bait. He even leaves it for the fish to hook themselves, just to show me how often they get away with it and how important it is to act on a bite quickly.
"It is like fishing on the bottom, they are always picking you up. The difference is that the fish don't have a 3oz lead to hook themselves. They only have a float, which often isn't enough, even with the larger ones. On waters like this, where they have seen it all, striking at bites will catch you more fish."
Seconds after that statement, he whips the rod up and attaches himself to another carp. It looks great fun playing them on such light rods and a low twenty bends the rod double.
The rain increases and the carp activity dwindles as the morning turns to afternoon. It has been a great morning, with Rob catching eight or so carp to over 27lb.
"Floater fishing is one of those tactics that can be done by anyone. It can only take a couple of hours to catch a few carp and suits people with limited time. Even an hour before or after work could give you a great bit of sport, have your fun or even catch a PB, because big fish love a floater too."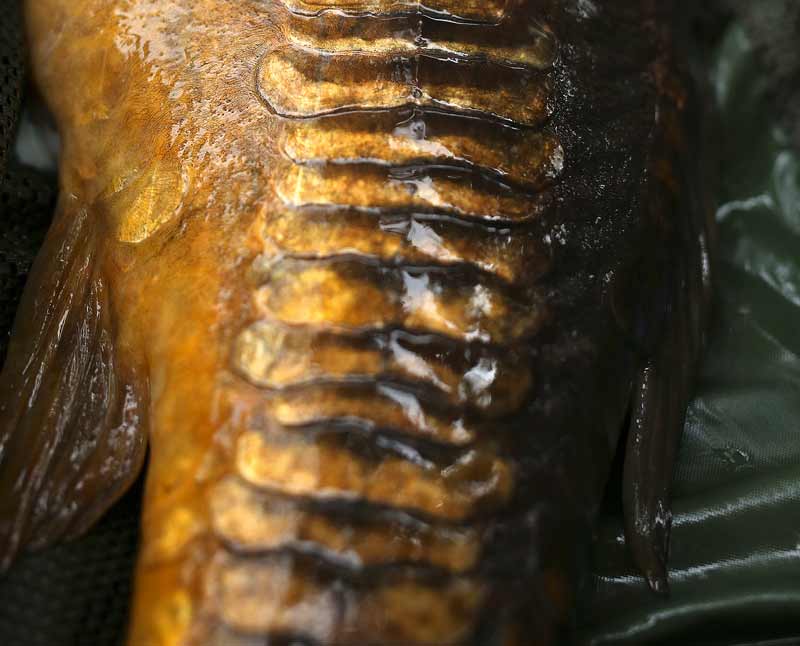 For more great features like this
Subscribe here

Or Grab your single issue here