It's by no means a technical tip but by giving this topic some thought you might just earn yourself a few bonus carp.
Now that spring has finally settled on our doorstep, it is clear to see that nature is well and truly waking up. The buds are cracking, the birds are chirping and, of course, the carp are a lot more active.
It is at this time in their annual cycle that carp will begin to not only forage nature's larders but they become a lot more acrobatic, leaping and throwing themselves from the water. One reason is a bid to shake any parasites that took hold as they laid dormant over the winter months. As well as looking for carp crashing out, check any snags or underwater structures. Such areas are great places to watch for carp rubbing themselves and when the snags receive sunlight these areas will hold carp as they simply bask in the rays to help raise their body temperature.
Rushes and reeds are also great natural features that not only offer protection but also generate heat; areas of the lake that see the sun for the longest period will often be a good starting point to look out for carp.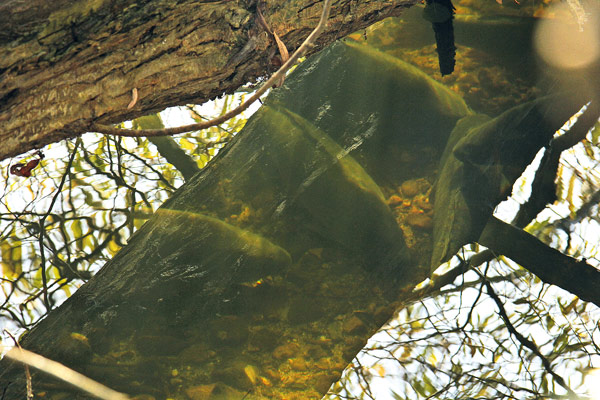 This is one tip that you can do all by yourself. Obviously, a pair of binoculars will help to cover larger expanses of water and polarised lenses help to look beneath the surface but they aren't essential. Watercraft begins with you; dedicate the time and patience to walk your venue. Try to go on different weather patterns and at different times. This will help you build a picture of what's going on, even when you're not there, and this is a skill that can often help you pre-empt where you need to go.