Tip Of The Month
Although this tip may seem a bit simple, it still astounds me the amount of anglers that we meet on the bank who are yet to carry a selection of bait colours. Now that is fine when the fish are feeding heavily on bait, but when bites are hard to come by I think it is the simplest way to adapt your approach.
It is not ground-breaking, yet it does make a difference. Whether you opt for artificial baits such as foam, plastic baits or prefer traditional hook baits such as a boilies, corn or even bread, the pulling power of a bright bait cannot go unnoticed.
Now, like many anglers, I don't like the thought of carrying bundles and bundles of hook baits. Not only does it cause confusion for an indecisive man like myself, it also takes up valuable room on the barrow.
Why not have just two pots dedicated to these vibrant varieties. Many anglers that I go out with do exactly this. One pot will be dedicated to cork, foam or imitation baits and are usually swimming in a potent liquid such as Betaine. The second will be a mix of pop-ups, the flavours of which are usually less concern. It is all about having a selection of colours so you can easily flick through the spectrum and find that special one that will ring the changes.
A flash of colour seems to bring out the natural predatory instinct within most species. Think of it like the trout hitting the shiny nymph as it is pulled through the water, just as pike will strike at a bright silver spinner. Carp are no different, it is just about triggering that instinct to take a bite even if they are not interested in gorging themselves – who can resist a little sweet come the end of dinner?
We are not saying you have to fish them solely as single baits either. When introducing bait it can often pay dividends to spruce it up a little too. Just a tin of corn or even crushing up bright baits such as tutti-frutti will help to revamp your traditional mix and make it stand out on the bottom.
Rigs to try -
Fishing a bright colour is one thing but you want it to be fished effectively. Below are three presentations that can either be used as a standalone single cast to showing fish or fished over a bed of bait to entice a bite.
Snowman Presentation
Best fished over a bed of boilies, you can play around with a bottom bait and pop-up combo. Pop-ups or artificial baits will suit this method, adding a small element of buoyancy to what would be a traditional bottom-bait presentation. This allows you to add colour but carry on using your favourite bottom-bait flavour, aiding that extra confidence factor.
Chod Rig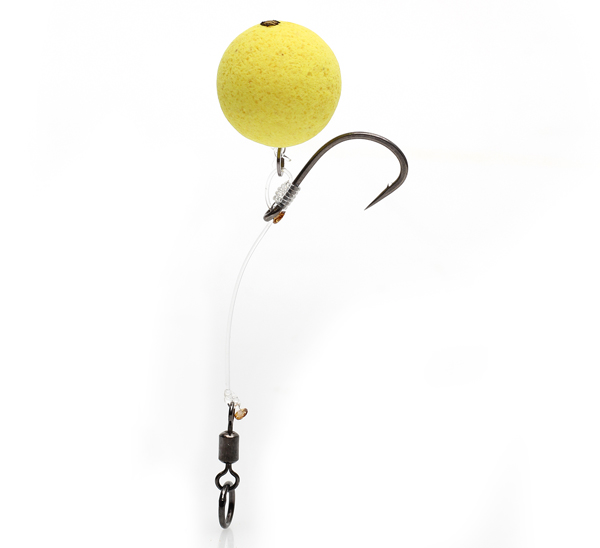 Unless you have been living under a rock for the last five years, you will be aware of this presentation. Ideally, it suits casting to showing fish because you know it will be presented on just about any bottom. The only criteria you need to meet here is a super-buoyant bait that will help your chod rig sit upright. This is another rig that will traditionally favour super-buoyant hook baits like cork balls, but I have friends that stack artificial corn four or five grains high and this seems to work extremely well.
Zig Rig
There is no disputing that carp spend most of their lives cruising through the water column and not glued to the bottom. When bites are hard to come by, you can often find that by fishing different depths it is possible to nick a bonus fish or two. I would say here that colours are more important than anywhere else. Having witnessed guys fishing on Brasenose with zigs it was not uncommon for yellow to be the winning colour, but as the bites slowed it would be the anglers changing to red that would often carry on catching. A simple piece of foam will offer the best buoyancy levels and can be flavoured to your liking with ease.