July has been a really busy month, to say the least. With relationship problems to career changes its been pretty hectic! Trying to fit fishing in amongst all the issues that have occurred along the way hasn't been easy but I've managed to do a fair bit. July is never a good month for fishing and I think a lot of people would agree. With high pressures, high temperatures and busier banks, it can be pretty challenging at times.
After my last session back in June things really started to become difficult. The spot that I had created and did fairly well on dried up and I couldn't buy a bite from it. Instead of continuing to fish that spot I opted to start following the fish around the lake and be a bit more of an opportunist angler.
My last session in June was on the 28th and I can tell you now that I won't be forgetting that session in a hurry. I was working until 2:30pm on a Wednesday afternoon and it had been pouring down with rain for at least 24 hours. I had been at work since 6am and not once did the weather show any signs of giving up. As I was leaving work that afternoon I said to myself 'I'd have to be mad to go fishing tonight, but it is really good fishing weather especially with that low-pressure front setting in'. The next thing I know the car was packed and I was on my way down to the north Lincolnshire pit!
On arrival to the lake, everything looked so miserable and depressing but I had to keep that motivation and positivity. I knew where on the lake I wanted to be so with that set in mind I parked the car up and barrowed the gear to my chosen location. After spending the best part of an hour setting up I was soaked to the skin. During the night I kept receiving the odd liner but I didn't really think anything of it due to the rain being so heavy. As the hand of the clock hit 2:30am I was in the process of slipping the net cord under one of the most awesome looking fish I've ever caught! A proper peachy fully scaled that put the needle on the scales just shy of the 20lb mark.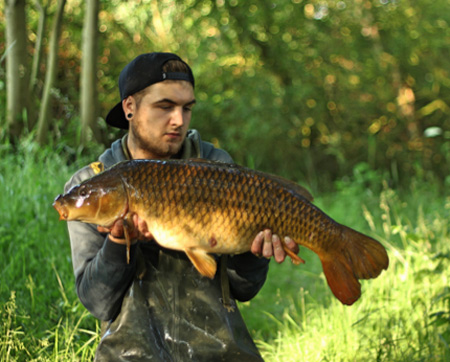 At that point I was more than happy with that one fish but at 5:30am the rain started to clear and there was a really fine mist on the lake, it really looked truly epic for a take.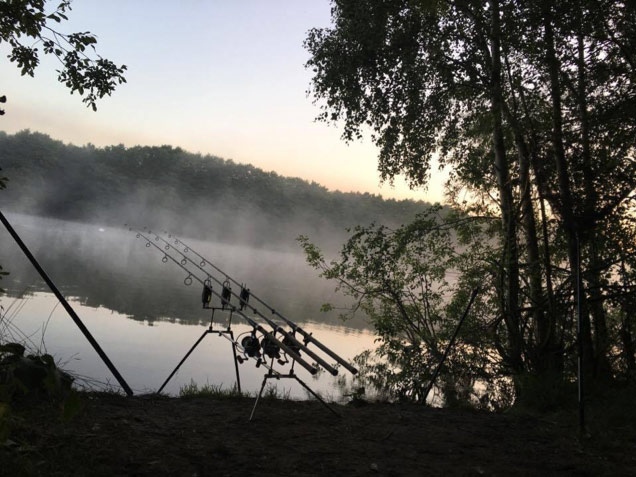 At around 5:45am the right hand rod tore away! After a very savage battle I had what looked like a 20+ common in the net! I couldn't believe it, all the effort and hard work really did pay out! Weighing at an unimportant weight of 21lb 4oz I was over the moon.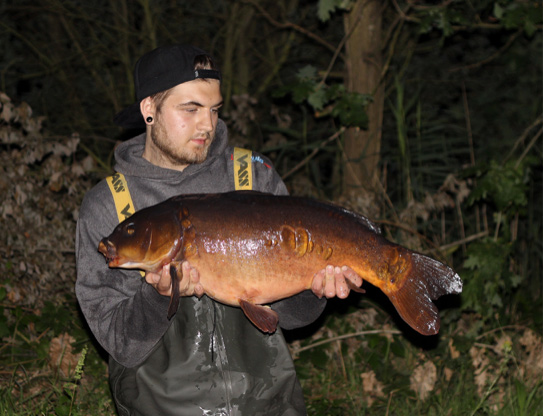 My next session was on the 2nd of July. The sun was gleaming and the fish where all over the surface making swim choosing fairly easy. I decided to plot up at the bottom end of the lake where the bulk of the fish seemed to be. I had a really brief lead about trying not spook any fish from the area. Once I was happy with the spots I got the ever faithful stiff hinges out of the tackle box and tied on 3 Key Cray match the hatch pop ups. Once the baits where tied on it was time to get the rods into position. Three simple flicks later and the rods where on the money. With a spread of roughly 3kg of key Cray scattered over the top I was all set and ready for the night ahead. I knew it would be quite a tall ask to catch but with there being so many fish down that end of the lake, there just had to be one that slipped up! The night and the morning past very uneventful, I just couldn't figure
out what I was doing wrong. Once the hands on the clock struck 12:00pm it was time to get the gear packed up and get back on the road.
On Saturday the 8th of July I was able to squeeze another quick night in. I'm not really much of a weekend angler due to the banks being busier but I with me having a spare night to play with, it was almost rude not to! I pulled through the gates at exactly 11:00am. My thinking was that by turning up that little bit later than usual then most of them Friday night anglers would have vanished! I couldn't have been more right. With there only being one other person on the lake I really thought my luck was in. After a quick lap of the lake I found a large number of the stock back down the bottom end of the lake. Due to me taking a few blanks from down that end of the lake, it was really hard for me to jump back down there but after watching them jump like dolphins I just couldn't ignore it! I made a quick dart back to the car and got the gear down to my chosen swim. Fishing my ever faithful stiff hinges with a white Key Cray pop up over low lying silk weed, I really thought I was in with a shout.
I really couldn't have been more wrong, yet again I woke up to another uneventful night. I just couldn't put my finger on what I was doing wrong. I'd almost convinced myself that I must have been doing something wrong.
On the 12th July I was fortunate enough to be able to get another night in. On arrival to the lake I found quite a few fish chilling in the shallows taking in them 25 degree heat rays. As much as I would have loved to have a go for them, there was another angler in the opposite swim. Instead of jumping in there and getting in his way I decided to keep going down lake and see what I could see. Once I reached the bottom end of the lake, once again there was loads of fishing cruising about without a care in the world. With this being only one of two locations that I'd spotted carp, it just had to be the place. The bottom end of the lake hadn't treat me well over the late so I was really hoping it was going to give me some slack at some point during the next 24 hours.
After a brief lead about I was able to find the spots that I was roughly fishing on, on my previous session. Sticking with the Stiff hinges I decided to go with a match the hatch Key Cray pop up as I had a feeling that the carp where being quite weary. I wanted to present something to them that looked like a free offering. As the evening drew in, the wind started to pick up, the temperature chilled off and with a low-pressure front setting in I was really starting to feel confident. Just on dark at about 10:00pm I watched a really nice mirror role feet from one of my rigs, I was really on edge just waiting for the alarm to sound.
At 01:30am my right had rod went into absolute melt down!! Stripping line off of my reel for fun, I just couldn't stop it! After about a 6-7 minute battle I slipped the net under another one of my target fish. A fish known as the 'Green Eyed Monster' was sat sulking in the depth of my landing net.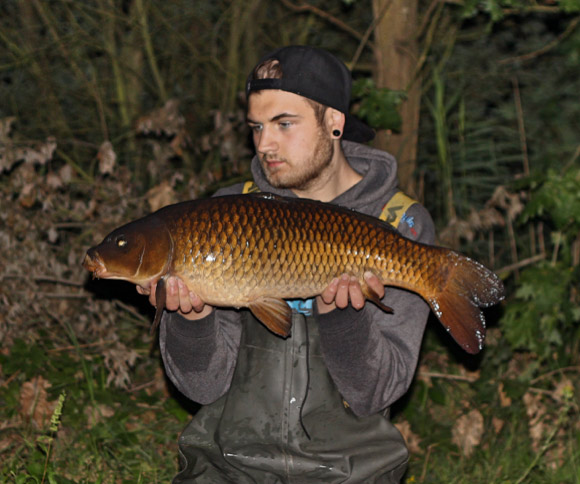 Just as I slipped the net cord under that fish my left-hand rod received a few bleeps before it too was away! It was complete carnage and I couldn't quite believe what was happening. After a very hairy fight, I managed to slip the net under a lovely mid double common. Two fish in the space of 15 minutes, I really couldn't have written it.
Once the fish where photographed and weighed I returned them back to their home. During the rest of the night I unfortunately, lost a further two due to hook pulls. I was gutted about losing two but landing two fish after the run I'd had over the late was good enough for me. The following morning I awoke a little later than usual but after very little sleep I decided to get packed up nice and early.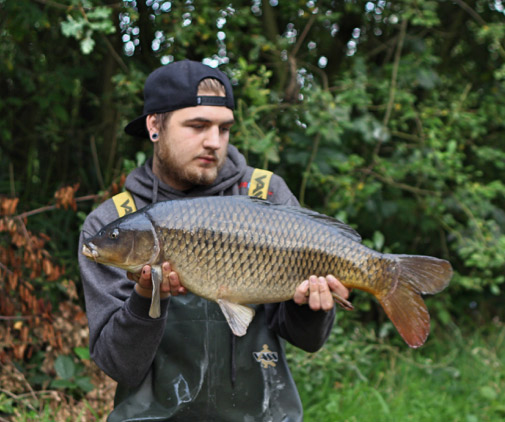 Due to having a career change and relationship problems, my fishing was put on hold briefly as I just wasn't in the right headspace. It wasn't until the 28th July that I managed to get another session in. On the weekend of the 28th I was invited to fish a social match with a few of my colleagues from Eric's down at Frod in North Lincolnshire. After a horrendous drive down in pouring rain and heavy hailstone, I eventually made it down to the match venue. With the lake not being fished by more than 2 anglers at one time, the fish really didn't like all the pressure and shut up shop. There was a couple of fish caught by one of the guys but apart from that it was really hard going. On the last morning I did, unfortunately, manage to lose a fish in the pads I was fishing to. To be honest I was quite disheartened about that, as one fish could have won me the match. After the match, I went straight down to my syndicate for a couple of nights for my dad's 50th.
I arrived down at my syndicate at about 12:30pm and as I always do, I had a brief walk round to see what was occurring. The Whole top half of the lake was like a ghost town to which I was stunned by, due to the temperature being around the mid-twenties. Once I made my way down to the bottom end of the lake it was obvious that the vast majority of the fish where down there. With me having some success down there in prior weeks I knew that I could drop a couple of rigs on presentable spots without spooking any fish. By the time I'd sorted all the rods out and sorted the base camp out the time was just ticking round to about 16:00pm. The weather was still absolutely scorching so I knew it was going to be hard going.
Throughout the course of the 48 hours, nothing happened what so ever but on the final morning that all changed when a lovely mid double common graced my net! It wasn't anything massive but boy did it boost my confidence. Sometimes something so small really can pick you up when you're struggling.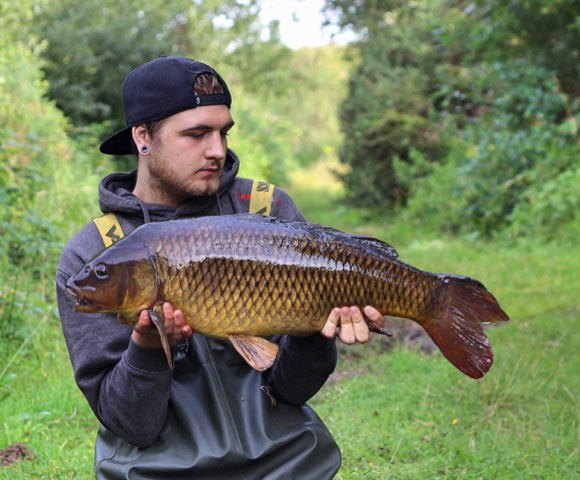 My most recent outing was on the 4th August. Having the full weekend ahead of me I really thought that I could get my head screwed into the place and get some fish caught. I arrived down at the lake at about 18:45pm to then I drove straight down to the bottom end due to there being other anglers taking up the first half of the lake. Once I got to the bottom end of the lake I saw quite a lot of signs of fish in the areas I'd fished in previous sessions. Fishing stiff hinges once again I attached three different pop ups, just to see which one would do the business. On one rod I had a white 15mm Citruz, on another rod, I had a white 15mm Key Cray and on the third, I had attached a 15mm match the hatch key Cray pop up. I quickly got the rods wrapped up at the distances I'd recorded in previous sessions and got the rods into position. After I'd scattered around 2kg of Scopex Squid over the top of all three rods I was ready to kick back and watch the night draw in.
Throughout the course of the weekend, the alarms remained silent, I couldn't quite believe how that had happened. There had been so many fish up that end of the lake as well. At 10:30am I decided to have a really slow and steady pack down when out of the blue my right-hand rod was away!! I couldn't quite believe what was happening!! As I ran to my rod I slipped down the steep slippery bank and one of leg legs ended up in the drink. With that, the fish took the extra few seconds as an opportunity and headed straight into a reed bed. Since I was already soaked I didn't hesitate to jump straight in and wade as far as I could towards the fish. After a very rough and edgy fight, I slipped the net under the angriest common I'd ever caught. Set the scales to a very respectable 18lb 10oz but just to get another fish under my belt was good enough for me.
July was a really bad month for myself in more ways than just fishing but hopefully, August and the autumn months will be a little bit more kind to me!