Introduction:
I've been carp fishing since I was 6 and have fished just about every type of water in that time. From little lakes to dammed rivers in France, I've fished them all and most importantly I've caught from them all.
Back in November 2016 I was given an opportunity to field test Nash tackle and bait. For me it was a no brainer, I snapped up the chance.
I was asked to test the Key Cray before it was put onto production. When I received my first order I was really impressed with the quality of the bait. Like I do with all the baits that I use, I crushed a handful up and sprinkled it in my garden pond. As soon as the bait had hit the deck, the biggest carp went over to inspect. Within seconds the water clouded up and all the other fish wanted to get in on the action. Just by doing that test, I knew that Key Cray was going to do the business wherever I took it.

The Winter Water:
In December I decided to join a lake called Stables Carp Fishery, in East Yorkshire. Being just minutes down the road from me, it was the ideal winter venue. I knew I didn't have a lot of time to play with during the colder months as I was working later and was attending physio so this water was ideal.
For the duration of December I did find the lake fairly hard to get my teeth into. I didn't do a great deal of fishing in December, it wasn't until the start of January when I started to plant my feet into the floor. Every session I had done so far was spent watching the lake, walking around and trying to piece it together.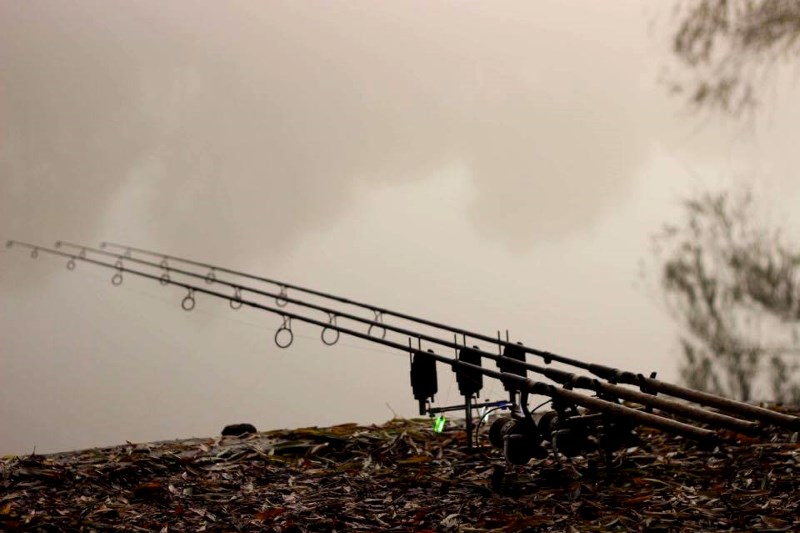 My first session in January was a very cold one to say the least, a really cold wind was pushing the temperature to a shivering 3 degrees. By the time I got there it was about 3:30pm and I had about an hour before I was in total darkness. On my previous session, I had seen a couple of fish roll in the same area near a sunken tree so I thought this could be a good place to start. People always tell me just to fish single hook baits in the colder weather, but I've normally always gone against the grain in that respect. Stables has a very respectable stock for the size of the venue so I wasn't afraid to put some bait in.
A mixture of chili hemp, sweet corn, maggots and 15ml Key Cray boilies were added to a bucket and spodded over three rods.
Between 1am and 2am I was kept awake by quite a lot of liners, I was on edge and I just waiting for a take. At around 3am I received a very violent take on my left hand rod. After about 5 minutes I managed to slide the net under a very clean common. Once the fish was safely returned I re- positioned the rod and topped the spot up with another couple of spods of bait.
At about 6am I got a couple of bleeps on my left hand rod once again and within seconds those single bleeps turned into a savage take! After a very rough battle a lovely mid double mirror was sat at the bottom on my landing net. The sun broke free at around 8am and was starting to shine over the bush where my rods where positioned. It wasn't long before my left hand rod rattled away once more! After three to four minutes I had fish number three sulking in the net. Although not as big as the others I was more than happy with it.
"It's not about catching big fish in the colder months, it's about getting out and having fun".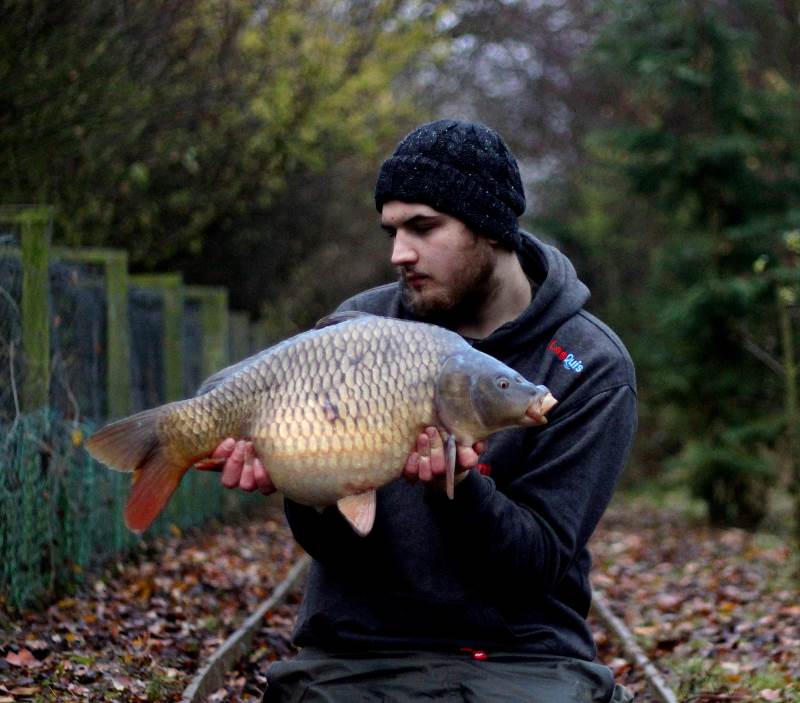 I did a few more sessions on there, up until the middle of March and was catching fairly consistently. Instead of carrying on fishing the lake for another two weeks, until the end of my ticket, I decided to start prepping for my spring assault on my main water for the year.

Revenge On The North Lincolnshire Pit:
My water for the year is a lake which I was on a couple of years ago. It's an 18acre, shallow and extremely weedy pit. When I was on the lake a couple of years back I did really well, catching most my targets. With none of my other tickets coming up, I just had to go get the fish I need to complete the album.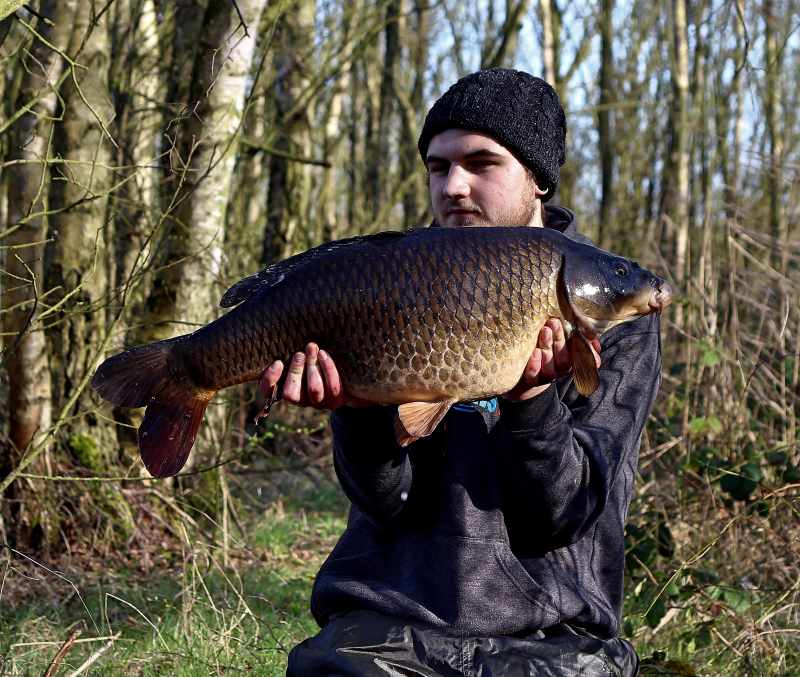 Figure 1 - The Stalked Common 21lb -

I went for my first walk around the lake right at the start of April. I always carry a rod with me, as I'm very much an opportunist angler as well as being a session angler. On my walk round, I stumbled across a few really good fish in one of the bays taking in the rays on the back of an extremely strong wind. I grabbed my rod and 10 minutes later I had a proper nice 21lb common ready for me to hold up to the camera. What a great start to my campaign and it didn't stop there! I chose the area of the lake that I wanted to start baiting and began to trickle some 20ml Key Cray onto the spot.
The following week I was ready to do my first session. I got down to the lake at 4:00pm and by 8:00am I had managed to land two cracking fish. Biggest one being a beautiful linear, setting the scales just short of the magical 20lb mark.
Since then I have done 12 nights and 16 fish have had there photos taken with me. Amongst those 16 fish where none of the 'A-Team' however I did manage to catch a fish I dearly wanted from the venue and a fish that rarely sees the bank. Going by the name of 'micks linear' it is one of the best looking fish I've had the pleasure to hold.

Figure 2 - Micks Lin 21lb 12oz

The pit really isn't easy either, I know lads that have blanked for the full year and others that have only gone away with a handful.
Unfortunately, I was forced to stop fishing that spot after about my tenth fish, due to other anglers catching onto what I was doing. Lately, I've started fishing an area that is well out of the way of other anglers. I've been baiting it heavily week in week out and I've done 4 nights in there for 6 fish.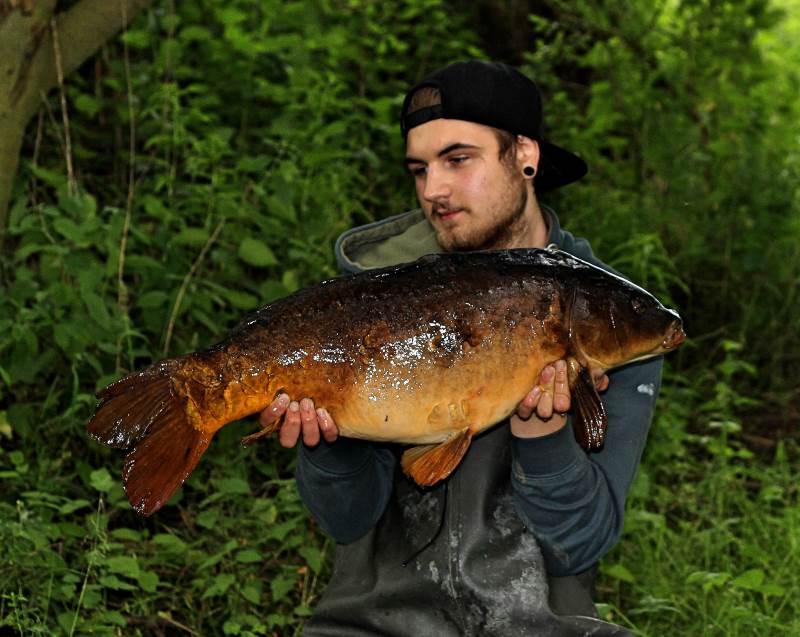 I've been down there once this week already, to apply bait to the spot and I will be doing so again, before I carry on my pursuit on Saturday night.

Jack Greenway