31st of march came and I was heading off to Swansea to White Springs fishery for a Simply Baits social for 48hrs. We set off on the 3 plus hour drive down to the lake not knowing what to expect as I've never been fishing here before. Upon arrival we headed off to the pegs we had booked and began to unload the van and set up camp.
As it was only a 10 acre water and max 65 yard cast I opted to take my Nash scope 10ft 3lb rods coupled with Diawa SS2600 spooled with 12lb line which were all new and un christened. I started off with all my rigs the same with the Ronnie rig tied with 15lb Vardis fluorocarbon about 4in long to a Vardis size 8 gripper hook presented with a Simply Baits white 12mm Rock Lobster pop ups with each rod casted out to my spots 30 or so yards out and freebies scattered around each rod.
Within the first hour I had two bleeps on my right rod and the bobbin stayed up and the rod tip was slightly bouncing so without any hesitation I lifted the rod and was into my first White Springs fish, my first fish of the year, and my first fish on the new rods. As the tip bent round I knew I was into a large White Springs lump an after about a 10min battle a very large bar of gold was looking angry in the bottom of my net.
Jarrod the head bailiff came down as all fish over 30lb have to be reported day or night and weighed on the fisheries scales. The scale spun round to 40lb 13oz smashing my pb by 11lb with a fish called Bruno that came out last year at 37lb, then being told by Jarrod the bailiff this was the first 40+ fish out in over 3 years and a new top weight for Bruno who was in immaculate condition. I finished the session with another two mirrors of 17lb and 19lb and lost 2. I'm still on cloud nine and in awe of having my first UK 40+ and still sinking in as I type.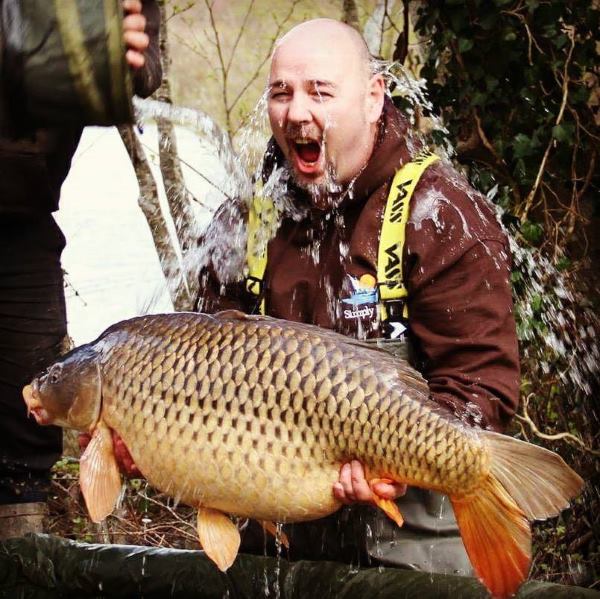 I would like to thank my Vardis team mates Matthew Harris for the netting and Royston Butwell for the photos and landing my new PB and first 40+ in the company made it that more special for me. This is a first time for everything, first time to White Springs, first fish of the year, first fish on the new rods and reels and lastly, first UK 40 in the first hour of the session.. Buzzing!