Having previously fished at Farlow's and caught a few nice carp, I'd been planning to get back down for a while but with other sessions taking place it had been a couple of weeks since my last visit. Unfortunately it hadn't gone to plan as I had been able to get amongst the carp.
On that session I arrived at the gates and having a walk round lake one and lake two, both lakes were very busy. It appears to be a popular venue and with it recently having the new edition of The Erics Angling Tackle Shop on site it seems busier than ever.
I decided that I would fish lake two as I was only doing a 24 hour session and I'd managed to find myself a swim where I had seen one or two fish in the area. After putting a bucket in the swim I made my way to the office to see the bailiff and get my ticket along with dipping my nets in order to try and stop the spread of KHV along with anything else that can be transferred from lake to lake.
Once in my swim I had a cast around with a bare lead and found a couple of clear areas with just a small amount of silk weed. I was happy to fish in the small amount of weed and without hesitation I got the rods clipped up and wrapped around the distance sticks to make sure they would all be hitting the same spot every time.
I opted to fish with a piece of yellow evolution CarpTackle corn on one rod and a stiff hinge rig on the other two rods. These were both a Score white pop up which I had drilled out and inserted a piece of cork to keep them extra buoyant.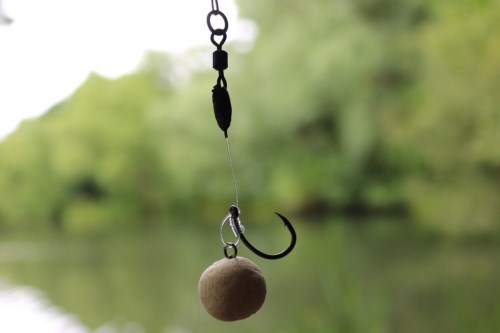 When putting my rods on the spot I always when possible use a horizon marker as it will help give you something to line up with and will make things easier at night should I have to get the rigs back out. Once I had all three rods out, I introduced a little bait, scattered a few boilies around the two rods with stiff hinge rigs and decided to spod a mix of hemp boilies and corn over the top of my bottom bait rig.
Not long after spodding out 10-12 spod fulls of bait the rod sprung into action and started to take line from the spool. After playing the fish for a couple of seconds it was apparent that it was a bream. After netting the fish I got the rod straight back into the baited area as I knew there was now feeding fish in the swim. This is something I like to do as a matter of practice - I will always get the rod back out as soon as I can then deal with the fish, weighing, photos etc.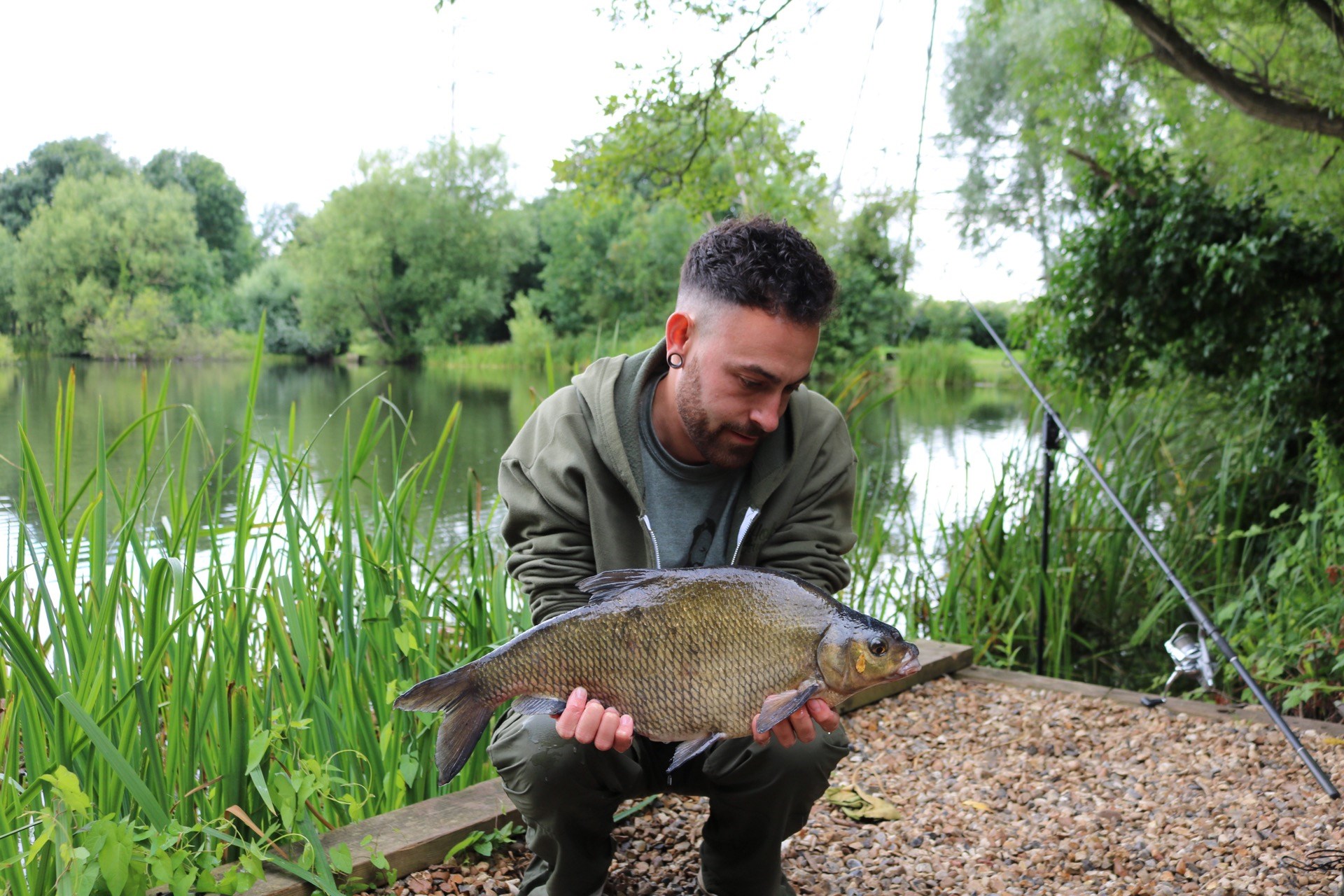 As the session went on I had a large number of bream and was apparent there must have been a shoal of them. I decided a change of bait could possibly pick out the bigger fish and produce less nuisance fish so I decided to fish with a large boilie tipped of with a piece of corn to see if this would help.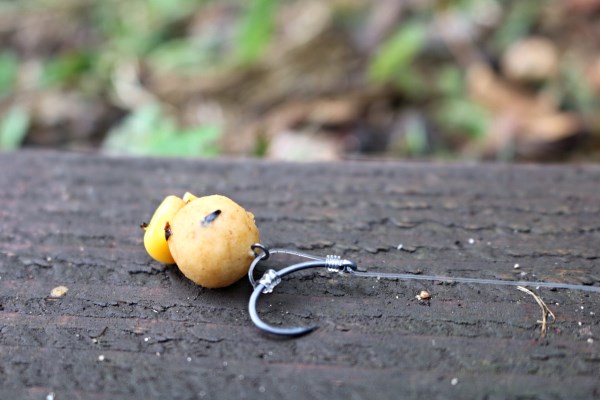 The bites seemed to stop which I was happy with to an extent. As I sat waiting patiently, my right hand rod bent tight round with the alarm screaming into action. This rod was close to the margins and as I played the fish into open water it was an odd fight as it didn't feel like a carp but also didn't feel like a bream. It lead me to believe I had foul hooked the fish but after a couple of minutes I saw that I had actually hooked into a tench.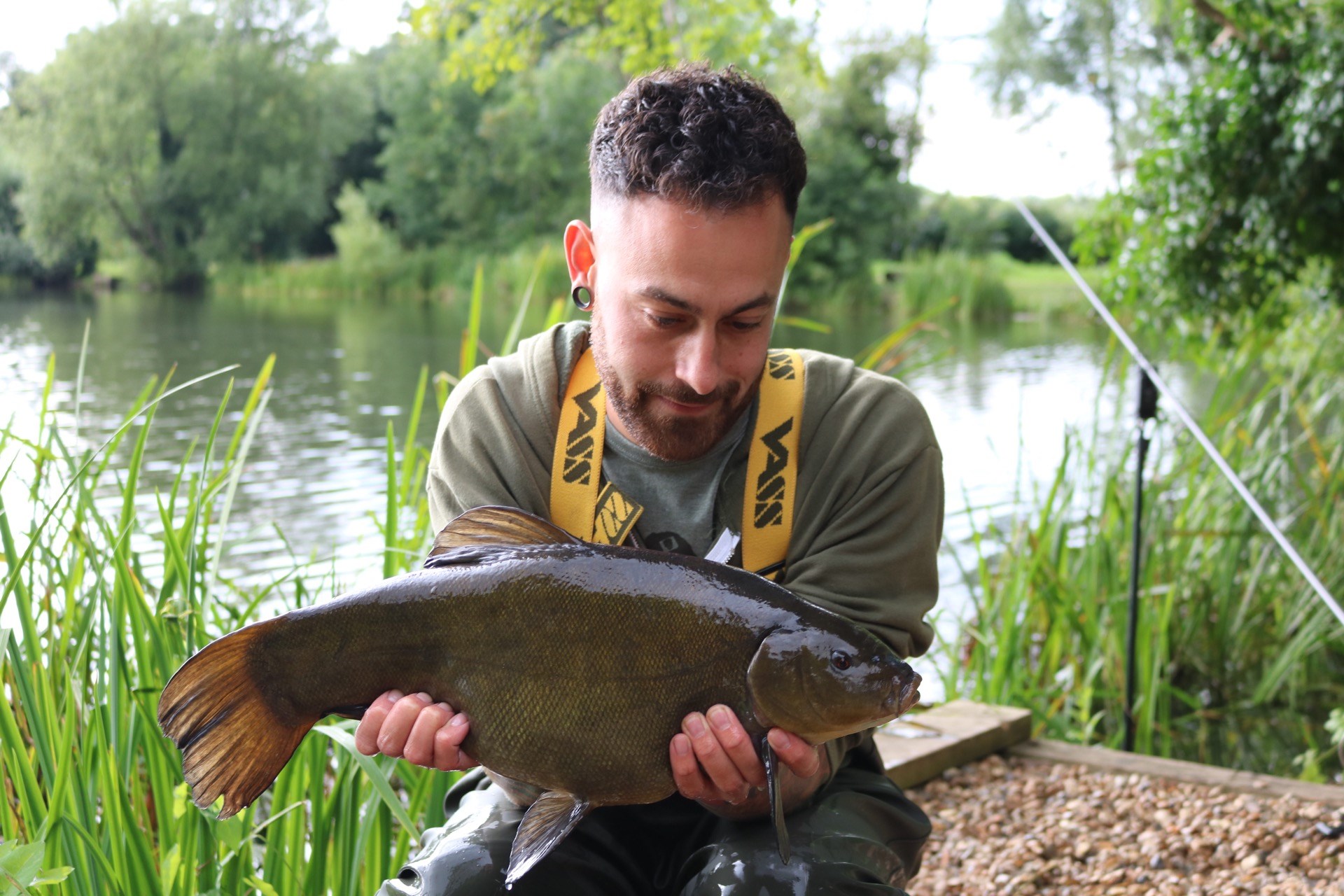 After getting the fish in the net and weighing it the scales went round to 8lb which was quite a nice size even though it wasn't what I was after. As the rest of the day turned to night the bites stopped completely. With first light slowly passing my left hand bobbin slowly started to creep up and as I struck into the slow take low and behold it was another bream! With only a few hours left I had a couple more bream and then it was time to pack up.
It's now three weeks since the session where I seemed to be plagued by bream and I'm back on lake two fishing peg 15 for 48 hours in the hope that I don't have a repeat of my last session. Once again the lake is very busy but I've managed to get a nice corner swim where I have seen plenty of fizzing and bubbling. With some low lying weed I chose my go to rig which is a stiff hinge and decided to fish my third rod tight to some snags with a small pva stick and a s-core boilie tipped off with a white score pop up fishing it snowman style on a blowback rig.
After a few hours had gone by I felt like I should have had a bite so decide to reel the rods in, check the rigs and the hook points, and then get the rods back out. I scattered a hand full of boilies around each rod that I have had soaking in a bucket of water since the start of the session. This gives the boilie the washed out look but also makes them softer and easier for the fish to digest meaning they are likely to feed more aggressively.
As night starts to fall I still haven't had any bites but the fish have started to head over my spot and there is a lot of movement and activity in the swim. I stay awake for a few hours with no bites and I eventually get my head down for a few hours sleep. With nothing through the night or day the lake was very quiet.
There was a lot of angling pressure with a lot of lines in the water and the lake seemingly switched off. It was just a case of playing the waiting game. It's important when the fishing is hard to be confident in your bait and that your fishing the right rig for the situation, the only factor then is the location of the fish.
Being unable to move around the lake I decided to give it till dark before I would get the rods in to check the rigs before getting them back out for the night. I decided to get the kettle on and have some food. When eating I always keep a little tube of hand sanitizer with me as it's important to keep your hands clean when eating. With there being plenty of bait and food around no matter how hard fisheries try there will always be rats and wildlife and the risk of Weil's disease. It typically only causes mild flu-like symptoms, but is important to be aware of it, so in my opinion it is important to try keep your hands clean.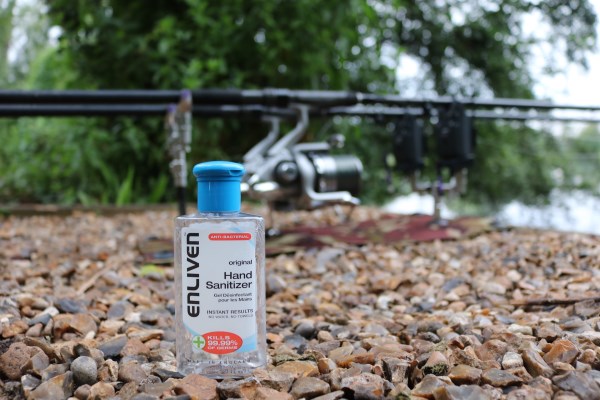 After having some food and getting ready for the night I get the rigs in and a fresh hook bait is put. I only lightly go over them with a sharpening kit - even though the kraken hooks are stick sharp I like to check them just in case they have made contact with any gravel whilst being on the lake bed.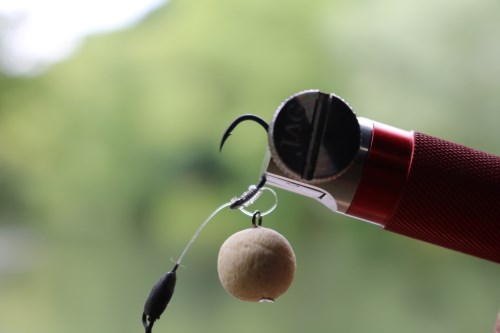 With the night drawing in it looked perfect for a bite. The sunlight was just starting to fade and the fish were crashing on the water in the area. In any aspect of fishing watercraft is essential especially first light and last light.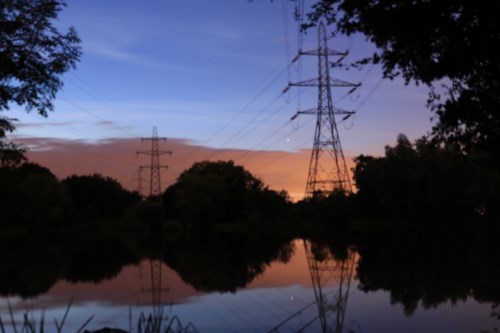 Unfortunately I had no fish this session and with only one fish being caught on the lake in 48 hours it had been hard going all round but there's always next time....