Sponsored By
Order the Trakker Inflatable Bed Underlay online today!
There has always been the need for comfort on the bank and debuting in the world of bedchair accessories comes the new Trakker inflatable bed underlay. Over the years we have seen some similar attempts but nothing that has compared to this.
A company that is rich with history, this heritage has helped Trakker look to the future, and boy has it done just that.
We all want to enjoy the solitude and picturesque scenery that surrounds us when fishing, so why not enjoy it in comfort. As you would expect from this market-leading brand, this underlay is one of innovation and creative design. A simple design you might say but one that is sure to make a difference to all those hours spent on the bank.
Fitting most compact and standard-size bedchairs, this is set to become a must-have item. Adding extra comfort and lumbar support to beds ensures you have a goodnight's sleep for those sessions where their bites are slow. Trakker is renowned for making good bedchairs and that quality is replicated through the underlay with its unrivalled build quality keeping you warm.
This revolutionary and self-inflating design, via a purge valve, is sure to gain this underlay huge popularity. By simply opening the valve the underlay will inflate. Gone are the days of taking lilos, inflatable mattresses and foot pumps. With its flat profile, the underlay can be left in place on a bedchair when folding it away, making light work of packing up at the end of a session. Should you wish to remove it from the bedchair, simply fold back the sleeping bag to reveal the valve, twist in a clockwise fashion and allow the air to escape. It packs down extremely small and compact. Complete with drawcord carry bag and elastic retaining straps, it's ideal for transportation and storage. After just a few nights on the bank with it you will see what a fantastic idea this is.
£34.99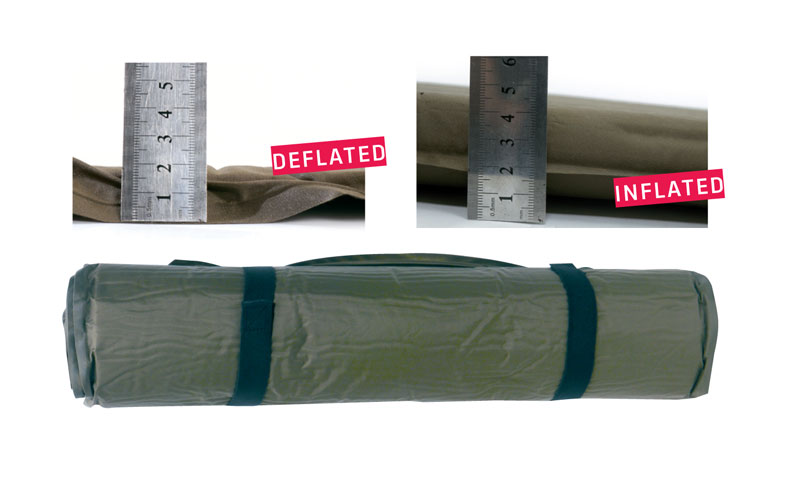 Like what you see?

Or buy a single issue