WAVERUNNER ATOM BAIT BOAT
RRP: £499
Website: www.waverunnerbaitboats.co.uk
Test period: Three months
James Armstrong says: This year has seen me fishing a couple of waters that require the minimum of disturbance. One false cast and you could blow your chances of a pick-up. Consequently, I had to get a boat – the smallest, stealthiest one that I could find.

This compact little gem purrs along the surface causing no disturbance as you guide it to its destination. It can be transported to my swim easily and is compact enough to sneak into little nooks and crannies, safely of course.

It features a single hopper, ideal for perfect rig presentation at ranges of up to 400 metres, along with the capability of carrying up to 1kg of bait – quite incredible for its size.

The front and rear LEDs are easily seen at night, but they are not too obtrusive. The weed cages on the propellers are a nice touch as well.
Casting will always be my preference but on the odd occasion when I need it, the Shuttle is ideal.

James' Verdict
Performance: ★★★★★★★★★★
Value: ★★★★★★★★★★
A great boat for depositing small amounts of bait. Good value too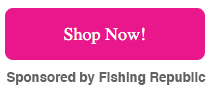 Like what you see?
Or buy a single issue