Sponsored By
order the Ridgemonkey VRH300 Headtorch online today!
It incorporates an internal lithium polymer cell; simply connect to a USB charger to charge. Featuring a hard-wearing rubberised outer and IP64 water resistance, this inner shell has been designed to withstand water ingress from any direction. Having this liner provides you with 100 per cent confidence in all weather conditions.
The VRH300 sets a new benchmark for headtorch design, having a built-in display to ensure you never run out of power again. With its battery life of up to 90 hours and a charge time of four, depending on the setting, it is more than capable of coping with those longer sessions on the bank.
It has 18 positions and a 90-degree tilt function allowing you to adjust the headtorch accordingly. It features a button on opposite sides that can be used either way up– a revolutionary idea. There is nothing worse than having your batteries running low while out on the bank and having no spares. Simply plug the VRH300 into a 5V USB charge adaptor and give it a charge. Having a four-way power indicator on the front, there is no reason to run out of power ever again.
One of the biggest features is the green light option, brighter to the naked eye than the conventional red beam used in most other headtorches. With the human eye being more receptive to green light, it provides the perfect relationship between usability and visual performance. The twin-colour, variable brightness and five beam settings cover almost every fishing scenario. The VRH300 significantly improves night vision and with all these fantastic features we are sure to see plenty of these out on the bank.
£49.99
FOR MORE DETAILS GO TO WWW.RIDGEMONKEY.CO.UK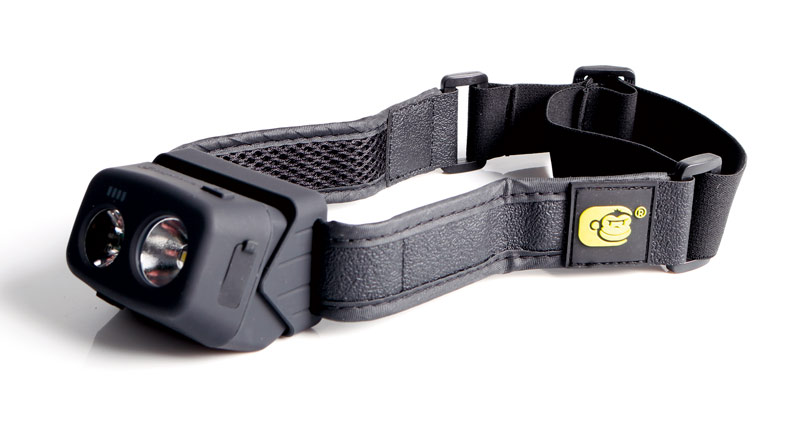 Like what you see?

Or buy a single issue