The Tackle Box's Lee Jackson says: The perfect camera for the angler who wants to film DIY underwater/action footage or still photos without the expense of buying a GoPro-type camera. At around £34.99 this extremely compact camera is unbelievable value and features a super-wide-angle 120-degree lens, a 2in LCD rear screen and a waterproof housing so that it can be used in water depths up to 30 metres. What's more, it comes with various mounts/clips so that it can be mounted on a landing net pole, rod, handlebars and suchlike, and a USB cable for charging. The only extra needed is a Micro SDHC card to record and transfer your images/footage and away you go; get a carp's-eye view or get in on the action.
LEE JACKSON's VERDICT "A cost effective way of making memories." 8/10
£34.99
FOR MORE DETAILS GO TO WWW.TACKLEBOX.CO.UK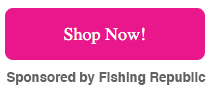 Like what you see?
Or buy a single issue